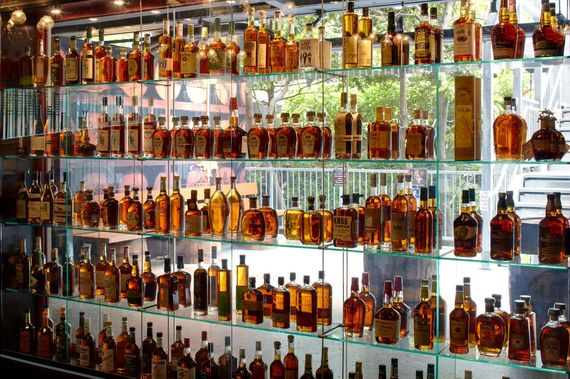 After decades of development promises not kept and a lingering recession, Louisville has lagged behind Southern cities like Nashville, Greenville, and the Research Triangle in creating enough excitement to bring in the big tourist dollars. But now the city seems poised for a boom built on booze.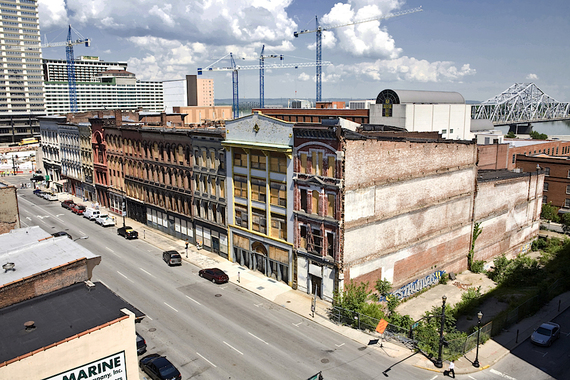 (photo by Marty Pearl)
The city's movers and boosters are betting the bank on Louisville's bourbon culture to drive tourism downtown, with several distillers and visitors stores opening along Main Street in the next two years. It's a bet not without ballast: According to the Distilled Spirits Council, the combined U.S. revenues for bourbon, Tennessee whiskey and rye whiskey jumped 7.8 percent to $2.9 billion in 2015, and domestic volume rose 5.2 percent to 20.4 million cases, outpacing the overall distilled spirits sector.
One third of the bourbon made now comes from Louisville. A good deal of that will be poured into 100,000 bourbon-based Mint Juleps during the Kentucky Derby and Kentucky Oaks Derby next month. A lot more goes into the Old Fashioned cocktail, said to have been perfected at the city's Pendennis Club.
The idea for a new Whiskey Row (left) was preceded by a portion of Main Street dubbed the "Wall Street of Whiskey," which once housed 50 bourbon-related businesses before Prohibition. An added appeal for bourbon-related tourism is the Urban Bourbon Trail, a network of bars and restaurants and stores in the city that promote the whiskey by stocking at least 50 labels. It was established in 2008, largely through the efforts of Stacey Yates, VP of marketing communications for the Louisville Convention & Visitors Bureau, who saw that linking the restaurants like the Down One Bar (right) and distilleries to downtown's nighttime activities would pull everything together, and, in Yates's words, "move bourbon off the front porch."
The Trail began with eight stops; eight years later, there are 34. (The state has had its own Kentucky Bourbon Trail since 1999 that schedules visits to nine distilleries outside of Louisville.) Time will tell if so much focus on bourbon will have a sustaining effect on tourism, but the city has a lot more going for it culturally, and, as seen over recent visits, the hotel and restaurant scene is picking up steam the way it has in other Southern cities like Nashville, Greenville, and Raleigh. (I'll report on dining out in Louisville in my next article.)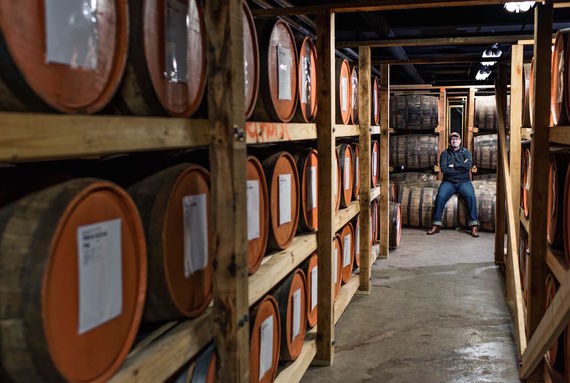 One of the current and most dynamic of the city's craft distilleries is Copper & Kings (right) in the Butchertown neighborhood, which makes "definitive American Brandy influenced by American Whiskey and American music. We do not make derivative brandy styled upon a European sensibility. We use a low & slow distillation philosophy, by which a relatively low distillation temperature makes for a longer, slower distillation and maximum copper still contact to express concentrated flavors, aromas, and smoothness." The distillations are made from brandy varietals-- French Colombard, Muscat de Alexandria and Chenin Blanc sourced largely in the Central Valley and Central Coast regions of California.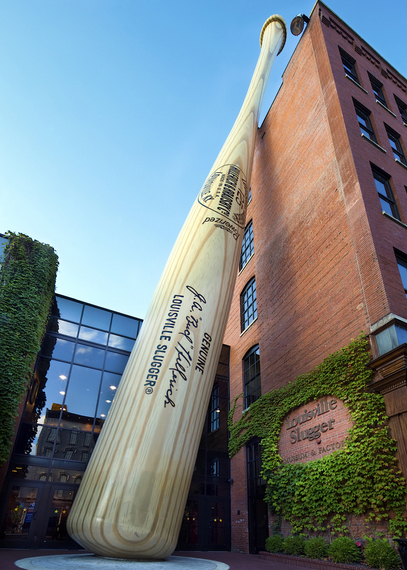 For those interested in history and architecture, the Old Louisville neighborhood has the largest collection of Victorian homes in the U.S. As a well-situated and prosperous river town during the Civil War, and having sided with the North, Louisville, though threatened, was never attacked and survived pretty much intact.
Downtown is home to the 12-year-old Frazier History Museum, with an outstanding collection of armaments. There is also the Kentucky Science Center, while The Kentucky Museum of Art and Craft is devoted to arts, crafts and design. Closed in 2013 for a total rebuilding, the Speed Art Museum, adjacent to the University of Louisville, is scheduled to re-open this year, with more than 12,000 pieces of art in its permanent collection. Outside the Louisville Slugger Museum and Factory there is a 120-foot replica of Babe Ruth's 34-inch Louisville Slugger bat (right), a huge piece of Pop Art that weighs 68,000 pounds.
Already one of the most popular visitor attractions is The Muhammad Ali Center devoted to Louisville's native son. And in the neighborhood dubbed "NuLu," east of downtown, you'll find a slew of new galleries, antique stores and restaurants within the historic district. The Kentucky Center features plays and concerts throughout the year, and hosts Louisville Ballet, Bourbon Baroque, Stage One Family Theatre, the Kentucky Opera, and the Kentucky Shakespeare Festival, the country's oldest. The Louisville Orchestra (founded in 1937) operates out of the magnificent Palace Theater.
All around town there are other performing arts theaters, from the Savage Rose Classical Theatre and The Bard's Town Theatre Company, to the Louisville Repertory Theatre, Louisville Improvisors, and Squallis Puppeteers. In another couple of weeks, of course, Louisville will be packed when the Kentucky Derby is held at Churchill Downs. Every stratum of Kentucky society as well as American visitors and foreign tourists attend this uniquely colorful weekend of horse racing, parties in historic houses and tailgate picnics. The mint juleps are shaken cold and served in their traditional frosted silver mugs, and the city shows its brightest and most glamorous face, when everyone joins in singing the state anthem "My Old Kentucky Home."