Lupe Ontiveros longed to play roles that would showcase her talents, like possibly that of union organizer Dolores Huerta.
Yet more often than not she was cast as the maid -- a role she said she played more than 150 times.
Born Guadalupe Moreno, the actress from El Paso, Texas told The New York Times back in 2002 that if she spoke perfect English she didn't get the part. "It's their continued perspective of who we are," she said, lamenting Hollywood's view of Hispanics.
She played a maid in a slew of hit films, including "The Goonies" and "As Good As It Gets," where she cracks us up with her memorable "sell crazy someplace else" scene. (Check out the mash-up of Lupe playing a maid above)
Prime-time television has also been known to feature Latina actresses as maids. Some examples have been Rosario on "Will & Grace" played by Shelley Morrison and Celia on 'Dharma & Greg' played by Lillian Hurst, The New York Times notes.
More recently, thanks to Lifetime's "Devious Maids" the subject of typecasting Latinas has stirred up a controversy. The show features five Latina actresses, Ana Ortiz, Dania Ramirez, Roselyn Sanchez, Edy Ganem and Judy Reyes, as maids who work for the rich and famous in Beverly Hills.
The show, which counts Eva Longoria as its executive producer, has been criticized for feeding into the stereotype of Latina maids that Ontiveros had been referring to. Tanisha Rodriguez, a journalist and blogger for The Huffington Post, wrote "[all] of the main characters play "devious" maids. It just all seems like a missed opportunity to diversify the roles played by Latinas."
Yet others find the show to be an opportunity for Latinas to have their stories told on Television. It's the first time that a prime-time English-language TV program showcases an all-Latina main cast.
Dania Ramirez, one of the actresses on the show said "I have had the opportunity to work with five other Latin women that usually we're sort of competing against each for one role."
Ontiveros felt she played the same role 150 times, and if you take a look at the video above you might agree, (and feel a little bit nostalgic about how amazing she was). Yet "Devious Maids" seems to offer more of a chance for in-depth Latina characters that Ontiveros wanted when she was fighting to break free of the role. "This is a show that deconstructs the stereotype by showing us that maids are so much more," wrote Eva Longoria when defending her show. Maybe Lupe would agree.
Check out the mash-up of Lupe Ontiveros' many roles as a maid above and check out "Devious Maids" premiering on Lifetime on Sunday June 23rd.
Before You Go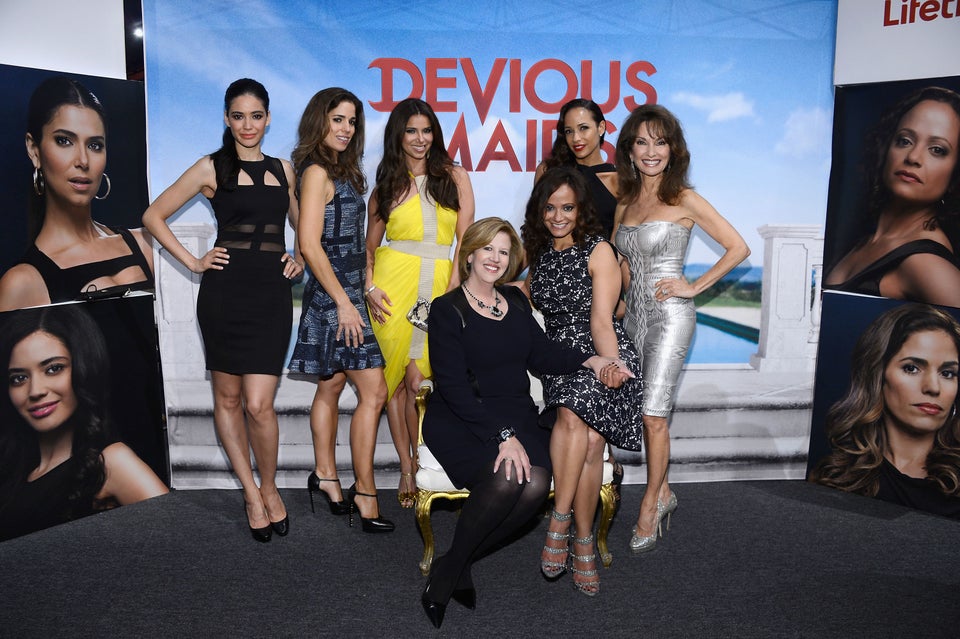 "Devious Maids"
Popular in the Community