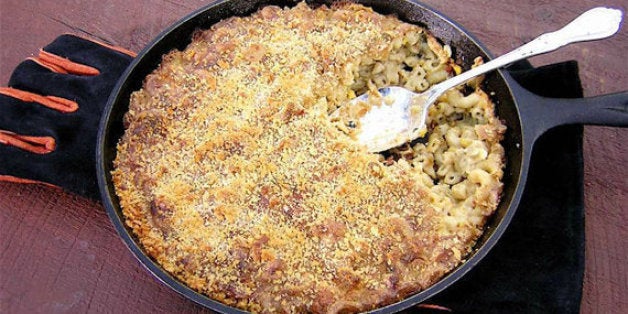 Mac and cheese: modern comfort food?
Actually, America's obsession for macaroni and cheese dates back centuries. (Remember "Yankee Doodle?") Founding Father and first foodie Thomas Jefferson caught the mac and cheese bug during a diplomatic stint in Europe. When he returned to the U.S., among the 86 crates of food, wine, and cookware he brought back with him was America's first pasta machine and a wheel of Parmigiano-Reggiano cheese. Jefferson later used his presidential powers to put the dish on the White House menu.
Well, irresistible as traditional mac and cheese is, it's about to get a lot better. The secret is--you guessed it--the grill.
I start by enriching my mac and cheese with onions, peppers, corn, and other aromatic vegetables. Sure, you could sauté them when you make the béchamel (white sauce), but you'll get an even smokier flavor and caramel sweetness when you char the onions and peppers on the grill. While we're on the subject of peppers, I use fire-roasted red and yellow bell peppers for color and sweetness and poblano chiles or jalapeños for heat.
The Raichlen mac and cheese gets further smoke flavor from the addition of smoked ham. Cut a few ounces into matchstick slivers and sauté them with the vegetables. For even more flavor, brown a few strips of slivered bacon in your saucepan and use bacon fat in addition to butter for making the roux.
SIGN UP for Steven Raichlen's UP IN SMOKE newsletter to learn more about barbecue!
Steven Raichlen is the author of the Barbecue! Bible cookbook series and the host of Primal Grill on PBS. His web site is BarbecueBible.com.