Last night, I dreamed I was removing a bee's stinger from my flesh. Slowly, carefully . . . Taking my own sweet time to deal with the irritant.
"be willing to be disturbed"
The monk's words stayed with me all morning, and transformed into a question: "How willing am I to be disturbed?",
and a series of considerations:
that life is a series of disturbances, some bigger than others, from minor itch, to bee sting, to pink slip, to pain in the neck, to cancer, to flat tire, to annoying character, . . .
that the trick is to change one's attitude towards these unavoidable hassles, and to handle them with grace, understanding, and equanimity,
that these ripples on the surface of one's existence are to be welcomed, as a chance to exercise one's mindfulness and compassion muscles.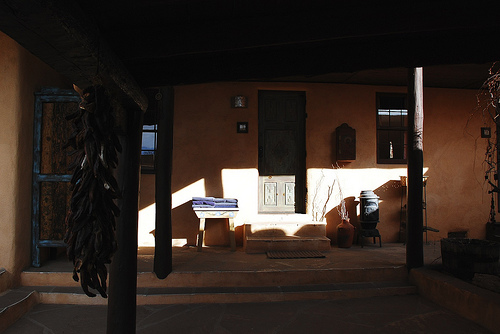 Flicker Photo - Credit Kyradk
This being human is a guest house.
Every morning a new arrival.

A joy, a depression, a meanness,
some momentary awareness comes
as an unexpected visitor.

Welcome and entertain them all!
Even if they're a crowd of sorrows,
who violently sweep your house
empty of its furniture,
still, treat each guest honorably.
He may be clearing you out
for some new delight.

The dark thought, the shame, the malice,
meet them at the door laughing,
and invite them in.

Be grateful for whoever comes,
because each has been sent
as a guide from beyond.
Of course, the day provided me with plenty of opportunities to test my good will. Each time, feeling heat in the heart, and tightness in the throat and stomach, in reaction to the perceived irritant. Each time, turning towards the reactive unpleasantness as one would meet a grumpy old friend. Each time, growing more patient, and "willing to be disturbed".
Now, I am asking you the question: "How willing are you to be disturbed?"