The family of Alberto Pardo Touceda was left grief-stricken after police visited their Pontevedra, Galicia, home on Sunday morning to say the terrorists shot the 33-year-old dead at Friday night's rock concert in the Bataclan.
Friends posted heartfelt messages and tributes on his wall, El Pais reported.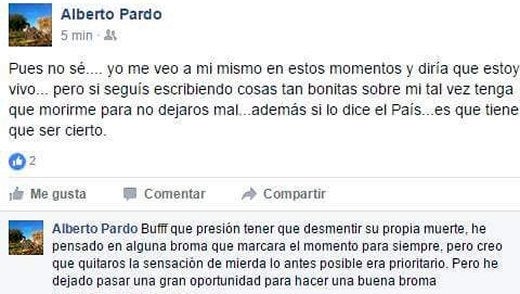 However, Pardo wasn't actually in Paris, but 300 miles away in Strasbourg -- where he moved in 2012. He now lives with his girlfriend and works as a translator on a tourist boat.
When he logged onto Facebook on Sunday afternoon, he was stunned to see the steady stream of condolences.
"I'm looking at myself right now and I'm alive," he wrote.
Despite the tragic circumstances, he then managed to see some humor in the situation and added: "But if you keep writing such nice things about me I may have to die so you never stop."
It's unclear why Pardo was officially declared dead by authorities.
But he believes it may have been because his ID card was stolen several years ago, and someone at the concert may have had it in their possession, The Local reported.
Pardo revealed he thought about playing a practical joke on his family, but he realized he needed to tell them the truth.
His posts have since been deleted, El Pais reported.
After he called home to say he was safe and well, Pardo's mom, Pilar Touceda, said that Sunday was "the saddest" and then "the happiest" day of her life.
PHOTO GALLERY
Witnesses React To Paris Attacks
He's the second Spaniard to have been wrongly reported as killed by the terrorists, after 59-year-old Jorge Alonso de Celada also turned up alive and well.
"My father went to Paris for a week's holiday. We have corresponded via email and I don't understand why he was given up for dead," his son Guillermo Alonso told Europa Press.
"He sent an email saying 'don't worry, I'm fine' on Saturday evening and said he hadn't called because of problems with his mobile phone."
REAL LIFE. REAL NEWS. REAL VOICES.
Help us tell more of the stories that matter from voices that too often remain unheard.