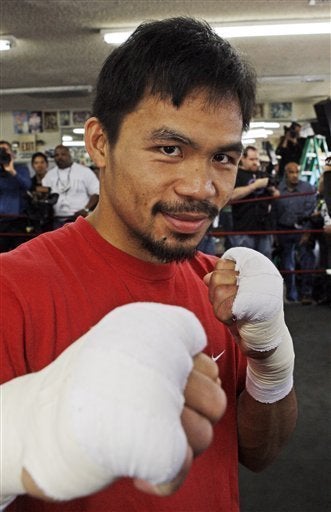 He's more than just boxer. He's a movement. TIME magazine nominated him as one of 2009's most influential people in the world. He is the only boxer ever to have his own bobblehead night, which he did on April 21 at a San Francisco Giants home for their Filipino American Heritage Night which, by the way, turned out to be the biggest heritage night in the team's history. When he fights, all of the Philippines stands still. And that will likely be the case on May 2 when Manny Pacquiao -- the former WBC lightweight world champion, WBC super featherweight world champion, IBF super bantamweight world champion, and WBC flyweight world champion -- challenges World Junior Welterweight Champion Ricky Hatton of England at a sold out MGM Grand in Las Vegas -- a fight that is his next step after beating Oscar de La Hoya into retirement. My morning interview with the man who Ring magazine currently ranks as the "Pound for Pound Best Fighter" alive interrupted a very special fight training regimen.
Sorry to tear you away. I guess 9:30 in the morning is a good time for karaoke, huh?
Ah, yes. I am singing it at my friend's house.
What song were you performing?
Really, what's it called?
In English it is called "This Fight is for You".
You are a man of many talents: singing, boxing, politics. Let me ask you, which one is tougher: boxing or politics?
Heh heh. It's uh, politics. It's a very difficult and hard life.
You know what you're talking about. You ran for congress in the Philippines and lost. Which hurts more, losing a fight or losing an election?
I think losing an election is harder because it is something, uh, you know, I want to help. I want to be able to serve the people and it's tough when people don't see that. In boxing, I'm pretty good at boxing, so I know that god will never let me down because I try my best and I work very hard.
My landlord is Filipino and he likes you. But he says that 'too many famous people in the Philippines go into politics.' Is he right about that?
Like the famous Filipino actress Vilma Santos, she's the mayor of Lipa City. Who makes a better politician? An actor, or a boxer?

You know, I think it all depends on the person's heart and what they really want to do. For me, I don't need to go into politics for money. I don't need to go into politics for any reason except that I want to help. The region that I live in is very, very poor. It's a very hard life. I grew up in it, I just want to be able to have a better life for the people there. You know, not the life I had -- something better for them.
That's very admirable and you've got the power to make big changes. Many in the Philippines know who you are. In fact, you're the first Filipino athlete to ever have your own postage stamp. How much does that stamp cost?
I don't know. It's been 15 years since I mailed anything out. You know, everybody emails now.
Wait a second. You haven't mailed a letter in the Philippines in 15 years?
Uhm, maybe 10 years now. It's a different system. Everybody is text messaging in the Philippines now. And email.
It's all about email. It's all about technology. And it's all about the movies. I hear that you're gonna be in a movie with Sylvester Stallone.
Well, hopefully. We're talking. And we're becoming close friends. He is one of my favorite actors.
Do you think being in a movie might help your political career?

No, I don't think so. You know, in the area that I am running. Less than half of the people have television. Like I said, it's a very poor, they listen to the radio, they gather together at their neighbors to watch tv, uhm, it's really different than anywhere. a lot of people... in the Phillipines are depressed.
You might be the first boxer to become the president of a country. If you were the president of the Philippines today, what would be the first thing you'd like to talk about with the United States president, Barack Obama?
Haha, I have a few years to go. I have a few elections, and things to go through first before I start thinking about these kinds of things. But the one thing I would talk to President Obama about is a way to make a the Phillipines better friend, ally of the United States.
You're a fighter, but you're a very sensitive man. So I'd like to ask you, what did it feel like the very first time you were punched in the face?
Uhm, it hurts, obviously. But I like boxing. It's just what I do. I am a gentleman outside and a warrior inside. That's just how I like to live my life.
How did it feel, then, the first time you punched somebody else in the face?
It's my job, you know. It's something that I have to do to provide for my family. It's what god made me do here on earth. You know, it's not just hitting somebody in the face, it's winning and lifting the spirits of all boxing fans especially my Phillipino countrymen.
You derive a lot strength in fighting for your countrymen. I think that pride gives you a big advantage. Ricky Hatton, who you fight on May 2nd, he talks the same way. He says he fights for his old town his old club in Manchester. Are you guys the same like that?
Ricky's a very nice guy. He's a gentleman also. He has class. That is one thing I like about him. A lot of the fighters I've fought in the past have become my friends. It's a job for us. It's how we make our living. After the fight, you know, we can hang out, play darts.
Have you ever karaoked with any of your opponents?
Last question: They call you Manny 'Pacman' Pacquio. When was the last time you played Pacman?
Oh, with my kids, when they were here, last December for Christmas. We bought Nintendo PSP and we played.