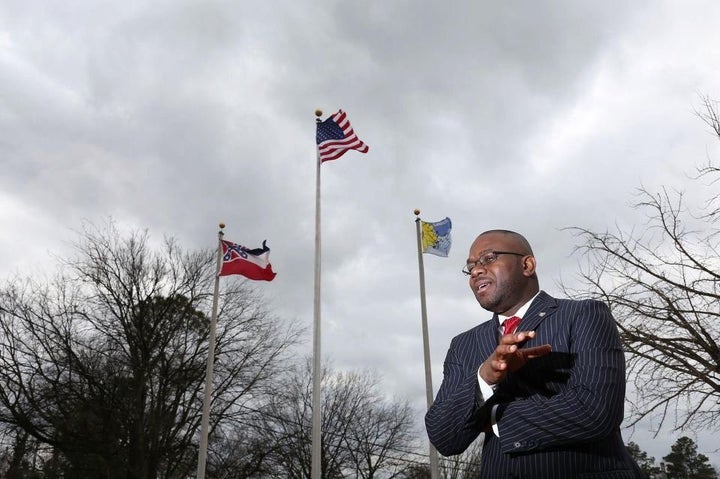 Clarksdale, Miss. -- Anyone heading south down U.S. Highway 61 toward Clarksdale might not be surprised by the large tracts of verdant farmland.
The sight of the occasional working plow or murky bayou would seem about right for this Delta town best known as the spot where, as music legend has it, blues guitarist Robert Johnson sold his soul to the devil for supernatural musical skills. But to see the remnants and replicas of the downtown juke joints and other haunts where women and men first gave life to the blues, visitors must travel a route that offers a sobering reminder of just how long subjugation, secrecy and strictly enforced codes of human behavior have been part of life here in the Mississippi Delta.
What comes into view is Clarksdale, an 18,000-person town where the descendants of African slaves make up nearly 80 percent of the population. More than 40 percent of Clarksdale's residents live on incomes below the poverty line, and were it not for the proliferation of dollar stores, churches would nearly outnumber functioning businesses.
Before his mysterious death in late February, Marco McMillian had hoped to lead this community, running for mayor with a reform-minded agenda. McMillian, 33, was black, and the first openly gay person to vie for public office in Mississippi.
The nation's first black president may have put gay rights squarely in the center of righteous and patriotic American struggles for equality during his second inaugural speech in January. And the Supreme Court is currently considering two of the most important gay rights cases in U.S. history. But the way McMillian's life is understood, and his death investigated, is also a barometer of sorts on the state of American equality.
"There is some complicated, heartbreaking, truly tragic and important stuff going on in Clarksdale," said Omowale Akintunde, a University of Nebraska professor and Emmy Award-winning documentary filmmaker. Akintunde came to town in early March to chronicle what he says is a story that America needs to see.
"What it tells us are some ugly truths about remaining bigotry and bias," he said, "even among those who have themselves been terrorized, exploited, excluded and demeaned."
A GRAND PLAN

The circumstances of McMillian's death remain unclear. But this much is known and undisputed.

On Feb. 27, Coahoma County sheriff's deputies found McMillian's naked, beaten and partially burned body at the bottom of a steep and muddy embankment beside a chain metal fence, not far from one of the area's Mississippi River levees. McMillian was found lying almost exactly where Lawrence Reed, a black 22-year-old Domino's Pizza employee from nearby rural Shelby, had told officers he left McMillian's body. Reed was charged with McMillian's murder the next day, and remains in sheriff's custody.

McMillian was what law enforcement officials might consider an unlikely murder victim in this stretch of the country just over two hours south of Memphis, Tenn. He wasn't known to be involved in illegal activity. A classic small-town overachiever, McMillian only returned to Clarksdale a few months before his death.

McMillian had built a rich resume. By 33, he had already earned a bachelor's and master's degree, spent time as an administrator at two universities – Jackson State and Alabama A&M – worked for a Memphis company training teachers in some of the nation's most challenging schools and founded his own consulting business.
In between, McMillian was elected for a stint as Phi Beta Sigma's international executive director, an important and six-figure Washington, D.C.-based position inside the historically African-American fraternity to which McMillian and many of the most accomplished, well-educated African-American men from the Delta region belong.
In late 2012, McMillian began sharing with friends and family a grand plan to run for mayor, expressing his hope to bring Clarksdale better jobs, education and healthcare. In late 2012, he even spent time at The Victory Fund's California training sessions for LGBT candidates and elected officials.

The plan would make him a brave trailblazer to people watching the race from afar. But to locals and those close to him, McMillian proved himself a true Bible Belt native, talking the talk about fighting for equality while avoiding conversations about his sexuality. Just 21 days before he died, McMillian posted this online:
"The work that is before us is important to Clarksdale, Mississippi, our nation and world. More than 40% of the people who live in Clarksdale battle with poverty every day. We can eradicate poverty and move people toward prosperity.
In February, McMillian also tapped the 2005 Clarksdale Citizen of the Year, Bertha Blackburn, to host an event that his campaign had dubbed "The Talk." It was a frank conversation about just why tiny Clarksdale's crime rate sits two times higher than the national average while the city has the lowest number of police officers per capita of any city in the state, Blackburn said.
McMillian told the people who gathered that night that the city needed a mayor "who is unafraid to talk about Clarksdale and face the stuff under all the half-way pretty paper," Blackburn said.
Blackburn, who had known McMillian since he was a child, so believed in his campaign that the day after McMillian's funeral on March 9, most of the flat surfaces in her living room continued to play host to McMillian campaign materials and promotional swag. She was so distraught and exhausted after McMillian's funeral that she had to see a doctor.
"What sort of man was he?" said Blackburn, who is 91 and hard of hearing. "He was just a lovely type of Christian young man. A hard worker. Always so polite. Full of ideas. A quality sort of human being …. Gay? Was he gay? No, no I don't know anything about that kind of business. That's not who he was, not with me."

Given what is known about the circumstances of his death, McMillian almost certainly died of unnatural causes (his autopsy and cause of death have not yet been released). He was also running for office in a state with one of the country's bleakest racial justice histories and weakest civil rights infrastructures.

In 2011, the most recent year for which data is available, Mississippi law enforcement agencies collectively reported just one of the nation's 6,222 hate crimes to the FBI. This year, Mississippi legislators decided against expanding the state's hate-crime law to include crimes motivated by anti-gay bias. The state also has no laws prohibiting discrimination against anyone in housing, the workplace or other key functions of life.
"Does that strike you as a place where an honest and thorough examination of hate crime is really happening?" said Mark Potok, a hate crimes and hate group expert with the Alabama-based Southern Poverty Law Center. "If anti-gay bias crimes are happening, where would law enforcement find the motivation, the time, the investigative skills needed to give that possibility a serious look?"
In Mississippi, just about any effort to defend the constitutional rights of often mistreated or excluded groups still requires federal intervention or federal resources, Potok said. At prime commuting times in Clarksdale, public service announcements imploring listeners to report housing discrimination to the U.S. Department of Housing and Urban Development, and employment issues to the nation's Equal Employment Opportunity Commission, take up a substantial share of the commercial airtime on the area's radio stations.
Strains of blues music and the smell of slow-smoked pork ribs coated in the Delta's brown sugar and tomato sauce help belie a palpable tension in the air in Clarksdale.
Rumors are flying. Depending on whom you ask, McMillian died at the command of an organized local cabal intent on maintaining Clarksdale's barely post civil rights-era social order. Or, Reed allegedly killed McMillian alone after some sort of personal, possibly sexual, conflict. Another rumor still: the city's long-serving retiring mayor, the father of one of the men running against McMillian and a brother of former congressman and Clinton administration Agriculture Secretary Mike Espy, has been asked by the sheriff's office to sit for a lie detector test.
Neither Clarksdale Mayor Henry Espy, nor his son, Chuck Espy, responded to requests for comment. The sheriff's office also declined to comment on the lie detector test rumors.
Will Rooker, a spokesman for the Coahoma County's Sheriff's Department, declined to answer most questions about the investigation into McMillian's death because it remains ongoing.
"What I can say is this is a case where we are looking at a number of options," Rooker said.
Rooker later said in a statement sent to The Huffington Post that he had not been asked about a lie detector test for any individual.
"The Coahoma County Sheriff's Office at no time has made the request for a lie detector test be given to Mr. Espy," Rooker said.

The FBI, which rarely confirms its involvement in cases, said in a statement issued to The Huffington Post that it is following the local investigation closely.
Despite the number of large questions with potentially disturbing answers that remain in this case, hardly a fraction of the public outrage, protests and vitriol that surrounded incidents such as the death of Trayvon Martin has materialized in the weeks since McMillian's death, said Sharon J. Lettman-Hicks, executive director and CEO of the National Black Justice Coalition. The NBJC is a black lesbian, bisexual, gay and transgender civil rights organization based in Washington, D.C.

When a young, black, straight Trayvon Martin is killed by a 28-year-old, white George Zimmerman, the black community knows how to respond. But more complicated victims and perpetrators prompt more ambiguous responses.

"Here we have a young man who by all accounts was a rising star," Lettman-Hicks said. "But the minute society learns that he's gay it is almost as if we, particularly in black America, are absolved from public outcry and support."

Now, the NBJC; the state chapter of the NAACP; Democratic Reps. Bennie Thompson of Mississippi and John Lewis, a civil rights lion from Georgia; and McMillian's family and friends have together called for an FBI investigation. But the national NAACP and other organizations and individuals known for their social activism have -- at least publicly -- stayed out of the fray, waiting for the investigation to run its course.

Outside demands for justice might be helpful, said McMillian's godfather Carter Womack, who leads a nonprofit in Ohio. At McMillian's funeral, Womack roused the crowd to an interlude of amens and applause with his call for justice. Now, he's hoping that the people who reacted during the service will do so again.
"We seem to have descended into a black hole, an information-free zone," Womack said. "We are earnestly doing everything we can as a family to make sure that justice for Marco is not forgotten."
One of the largely unspoken but real barriers to that outcry may be the difficulty that Clarksdale -- an overwhelmingly black, deeply religious Delta town -- may have integrating all aspects of McMillian's life into its notions of what it means to be upstanding, said Ricky L. Jones, a political scientist at the University of Louisville who is also black.
"You are talking about a group historically and even contemporarily, to a certain degree, who have been incredibly marginalized," Jones said. "But when you look closely you will find a significant degree who are also willing to marginalize others."
For at least the last seven decades, African Americans have been reliably Democratic voters. But religious fervor and the socially conservative streak that often comes with it have also inspired what Jones called "weird things," such as the gains that President George W. Bush made with black voters between his 2000 and 2004 campaigns.
"That second time, George Bush ran on abortion and gay marriage," Jones said.
McMillian, a man with multiple degrees and an avid church attendance record, was also a member of the nearly 100-year-old Phi Beta Sigma. That's the trifecta of respectability and something that made him rare in his small hometown, said Jones, author of the book Black Haze: Violence, Sacrifice, and Manhood in Black Greek-Letter Fraternities.
In black America, the Sigmas' reach -- like that of the Alphas, the Omegas and other black fraternities -- extends far beyond the nation's college campuses. Together they are functional arbiters of a certain brand of black middle-class masculinity, economic mobility, respectability and moral rectitude. Members see themselves as a sort of elite among the black elite, Jones said.
At McMillian's funeral service -- a gathering that drew nearly 700 people -- the Sigmas bid farewell to their fallen brother, with their distinct mourning songs and rituals. Then, at his gravesite, they stood in a circle with linked arms, singing and swaying just before McMillian was lowered into the ground around 2 p.m.
"You have to understand that oppressed people across lines of race tend to be more religious," Jones said. "If life on earth is a cauldron of depression and struggle, you have got to have something to get you though … So in Marco McMillian's story, you are asking people to deal with tiers of secrecy, discomfort and taboo."
BLOW THE LID OFF SOME THINGS IN TOWN
To those who knew and loved him, McMillian's death marked a tragic loss, not just for a family but a struggling community.

Last summer, McMillian took a short trip home to visit family and decided to take an afternoon walk. He saw a woman, who appeared to be at least 80, sitting on her front porch fanning and sweating away time. McMillian turned on his best Southern manners, used the honorific for unfamiliar elderly women and asked her what was going on.

"He told me he just walked up and asked her, 'Mother, it's Mississippi in the summertime. What on earth are you doing out here?'" said Chikita Sanders, a biologist who lives in Atlanta who is McMillian's first cousin and was one of his closest confidants. "It wasn't long before Marco, being Marco, got to the bottom of things."

The woman told McMillian she could not afford to run the air conditioner during the daytime or buy food. So sitting on her front porch offered her access to the free, circulating air, even if it meant baking in triple-digit heat.

Clarksdale has no public or free senior center, few food-assistance programs that can be accessed without a car and hundreds, if not thousands, of residents in the same situation as that woman, Sanders says McMillian told her.

"He was living in Memphis at the time, and I know really enjoying his work," Sanders said about McMillian's time with a West Tennessee education consulting firm that trains teachers, particularly those working in high-poverty schools. "But he said, 'Kita, I'm running for mayor.' And I said, 'Really? Are you sure?'"

The mayor's race wasn't McMillian's first attempt to fix local things he saw as broken.

Pauline Rhodes worked as a teacher at Clarksdale High School for a decade. In 1997, her last year in the classroom, McMillian was assigned to one of her classes.

In a town where most guys were athletes or took music and performance seriously enough to play in the high school's competitive and hard-charging marching band, McMillian was student council president.

So, when Rhodes decided that Clarksdale's public schools were long overdue for a racially integrated prom and senior-class trip – the first since the Supreme Court's landmark 1954 decision in Brown v. the Board of Education to desegregate public education – she turned to McMillian for help.

White parents have, since integration, sponsored a prom for their children at a private Clarksdale social club, Rhodes explained. The arrangement rendered the school's official prom the de facto black dance and a joint overnight class trip simply had not happened in decades. McMillian, a core group of students and Rhodes sold the candy needed to finance the trip and started promoting the idea of a racially integrated prom. McMillian even made a speech about the trip in front of the school board.

In the end, two to three white couples attended the school's prom. All but one of the 15 white students backed out of the senior trip to Washington, D.C. And, the private, white prom continues to this day.

McMillian had only begun referring to Rhodes by what he saw as the more peer-like, informal but always conjoined, "Lina Rhodes," this year. The two never talked about the fact that McMillian was gay.

"I just never ever heard anybody speak of him as being gay or openly gay," said Rhodes, who is black. "I can only speak for myself. It would not have mattered. To be honest, I don't know why the media has jumped all over that. It seems to me it's to sell papers, dig up his dirt and turn the story into a soap opera."

Chris Rey, a longtime friend and fraternity brother, agrees.

Like McMillian, Rey, who is black, ran for the mayor's seat in his hometown of Spring Lake, N.C., in 2011 when he was just 34. Rey, who often talked strategy with McMillian, defeated a longtime mayor.

It was no secret to Rey, a straight and married father of two, that McMillian was attracted to men. But, that aspect of McMillian's life wasn't something the two talked about, said Rey, a lawyer and former Army captain. McMillian was simply bound and determined to make significant changes in Clarksdale, Rey said.

"With Marco, knowing the way that he researched things, I wasn't surprised when he told me he had found something that was going to blow the lid off some things in town," Rey said. "What that was, I don't know because, unfortunately, we didn't get another chance to talk before events transpired and he was killed."

A few days before his death, McMillian told Sanders, his cousin, that he was determined do what was needed in his struggling hometown, "even if it cost me my life," he said. At the time, Sanders thought McMillian was just being dramatic.

"I just don't believe that Marco's death had anything to do with his lifestyle choice," Sanders said. "Marco was just Marco, always digging and doing and getting involved.

"That's why I think our family is sort of bothered by about all the openly gay politician stuff," she continued. "Marco wasn't like that. He told the people who were closest to him who he was. He met you where you were and he let you have your own process."
Ravi Perry, a political scientist at Mississippi State University in Jackson, about two hours southeast of Clarksdale, often talked with McMillian about his campaign and the challenges that came with it. Perry had served as the first openly gay NAACP chapter president while living in Massachusetts. In late February, Perry saw McMillian for the first time -- in his casket.

Some ideas about McMillian's death may be more palatable than others, Perry said. But brushing aside the possibility that McMillian was the victim of an anti-gay hate crime, Clarksdale may do itself and McMillian a disservice at a critical time.

"This is the time to ask questions, to get the whole truth," Perry said. "What has to be recognized and understood is tolerance is not the same as real acceptance. And acceptance is just not quite as good as real equality."
Inside Coahoma County, it's not hard to understand why McMillian's family and friends are concerned about McMillian's reputation and the depth and scope of the investigation.

In early stories that appeared in Jackson, Mississippi's Clarion-Ledger just after Reed's arrest, Coahoma County enforcement officers and the county coroner made statements indicating Reed and McMillian had fought as part of a possible lover's quarrel.
County Coroner Scotty Meredith told The Huffington Post that there was far more to the conflict between Reed and McMillian. He directed HuffPost to find Reed's girlfriend, with whom he said Reed spoke of McMillian at least twice around the time that McMillian was killed.
Meredith also said that the family's claims that McMillian was beaten, burned and dragged overstated the situation. But he later confirmed that McMillian was dragged from a vehicle to the muddy location where his body was found.
At McMillian's funeral, his head appeared swollen and misshapen by dents and bulges. The left side of his face had been charred. And before giving friends and family one last opportunity to view the body, undertakers stretched a gauzy white veil over the open portion of McMillian's casket.

A pair of sisters who live just outside Clarksdale who declined to be identified by name told The Huffington Post that Reed came to their door around midnight the day McMillian's body was found, shaking and battered. The women -- one of whom said she had been dating Reed -- recounted him telling them he had done something awful. They said Reed confessed to killing McMillian with his wallet chain to get away from him after he made sexual advances toward Reed. According to the women, Reed said the two had been alone in McMillian's car on a dark country road.
Reed, who remains in the Coahoma County jail without bond, could not be reached for comment. Rooker, the sheriff's spokesman, told The Huffington Post that Reed had been assigned a lawyer but could not provide a name.
Like many small communities, Clarksdale sends bodies in need of autopsy such as McMillian's to the state medical examiner's office in Jackson and depends on this office to run tests in order to determine a cause of death; what, if any, substances the dead person had in his or her system; and sometimes, when the person died. Almost none of this information has been made public in McMillian's case. The Coahoma County District Attorney's office will convene its next grand jury in late May and may bring information about the McMillian case at that time.

By the time the state's medical examiner released McMillian's body to his family for burial on March 9, the Clarion Ledger, the state's largest newspaper, had published a series of stories describing some combination of the claims from Scotty Meredith and the sister who said she was dating Reed (which gay rights groups described as the troubling foundation for an attempted "gay panic" defense), or dismissing outright the idea that McMillian had been the victim of any sort of hate crime.

Clarksdale was getting an unfair turn in the national spotlight, an audience unable to appreciate just how much the community has changed since the dark days of Jim Crow and rampant domestic terrorism, the stories claimed.
And in Mississippi, anti-gay hate crimes don't exist under state law.

'WE'VE BEEN ROBBED'
Akintunde, the filmmaker, had made the 15-hour mad dash from Omaha to Clarksdale, having only about 48 hours in the Mississippi Delta. Like McMillian, Akintunde is black, gay and a Sigma who spent considerable portions of his life in the Bible-thumping South.
Akintunde interviewed McMillian's former co-workers and pastors in Memphis and Jackson. In Clarksdale after the funeral, he talked with Lewis, McMillian's half-brother, a few cousins and his godfather in the Clarksdale High School library, a building where McMillian's senior picture still hangs above the cafeteria door.
The next day, he asked one of McMillian's cousins to show him the remote place where his body had been found. When they arrived, the woman began to shiver, he said. What happened seems to highlight just why many African Americans who profess an interest in fighting for and defending civil rights, equality and justice need to expand their support to include gay rights, Akintunde said.
"At one point I asked her, 'Do you think Marco is in heaven?'" Akintunde recalls. "After a long pause, and this 10-pound sigh, she said, 'Well the bible says homosexuality is an abomination.' This is what she said about someone she loved and was so very proud of. Then, when we were leaving she was so quiet. Tears were streaming down her face. So, I asked her what she was thinking. She said, 'I think, I think we have been robbed.'"
This piece has been updated with comment from the Coahoma County Sheriff's Office.
Popular in the Community