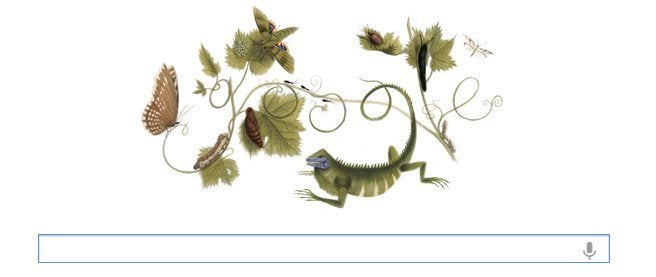 Today, Google celebrated artist and naturalist Maria Sibylla Merian's 366th birthday the only way it knows how: a Google Doodle. A trailblazer, Merian and her daughter Dorothea traveled together (without a male companion) to Suriname in South America to study, document and draw insects. Such an expedition was completely unheard of at the time, and the women reportedly survived a number of dangerous encounters.
Merian makes for a particularly apt Google Doodle honoree. Her most influential work, 1705's "Insects of Surinam", was a gorgeously illustrated book that cemented her reputation as both an artist and a scientist. Merian's work has been recognized both for its scientific genius and its beauty. Russian Tsar Peter The Great was taken with Merian's art and purchased many of Merian's works while traveling in western Europe, and many of them reside in the Russian Academy of Sciences to this day.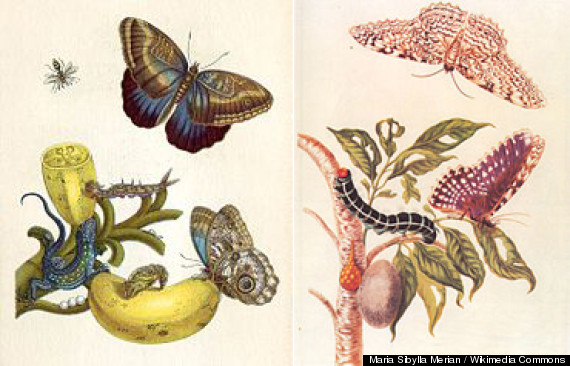 We can see why Google wanted to incorporate her art into its logo.
Maria Sibylla Merian created an incredible merger of science and art with her tireless study and gorgeous copperplate engravings. Merian is the second female scientist Google has honored this year. In February, Google celebrated archeologist and anthropologist Mary Leakey's 100th birthday.
REAL LIFE. REAL NEWS. REAL VOICES.
Help us tell more of the stories that matter from voices that too often remain unheard.
BEFORE YOU GO
PHOTO GALLERY
Google Doodle Slideshow