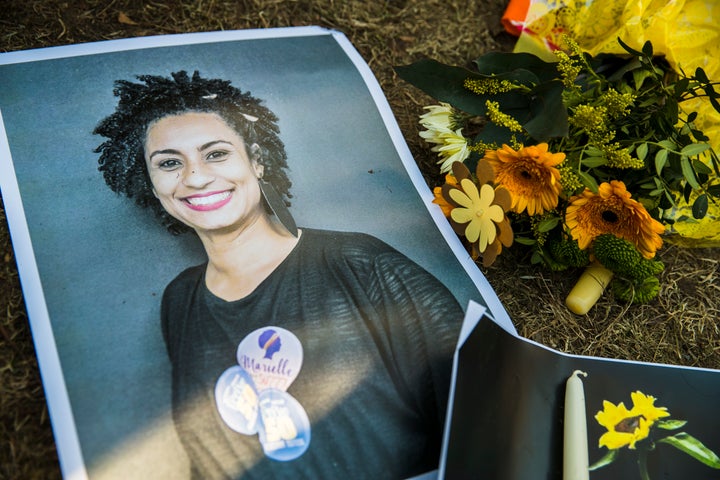 WASHINGTON ― Whoever shot Marielle Franco in downtown Rio de Janeiro last Wednesday night silenced a black woman who, as an activist and then a city council member, had been an incessant critic of police killings of black Brazilians and a fierce advocate for her Rio's poorest citizens.
But Franco's killing also amplified her cause.
The murder sparked waves of protests in Rio and other Brazilian cities, as thousands of people demanded accountability for her death. The demonstrations were the biggest in Brazil since at least 2015, but this time, they also stretched beyond its borders: to the United States, Europe, Argentina and other Latin American countries.
By the time more than 40 people gathered outside the White House on Friday night to remember Franco, the only black woman on Rio's 51-member council, Brazilian officials had made clear that her suspected murderers were rogue current or former police officers ― perhaps from an informal, extrajudicial militia. The bullets that killed Franco, nine in total, were traced back to a shipment purchased by Brazil's Federal Police in 2006.
Franco, 38, who was born in one of Rio's largest favelas — the informal neighborhoods that the government has long neglected — was an unflinching critic of the role Rio's police have played in the rising levels of violence that have cast a pall over the city over the last two years.
In Washington, her death served as the latest reminder that the fight for racial equality ― and against police killings of black people ― was a global cause that stretches from Brazil to the United States and across the world.
"The reason why we see racist police terror in the favelas of Brazil is the same reason we see racist police terror in Southeast D.C., where poor and working black folks live," Sean Blackmon, an organizer with Stop Police Terror Project DC, said. "We are all a part of this common struggle, and wherever we are on this earth, whatever language we speak, it is our duty to connect those struggles and to understand that the only way we can strike down state-sanctioned violence is to do it together."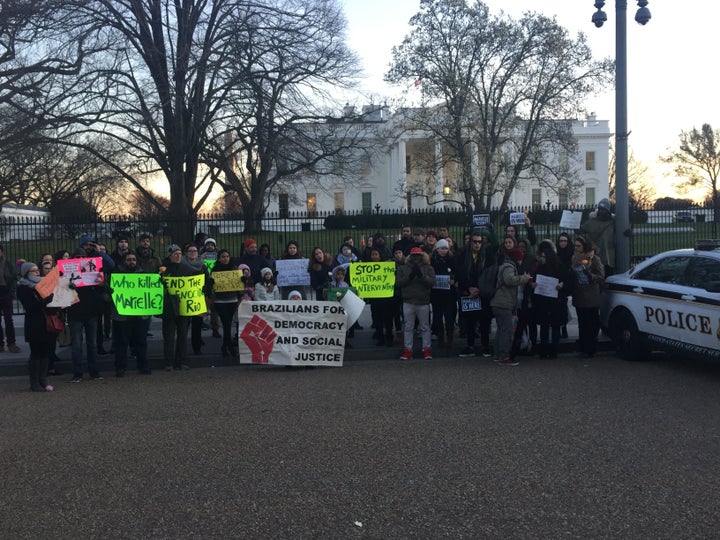 Brazil suffered more than 60,000 homicides in 2016, according to federal data, with more than 5,000 taking place in the Rio state. Police in Brazil killed more than 4,200 people that year ― with at least 925 of those killings occurring in Rio state. That's roughly the same number that took place across the United States in 2016, even though U.S. population is nearly 20 times larger than Rio state.
Franco opposed President Michel Temer's February decision to place the military in charge of public security in Rio de Janeiro, a move human rights groups argued would only exacerbate violence and civil rights violations against favela residents. Franco had recently been appointed to a city council commission to monitor the military intervention.
The vast majority of the victims of homicides in Brazil are black men, who are 23.5 times more likely to die from violent crime than members of other racial groups, a 2017 study found. More than three-quarters of the victims of police killings in 2016 were black men, according to federal statistics.
"We already knew that something systemic had to change in Brazil," said João Coimbra Sousa, a native of northeast Brazil who now lives in Washington. "This is why Marielle was murdered, because she was the voice of that."
The majority of Washington protesters were Brazilian expatriates, and they turned their ire on that country's police and political establishment. They repeatedly called for an end to the military intervention in Rio and the abolition of Brazil's armed forces police force, echoing a popular chant that rang through the demonstrations in Rio and São Paulo a day earlier.
"So many people have been dying for so many decades with so little attention," one protester screamed into a bullhorn. "We need to pay attention to the genocide that's happening in Rio. This is not a novel thing. This is a repetitive thing, and we need to move."
Franco's symbolic power in Rio, though, was about far more than her crusades against police violence, and her murder seems to have spotlighted all of the interweaving issues and problems facing Brazil.
She was born and lived in the Complexo do Mare, on Rio's north side. After her pregnancy at 19, she left school, only to later return and obtain a master's degree. She joined the leftist Socialist and Freedom Party after years of community activism, and won an improbable election to the city council in 2016.
That had made her a popular young politician who dared to challenge Rio's establishment at a time when Brazil grapples with a massive political corruption crisis that has eroded faith in its democracy and its politicians.
Franco was also a queer woman in a city that elected a conservative evangelical mayor at the same time. Yet she was rising in popularity and clout in a country where someone like her rarely have had access to the levers of power, even at the municipal level.
She had opposed austerity measures from Brazil's Congress that she believed would gut health, education and social programs that helped favela residents. She was also an advocate for better child care and assistance programs to help women like her work and raise a family, a fighter for seemingly every single segment of Brazil's most vulnerable populations.
"She acquired a position of power in order to advocate for people in the favelas, and she was fighting for their lives," one speaker said at the Washington rally. "She empowered so many people to keep going forward."
And Franco had, as the activists pointed out, fought on behalf of the families of slain police officers, who have also suffered from Rio's surge of violent crime. More than 120 officers were killed in the line of duty in 2016, according to federal statistics.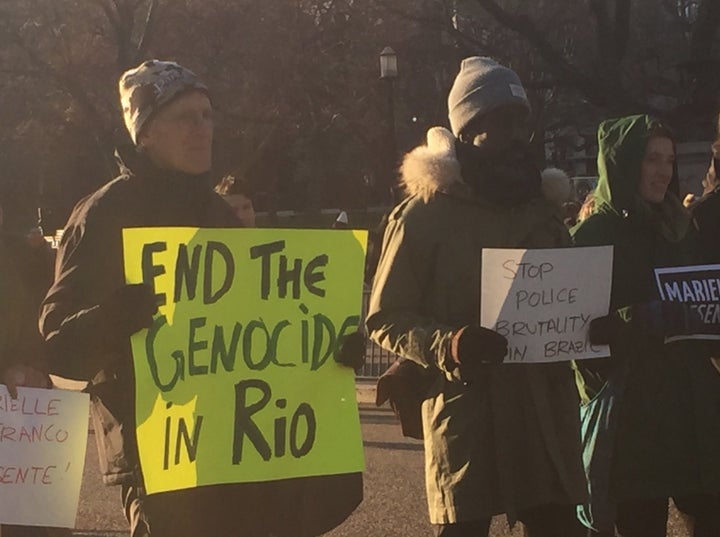 But while Franco has lived on as a symbol of hope in Brazil and around the world, she was also another casualty of her country's inability and unwillingness to deal with the systemic racism that plagues it. And while her death has been viewed internationally as an unspeakable tragedy, there are fears among some Brazilians that it is also another sign of the country's creep toward authoritarianism.
Rising rates of violence across Brazil have made public security one of the biggest issues in the general elections set for October, which will include choosing a new president. And on the political right ― and in elements of the center and center-right parties now in power ― there is broad support for even more aggressive policing tactics.
In that growing segment of the population, the common Brazilian saying that "bandido bom e bandido morto" ― "a good criminal is a dead criminal" ― sums up the preferred approach to violence. And while use of the hashtag #MariellePresente ― or "Marielle is here" ― spread quickly across social media after her death, roughly 7 percent of Twitter mentions of Franco's name in the day after her death, one study found, took the view that she deserved to be murdered for her work "defending criminals."
Coupled with the political corruption crises and an economic collapse that Brazil is only now emerging from, the outbreak of violence has contributed to growing nostalgia for the return of the military dictatorship that ruled Brazil from 1964 to 1985. Polls, meanwhile, have shown declining faith ― especially among young and conservative Brazilians ― in the idea of democratic governance.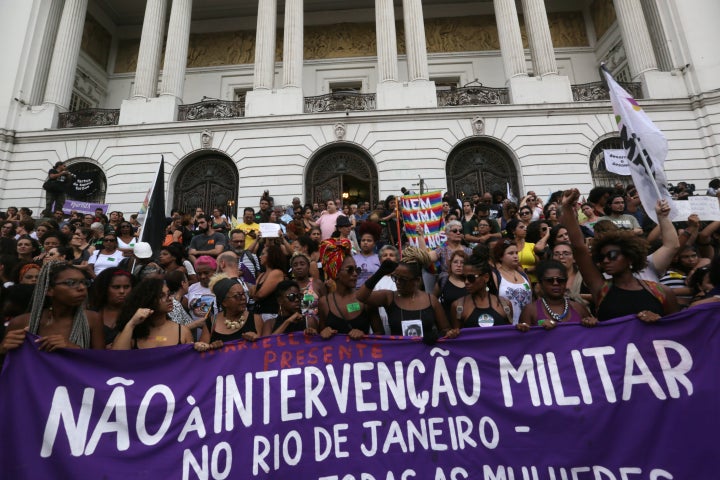 Temer's deployment of the military in Rio had already sparked uneasy memories of the junta and the human rights abuses it carried out among its opponents. And even as protesters in Rio, Washington and elsewhere responded to Franco's death by calling an end to the "failed" military intervention, there were fears that Temer will use her murder to further justify it.
In Washington, a mixture of hope and anger fueled the demonstrations, as protesters vowed to continue Franco's fight. But there were moments, too, when the sheer sadness of her death crowded out other emotions.
"I just have hope that Marielle's death will not be in vain," Sousa said. "It's so little to ask, and so petty to ask, but if she could be the last one…"
He paused, and shook his head.
"But even then, this didn't need to happen," he said. "It just didn't."
Popular in the Community