On the final day of the legislative session, Colorado lawmakers finally passed two historic bills to implement recreational marijuana legalization in the state -- making Colorado the first state in the U.S. to take such steps toward the legal sale, regulation and tax of marijuana for recreational use.
Both the regulatory framework bill and the tax bill head to Gov. John Hickenlooper's desk and appear poised to become law.
"The adoption of these bills is a truly historic milestone and brings Colorado one step closer to establishing the world's first legal, regulated, and taxed marijuana market for adults," Mason Tvert, co-director of the Yes on Amendment 64 campaign and director of communications for the Marijuana Policy Project, told The Huffington Post. "Facilitating the shift from failed policy of prohibition to a more sensible system of regulation has been a huge undertaking and we applaud the many task force members, legislators, and others who have helped effect this change. We are confident that this legislation will allow state and local officials to implement a comprehensive, robust, and sufficiently funded regulatory system that will effectively control marijuana in Colorado."
If Hickenlooper signs HB-1318 into law, Colorado's Taxpayers' Bill of Rights still requires that Coloradans vote on any tax increases so they will be asked to weigh in on the proposed 15 percent excise tax and 10 percent sales tax on this November's ballot. The Associated Press's Kristen Wyatt reported that some state lawmakers, fear that voters will reject one or both of the tax proposals leaving the state stuck with the tab for enforcing pot sales but without the budget to pay for it.
Amendment 64 states that the first $40 million raised from the 15 percent excise tax would go to to school construction. And although many voters who supported A64 did so because it could raise money for schools, lawmakers are concerned that even fans of that excise tax rate and the use of its revenue could be turned off by a total tax rate of 25 percent, not including additional state and local taxes that could lead to marijuana taxes exceeding 30 percent in some areas.
Although Coloradans are known to reject increased taxes when it comes to even popular state services -- take K-12 education improvement, for example -- when it comes to legal marijuana, state voters appear to be ready to buck that trend.
According to a recent survey from Public Policy Polling, 77 percent of Colorado voters support the 15 percent excise tax -- which Amendment 64 calls for and which is earmarked for public school construction -- as well as an additional 10 percent sales tax to cover the cost of regulating recreational marijuana sales. Only 18 percent of those surveyed were opposed to increased taxes on legal pot sales. The survey of 900 registered Colorado voters was conducted by Public Policy Polling from April 15-16.
In a statement, Amendment 64 backers said that state officials have told them that the cost to the state to enforce recreational marijuana regulations would not be greater than $30 million and said that the proposed 25 percent in taxes would still likely yield more than $60 million.
Under HB-1317, marijuana shops would be required to be licensed by the state and owned by Colorado residents and when the regulatory law goes into effect, for the first nine months only current medical-marijuana dispensaries will be able to apply for the recreational pot license. According to The Denver Post, the first recreational marijuana stores to open would only be able to sell the marijuana that they have grown themselves, but come October 2014, that restriction would be lifted so stand-alone growers and retailers could open up for business.
Colorado voters passed Amendment 64 last November making the limited sale, possession and growing of marijuana for recreational purposes legal for adults 21 and over. A64 states that adults can possess up to an ounce of pot, can grow as many as six marijuana plants at home (with only three flowering at any given time), but that home-grown marijuana can only be for personal use and cannot be sold, however, adults can gift one another up to an ounce of pot.
Before You Go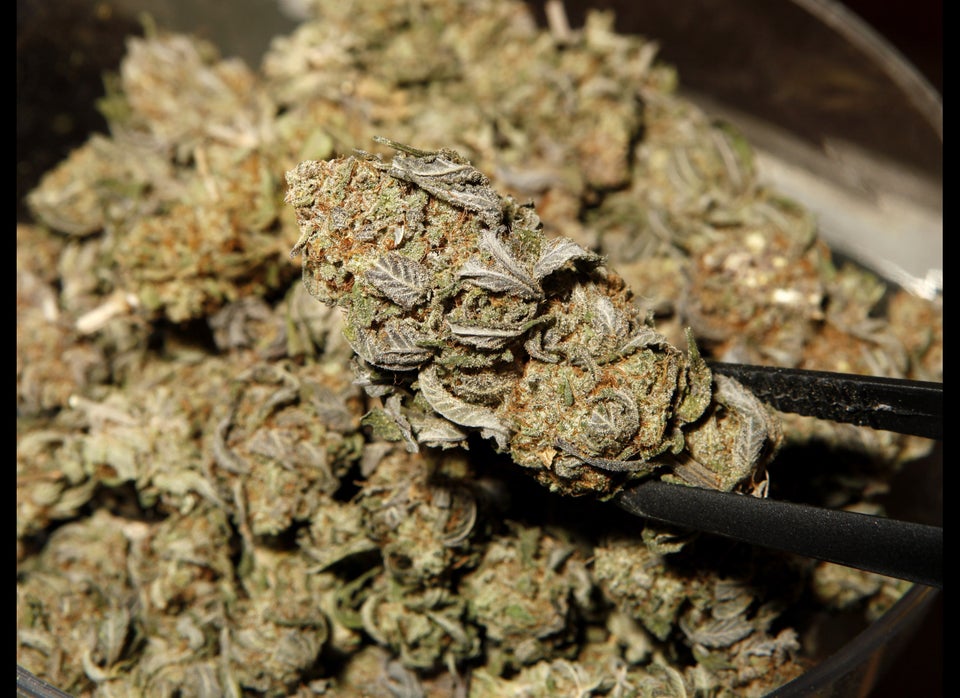 16 Facts About Marijuana And The U.S. Economy
Popular in the Community