It seems it's been a rather unlucky week for Danish giraffes named Marius.
According to Reuters, the Jyllands Park Zoo in Videbæk, Denmark, has said that it may have to kill one of its giraffes -- a 7-year-old male named Marius -- for the benefit of its breeding program.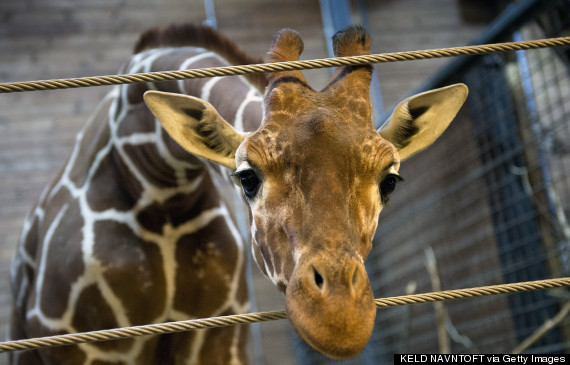 Marius #1 before he was killed Sunday at the Copenhagen Zoo.
Staff at the Copenhagen Zoo received death threats and an onslaught of complaints after the killing of the young Marius over the weekend. Despite a petition that received more than 20,000 signatures demanding that the animal not be harmed, the zoo went ahead and put the giraffe down, later feeding its remains to lions (WARNING: LINKED STORY CONTAINS GRAPHIC PHOTOS) as visitors, including children, watched.
Despite the backlash, the zoo has defended its decision, saying that it had humanely put down Marius to prevent inbreeding.
A spokesman said that the zoo had "followed the recommendation of the European Association of Zoos and Aquaria to put down Marius because there already were a lot of giraffes with similar genes in the organization's breeding program," The Associated Press reports.
"I know the giraffe is a nice looking animal, but I don't think there would have been such an outrage if it had been an antelope, and I don't think anyone would have lifted an eyebrow if it was a pig," said Bengt Holst, Copenhagen Zoo's scientific director, per the AP.
On Thursday, the Jyllands Park Zoo also defended its right to put down its own Marius if it has to.
As the BBC reports, the zoo currently has two male giraffes -- Marius, who is a mix of different giraffe subspecies, and Elmer, a younger purebred. Jyllands Park says it hopes to get a female giraffe that it can mate with Elmer in the near future.
"At the moment, there is no problem," zoologist Jasper Moehring told the news outlet. "Marius is good company for Elmer and they are a wonderful attraction for our visitors. But the problem will be when we get a female. The two males will fight, which could result in the death of one of them."
The zoo says it will try its hardest to find a new home for Marius before the female's arrival, but insisted that if the "move … [harms] the carefully regulated genetic make-up of the giraffe population," then Marius will have to be killed, per the BBC.
Already, netizens have leapt to the second Marius' defense, calling for his rescue on social media sites like Twitter:
As of Thursday afternoon, thousands of signatures have already been added to petitions demanding that the Jyllands Park Zoo spare the giraffe's life.
"We are begging Jylland's Park Zoo to please begin a new trend by showing that there is a more compassionate alternative to surplus animals or animals deemed not fit to breed within your zoo," reads one Change.org petition that has collected more than 4,600 signatures so far. "Allow Marius, the giraffe within your care, to live out his days at a sanctuary or wildlife park. Please, do not kill another animal when there are so many other options."
UPDATE: 3:30 p.m. -- Reports have emerged that at least two individuals have stepped forward to personally offer to save Marius from death.
"No matter what kind of living creatures you have in a zoo, there's a responsibility for zookeepers to take care of them throughout their lifetime," Hanna told the news outlet. "If we don't do that, we shouldn't have zoos."
On the other side of the globe, Ramzan Kadyrov, the president of Chechnya, has also offered to give Marius a new home.
"On humanitarian grounds I am ready to take Marius in," Kadyrov -- an animal lover who, as The Guardian points out, has been "implicated in torture and human rights abuses" -- wrote in an Instagram comment Thursday. "We can guarantee him good living conditions and care for his health."
Calling all HuffPost superfans!
Sign up for membership to become a founding member and help shape HuffPost's next chapter
BEFORE YOU GO