Officials in a small Michigan town moved a city-approved public sculpture about the importance of relying on one another after residents complained that it was "disgusting" and an "abomination."
Mark Chatterley's "Blue Human Condition" was unveiled near Adrian City Hall last week as part of the city's public art program. But after objections from residents, officials moved the sculpture to a less visible section of a park on Tuesday.
Chatterley is a Williamston, Mich. sculptor who has worked with the Midwest Sculpture Initiative for the last several years. The program brings public exhibitions to cities across the region; Adrian selected Chatterley's piece, and he in turn receives a rental fee, he said.
Chatterley told The Huffington Post the piece represents the idea that "living today, we can't do it alone -- we rely on other people… to try to survive." In a 2011 article, New York Times critic Susan Hodara described Chatterley's figures as "somber," in "elegant, contemplative poses."
So what's the issue? Unfortunately, some people missed the "relying on each other" forest for "orgy" trees.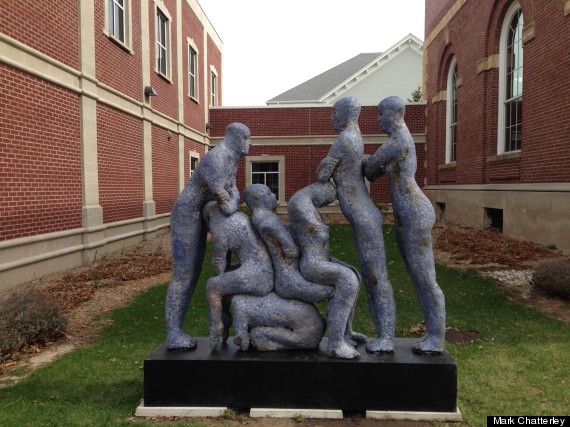 After it was installed, the sculpture was dubbed "The Orgy Statue," according to the Adrian Daily Telegram, presumably for apparent "genital" contact, though the seven figures are sexless. Numerous residents complained to the city about the perceived graphic nature of the piece.
Local pastor Rick Strawcutter of Adrian's The Church on Bent Oak noted that the statue was installed as the city commission voted in favor of an anti-discrimination ordinance that gives equal rights to LGBT individuals, legislation he said would "enshrine perversion and abomination in a protected status." The two together show that officials are leading Adrian to Sodom, he explains in a YouTube video, describing various sex acts the figures -- he claims they are male -- are supposedly engaged in.
"Everybody I know who sees [the sculpture] just feels like it is in itself an abomination," Strawcutter said in the video.
One commenter left a message on the city website saying he was "disgusted" by the sculpture and that the city should remove the piece to protect "the rights of the freedom of sight":
While one can argue that that the artist himself said that there was no sexual meaning behind the statue, one cannot argue the fact that it is clearly easy to see how one (or, rather, many) would view it in that light. I believe it is very unfair and unkind to infer that those of us that do so have "dirty minds" and are "sexually repressed prudes". If so, my children are "dirty minded, sexually repressed prudes" at the ripe age of 10, 11, and 13 (the youngest is 7 months). With no prompting on our part, they refused to even walk close to it when we were going to the library because they were "disgusted" and "grossed out".
Chatterley was confused by the sexual reading of his piece; he said it hadn't crossed his mind and that the accusation showed you "what people are really thinking about."
The city initially planned to remove "Blue Human Condition" altogether, according to Adrian Today. Before
it was moved, they covered the piece with a blue tarp -- which Chatterley pointed out made the piece seem more erotic than when it was uncovered.
City administrator Shane Horn told Adrian Today that no one on the committee choosing sculptures saw the piece as sexual, but it was an issue if people felt they couldn't bring their children downtown because of the statue.
Reports of the sculpture's uncertain fate then sparked an outpouring of positive responses, including a petition, a protest and a family recreating the sculpture to show that it didn't have to be viewed with sexual content.
"I was thrilled by the positive response," Chatterley said. "It just shows that there's hope for Adrian."
But on Tuesday, Adrian moved the sculpture to Yew Park, where it is still downtown but not visible to passersby. In a statement, Horn said he appreciated the public's input.
"I recognize there are likely to be people on both sides of the issue who are not satisfied, but I believe this decision provides an appropriate resolution," he said.
Chatterley thought the city should have stood up to the people who complained.
"I think they're hiding the piece, to be honest," he said. But the experience with Adrian -- not the first time people have said his work is lewd -- won't change his art.
"I make the work for me first, because I want to see it exist," he said.
PHOTO GALLERY
Mark Chatterley's Sculpture Works
Calling all HuffPost superfans!
Sign up for membership to become a founding member and help shape HuffPost's next chapter
BEFORE YOU GO
PHOTO GALLERY
The Creatively Subversive: Ten Artists That Have Been Prosecuted For Their Art