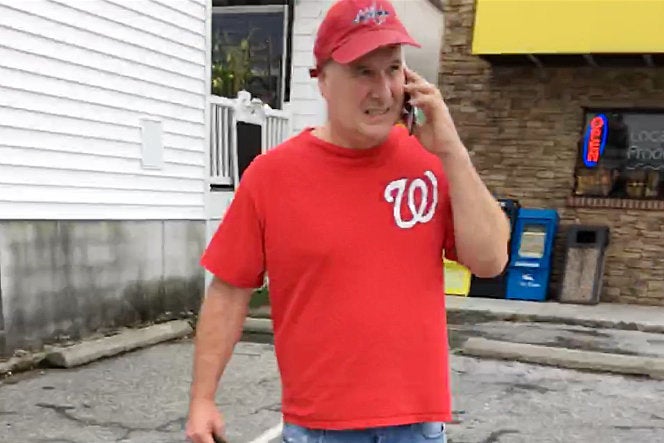 The most remarkable thing about Thursday's long-anticipated Senate interrogation of Christine Blasey Ford ― aside from her raw, emotional account of the alleged sexual assault by Brett Kavanaugh at a party in high school ― is the glaring absence of Mark Judge.
Blasey said Judge was the other man in the room in 1982 when Kavanaugh covered her mouth and tried to rip her clothes off. His name came up over and over again during her testimony: She said it was Judge who turned up the music to drown out her protests. She said she made eye contact with Judge during the attack, expecting him to help her, and he did nothing. She said the two drunk teens laughed uproariously at her struggles before Judge jumped on the bed and knocked her and Kavanaugh over, inadvertently helping her to escape.
Six to eight weeks later, she recalled, she ran into Judge at the Potomac Village Safeway, where he worked as a bag boy. She testified that she greeted him, and though he'd been "friendly" to her for the two years before the attack, she said that "his face was white and [he was] very uncomfortable saying hello back." She said that "he looked a little bit ill."
Since Blasey came forward with these allegations, Republicans have zeroed in on some holes in her memory, such as the fact that she can't remember the specific date or location of the alleged incident. Mark Judge's testimony could help her do that, she said. "I certainly feel like I could be more helpful to everyone if I knew the date he worked at the Safeway," she told senators.
As it happens, Judge's 1997 memoir, Wasted: Tales of a Gen X Drunk, backs up Blasey's timeline. In it, he recalls having worked as a bag boy "at the local supermarket" in the summer of 1982.   
But Judge is currently hiding out at a beach house in Bethany Beach, Delaware, "recovering from alcoholism," according to his lawyer. Republicans could have subpoenaed him ― after all, he is the only eyewitness to the alleged attack ― but instead they're taking his word for it that he remembers nothing of the incident and are declining to ask him further questions. (By contrast, when Anita Hill testified about Clarence Thomas before the Senate Judiciary Committee in 1991, more than 20 witnesses spoke at the hearing.)  
Judge and Kavanaugh were close friends in high school. If he had anything helpful to say that could back up Kavanaugh's own account of being a sober, hard-studying, churchgoing good boy in high school, Republicans would almost certainly have trotted him out as a character witness.
But Judge most likely wouldn't be helpful to the GOP cause. In Wasted, Judge described a puking, passed-out "Bart O'Kavanaugh." And Judge's former college girlfriend Elizabeth Rasor has publicly challenged his claim that "no horseplay" took place at Georgetown Prep. In a New Yorker interview, Rasor said that Judge once described for her a high school incident in which he and other boys took turns having sex with a drunk woman.
Rasor's story backs up the explosive claims of Julie Swetnick, who in a sworn declaration spoke of "efforts by Mark Judge, Brett Kavanaugh and others to cause girls to become inebriated and disoriented so they could then be 'gang raped' in a side room or bedroom by a 'train' of numerous boys." Swetnick alleged that she was the victim of a gang rape at one of these parties where Kavanaugh was present, though she did not implicate him in the attack on her.
Judge's name has come up so often in the various allegations against Kavanaugh and in Thursday's hearing that it beggars belief he still hasn't been called to testify. Multiple Democratic senators demanded his presence.
"Mark Judge should be subpoenaed from his Bethany Beach hideaway and required to testify under oath, but he has not," Sen. Dick Durbin (D-Ill.) admonished at the hearing.
Sen. Richard Blumenthal (D-Conn.) said the GOP senators' failure to question Judge and the president's failure to call for an FBI investigation is "tantamount to a cover-up." 
Republicans have been insisting on the importance of "due process" and "innocent until proven guilty," and Kavanaugh said 17 times during his Fox News interview this week that he wants a "fair process." But Senate Majority Leader Mitch McConnell (R-Ky.) rejected Democrats' calls for a more thorough fact-finding inquiry, including a firsthand witness and a federal criminal investigation. He chose instead to pit Blasey's testimony against Kavanaugh's.
A former prosecutor of sex crimes told HuffPost that she "would have given anything for a witness in the room to an intimate violence offense."
"You bet I would have subpoenaed him," said Linda A. Seabrook, general counsel at Futures Without Violence, a nonprofit working to end violence against women. "It's irresponsible not to."
Melissa Jeltsen contributed reporting.
REAL LIFE. REAL NEWS. REAL VOICES.
Help us tell more of the stories that matter from voices that too often remain unheard.