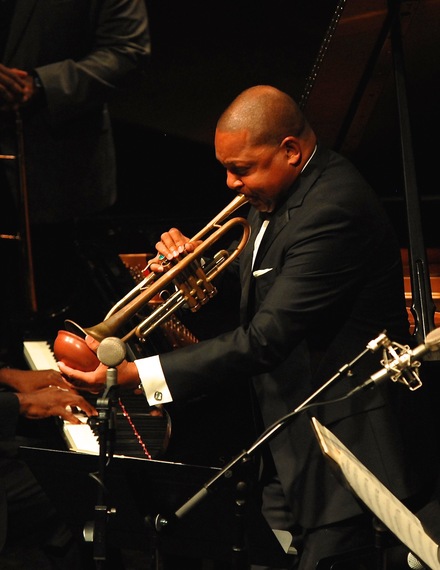 Marsalis performing with his septet at Marian Anderson Awards (photo by Dave Ickes courtesy of Marian Anderson Award)

Jazz trumpeter Wynton Marsalis was the honoree at the 2015 Marian Anderson Awards. Philadelphia mayor Michael Nutter presented Marsalis with the award after a gala dinner and concert event at the Kimmel Center for the Performing Arts in Philadelphia on November 10.
The award is named for Philadelphia contralto Marian Anderson, who broke down racial barriers to became the first African American woman to sing with the New York Philharmonic and perform at the Metropolitan Opera. In 1949, she was barred from performing at Constitution Hall in Washington by the DAR because she was black, but Eleanor Roosevelt arranged for her to sing in front of the Lincoln Memorial instead, in a landmark event with 75,000 in attendance hear her sing. The award is given to those who carry on her legacy of artistic excellence and their work for human rights causes.

Nutter said that he was personally honored to present this award and spoke of Marsalis' sterling artistry and his musical philanthropy with students across the country. "While we know him as an incredible talent and dedicated musician, it is his generous nature and commitment to others who makes him who he is."
Nutter cited Marsalis' for the citizens and musicians of his hometown New Orleans in the devastating aftermath of Hurricane Katrina, among other humanitarian initiatives. Marsalis started his career as a Juilliard trained classical and debuted at age 14 with the New Orleans Philharmonic. Marsalis was also on a dual track as a virtuoso jazz trumpeter.

In addition to his many awards, he is the first jazz musician to be awarded the Pulitzer Prize. He established the jazz program at Lincoln Center and he is director of jazz studies at Juilliard. He is already has a large Philly following at the Kimmel Center from many concerts he has conducted leading the Jazz at Lincoln Center Orchestra.
The gala event at the Kimmel Center started with a formal dinner and fundraiser for the Marian Anderson Artistic Development Fund, which provides grants to young classical musicians and invest in community arts education and programs. Previous honorees include James Earl Jones, Gregory Peck, Mia Farrow, Bon Jovi, Richard Gere, Ruby Dee and Ozzie Davis and Elizabeth Taylor.
Emceed by former CNN anchor Soledad O'Brien and the concert kicked off with 17 year old violinist Maxwell Chambers and who performed a jazz arrangement of "Autumn Leaves" accompanied by pianist Farrid Barron that set the tone for an altogether stellar musical evening.
Bandleader Bill Jolly led a small orchestra and backup singers for vocalist Lalah Hathaway and gospel singer Kim Burrell. Hathaway sang two numbers, one of which was composed by her father Donny and she hit some golden bass notes that recalled her father's vocal quality. Gospel singer Burrell, a close friend of Marsalis, sang inspirational songs and was joined by a local school percussion marching band, handkerchiefs' in the air, ala NOLA celebrations.
O'Brien noted that Marian Anderson was the first African American to sing at the Metropolitan Opera in New York in 1955 and American Ballet Theater Misty Copeland is the first black woman to become principal dancer at ABT, which performs in the Met. Copeland swept on the Verizon Hall stage in triumph and danced to choreography by Dance Theater of Harlem choreographer Robert Garland dedicated to Marsalis, whose voice is heard on the soundtrack. The first section set to classical music with Copeland pointe piques and arabesque lines, finishing with a thrilling pirouette run; then she glided into a contemporary dance finale, framing Copeland's lustrous stage presence.
Marsalis was introduced with his former Septet a lurched into a classic New Orleans street dirge that exploded into a 30s era scorcher with Marsalis singeing the rafters with his growling, ferocious solo, using a plunger, joining his former bandmates- Wes Anderson (alto sax), Todd Williams (tenor and soprano sax), Wycliffe Gordon (trombone), Richard Veal (bass), Marcus Roberts (piano), Herlin Riley (drums). Each of the players followed with virtuosic solos and if Marsalis didn't later make note of the fact that the musician were playing again for the first time in more than twenty years, no one would have guessed. Musically fierce would be the word.
In accepting the award, Marsalis gave a stirring speech about the Marian Anderson's artistic and humanitarian achievements and he spoke passionately about the racial struggles of the nation. " ...bloodstained history and slavery will always be part of our nation. But it gave us the opportunity to discover what we were willing to sacrifice for the cause of freedom. And the sacrifice was great. The most powerful gift from American slavery has been music." Of Anderson's enduring legacy, Marsalis said "Sometimes excellence is a form of protest." The audience bounded to its feet as Marsalis concluded his speech.