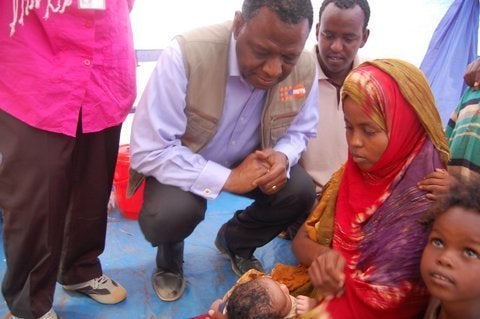 With Mother's Day come and gone, it is an apt occasion for asking some hard questions. Of all of the objectives to help lift the world's poorest people out of poverty, why has progress toward improving the health of mothers been the most elusive? Given the risks involved in childbirth, is the prospect of becoming a mother the world's most dangerous job? What exactly is inhibiting our collective capacity to make meaningful reductions in maternal mortality rates among the world's developing countries?
These are timely questions, not so much because it's the time of year we set aside in our country to honor and celebrate motherhood. What gives them urgency is the recent report from the World Bank and International Monetary Fund that chronicles the progress -- or lack of it in some cases -- that has been made toward achieving several of the Millennium Development Goals (MDGs), a set of eight objectives established in 1990 by the United Nations.
While progress has been made on some fronts -- the goals for reducing extreme poverty and increasing access to safe drinking water already have been achieved well ahead of their 2015 deadline - the MDGs related to maternal health have made the smallest amount of headway. Over the last two decades, the World Bank report indicates that we are only one-third of the way toward meeting our maternal mortality targets. No surprise therefore that the report predicts that not one developing region will achieve the agreed-upon goals for reducing the mortality rates of mothers and children under five.
The problem is most acute in sub-Saharan Africa, a region that accounts for literally half of the world's maternal, newborn and child deaths. Each year, more than a quarter million mothers die, mostly from preventable causes, especially the complications that can arise during pregnancy and childbirth. In fact, more than 80 percent of maternal deaths are caused by hemorrhage, sepsis, obstructed labor or hypertensive diseases during pregnancy. When women have access to adequate health services, including prenatal services, the risks to their survival go down dramatically. As it stands today, more than half of the women of sub-Saharan Africa deliver without a skilled healthcare worker. Within all developing countries, only one in three women in rural areas receives recommended care during pregnancy.
Predictably, it is often the unpredictable that creates the greatest risk. High-risk deliveries are sometimes unanticipated, especially given the lack of skilled healthcare workers who can diagnose such deliveries ahead of time. And when emergencies do arise, the nearest help is typically a long way off over bad roads. I met a woman in Honduras who, in the middle of a difficult labor, set off on foot for the closest health clinic before workers there finally got the news and sent an ambulance for her.
Investments in raising the availability of quality healthcare will be critical, if we are to make real progress. The tremendous progress that has been made in Senegal over the past generation provides a model that needs to be replicated elsewhere. Thanks to a grant from the U.S. International Development Agency (USAID), and working collaboratively with other partners, ChildFund has implemented a large-scale community health project that we believe will ultimately reach virtually the entire country over the next four years. A network of community-based health huts and outreach sites is being created so that virtually everyone -- those in both rural and urban areas -- will have convenient access to trained healthcare.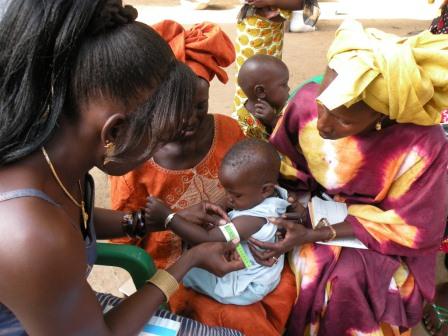 Children's nutritional status and overall health are assessed regularly at Senegal's health huts and outreach points.
In tandem with the centers themselves are additional educational efforts at the community level, particularly addressing some of the cultural traditions that can impact a woman's health, such as the practice of female genital cutting. There are other cultural aspects that also are informing our strategy. We understand, for example, the vital role that grandmothers and godmothers play as mentors to the younger women in their communities, and so we are training these community elders as birth attendants and community health volunteers, integrating them into this system of healthcare built at the community level.
More daunting has been helping change a woman's subordinate place within a family or society also may stand in the way. Husbands or other family elders may make decisions related to a woman's pregnancy and delivery that are not always in her best interests.
For every 30 women in sub-Saharan Africa who gets pregnant, one will die as a result of complications during pregnancy or delivery -- complications that are largely avoidable. By contrast, maternal mortality rates among developed nations are 1 in 5,600. While we may fall short of achieving the MDG target by 2015, it is time to redouble our efforts so that we can achieve real and lasting progress. At ChildFund we understand that the best way to ensure that the world's children are safe and healthy is to make their mother's well-being no less of a priority.
Popular in the Community