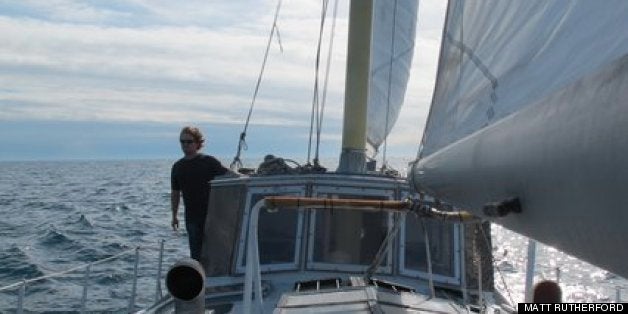 In 2012, Matt Rutherford became the first person to solo circumnavigate North and South America. He completed the non-stop 27,000 mile journey in 10 months in a tiny, old sailboat.
During the course of his epic journey, the then 31-year-old capsized in the Arctic battling waves, avoided being smashed by a tanker and navigated a maze of icebergs large and small. In South America, he experienced Cape Horn's famous beauty and cruel winds. He also faced the literal doldrums - areas near the equator without any wind. And all while spending more than 300 days in complete solitude.
Politicians monitored his progress, and a documentary for the Sundance Film Festival is in the works.
Now the ambitious sailor has launched a non-profit company, Ocean Research Project, which aims to identify new, lower-cost methods of conducting ocean research.
At the beginning of May, he set sail on his latest adventure in the Atlantic. Before his departure from St. Katharine docks in London, he spoke to Lesleyann Coker.
In 2012, you became the first person to solo circumnavigate the Americas and the Northwest Passage. What motivated you to attempt such a journey?
It all started as a fundraiser for a local Annapolis-based non-profit called C.R.A.B [Chesapeake Regional Assessable Boating]. At this point I've raised over $120,000 for the non-profit by doing the trip. I'm also a great admirer of [Ernest] Shackleton, and his story inspired me to try something that most people thought was impossible.
How did you get started in sailing?
I bought a little 25-foot boat from the '60s back in 2004 and sailed it from the Chesapeake Bay to the Florida Keys. I knew nothing about sailing when I left. I made every mistake possible, but over time I taught myself the skills necessary to cross oceans, and eventually, sail around the Americas.
What's your connection to Senator Tom Harkin and Governor Martin O'Malley?
Martin's wife, Katie, saw me off the dock the day before I left and I've been invited to their house several times since my return. Tom spoke about me on the floor of the Senate after I passed Cape Horn. He has shown an avid interest in my story. Tom Harkin is an old school Democrat who understands how important it is to reach across the aisle. He will be missed [after he retires next year], especially on environmental issues.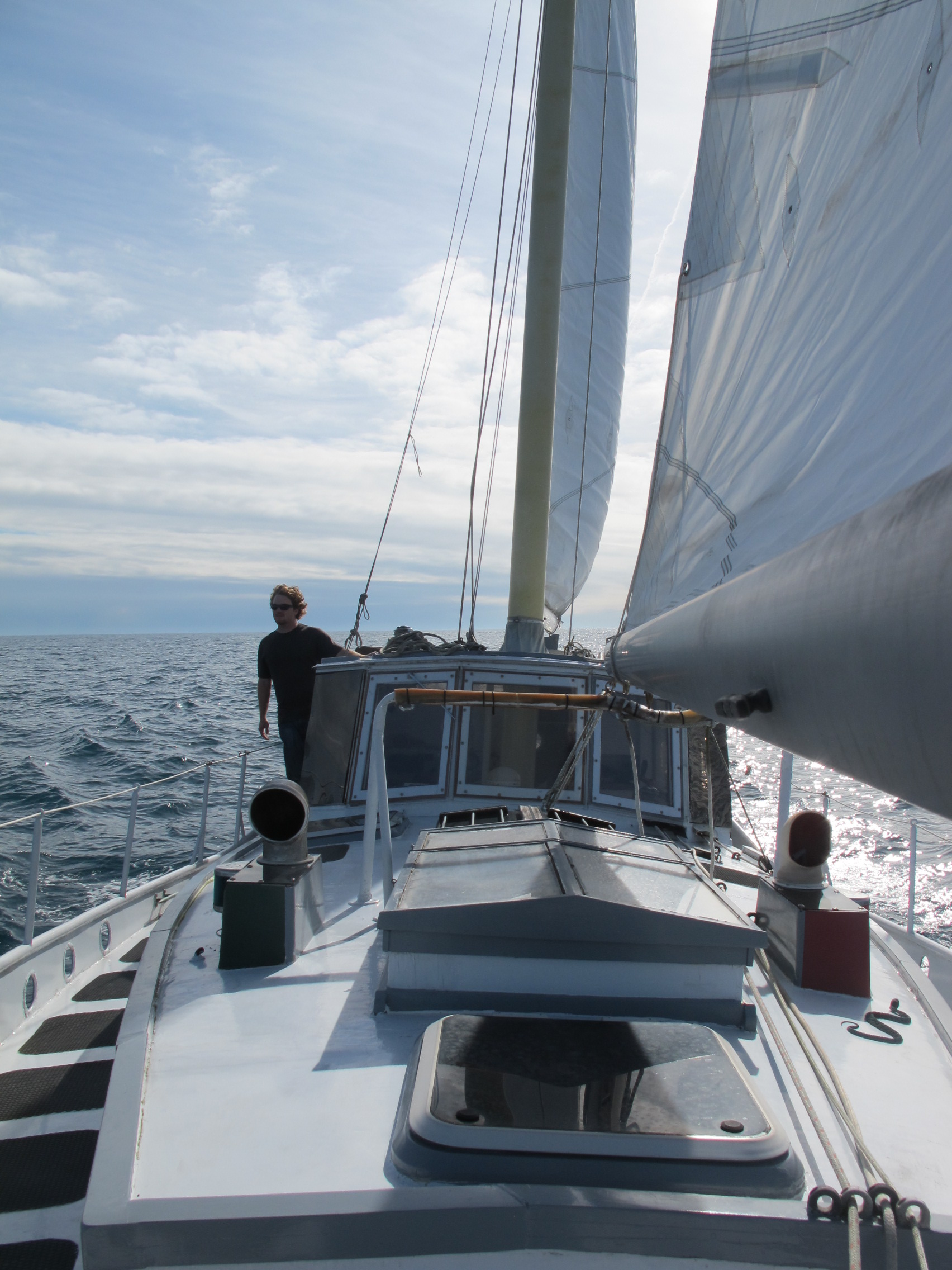 The Sailing Channel has produced a documentary about you, Red Dot in the Ocean. What's its status?
It looks like we may get into Sundance if it's done in time. Nothing is guaranteed. They approached me to make a documentary, and after a month of "contract negotiations'" we started the film. Here's the trailer.
You recently founded a new 501c non-profit called Ocean Research, which aims to dramatically lower the cost of conducting ocean research. What are the typical costs of ocean research, and what will be your costs? How will you approach the problem differently?
The typical running costs for scientific research in the open ocean is between $6,000 and $15,000 a day, depending on the organization. With Ocean Research Project, for our first expedition we have a daily running cost of $73 a day.
We're living in a changing economic environment; you can no longer think big boats, big crew, big budget. Instead, a non-profit should think small boat, small crew, small budget. By doing this, you not only reduce the cost of the expedition, but also the overhead.
All too often when $100 is donated to a non-profit, $90 goes to salary, renting office space, paying the electric bill, etc. With Ocean Research Project, the majority of the funds raised go to the mission.
What will be the implication of reducing the cost of ocean research? More research? Why is ocean research important?
Once you have reduced the cost of the expeditions, you can travel farther for longer and collect more data. There's still a prehistoric way of thinking within much of the general scientific community. Too many scientists think the organization that spends the most money or has the biggest research vessel somehow collects the best data.
The reality of the matter is that by working with universities and bringing along one or two scientists who bring their own equipment and are trained to use them properly, you can collect a wide variety of important data about our changing oceans. It's true, we cannot have submarines and helicopters, but most research is done by equipment that can be installed or carried onboard a 40-50 foot sailboat.
Ocean research is important because we are all affected by the ocean no matter where you live. The ocean not only produces food for 25 percent of the world's population, but also produces between 50-75 percent of the world's oxygen through Phytoplankton, which lives in the ocean. The problem is the ocean is not part of any country, and it's out of sight out of mind.
There has not been enough research done within the open ocean because in the past scientists have tried to collect important data with big boats and big budgets. I sailed 27,000 miles, over the top of Canada and around Cape Horn on a 27-foot boat without stopping. I can tell you from experience you do not need a 150-foot, two million dollar boat to cross an ocean or do good research.
You're about to embark on a research mission [he embarked the first week of May]. Where are you going, what are you researching, and what do you expect to learn?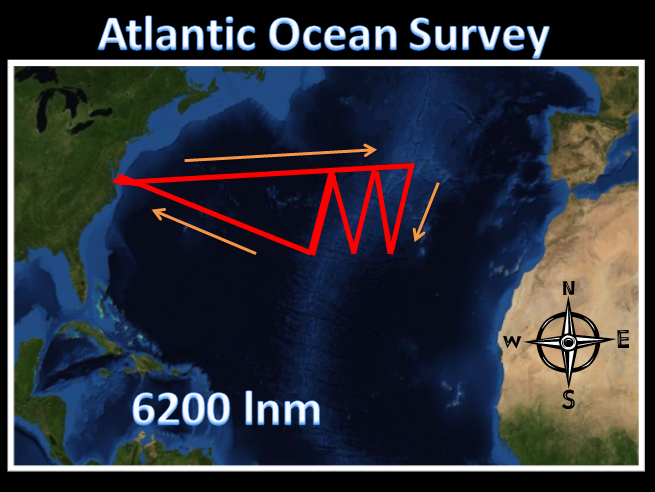 MR: During our first expedition we will be at sea for 75 days collecting data, while sailing 6,500 miles of the Atlantic Ocean.
The Atlantic Ocean is home to the Atlantic Garbage Patch and coincides with one of the five major oceanic gyres. The Sargasso Sea Gyre is a huge spiral of seawater formed by colliding currents. Most offshore sailors have seen floating junk on the high seas, but it's a problem that has not been thoroughly explored in the mid-Atlantic. It's the poster child for one of the worldwide ocean problems: plastic that's initially created with human hands, then ends up in the ocean, often found inside animals' stomachs.
We have several objectives for this expedition:
We'll conduct a Sargasso Sea marine debris reconnaissance survey using standardized data collection methods. This study will add to the global understanding of quantity of marine debris in the gyre and will stimulate awareness of the consequences of manmade debris. This project is run in collaboration with our Partner 5 Gyres.
We'll conduct ocean acidification data collection to supplement existing efforts to portray the acidity condition within a gyre in an open ocean marine debris laden environment. This data may reveal a significant concentration of high acidic marine water that may jeopardize the livelihood of critical marine life.
The vessel will act as a mobile observing platform reporting atmospheric and oceanic observations to NOAA [National Oceanic and Atmospheric Administration]. It serves as a voluntary observing ship to feed international atmospheric and oceanic modeling databases that depict global weather forecasts, climate studies, and support mariners' safety at sea. Work will be in cooperation with our partners which include NOAA's Voluntary Observing Ship, the Ship of Opportunity Program and the Atlantic Oceanic and Meteorological Laboratory.
What are the dangers involved in this research project?
There is always danger in the vast open ocean. That said, reward lives in the house of risk.
I can teach a person the skills necessary to cross an ocean alone, but I can't teach the mentality a person needs to sail alone across an ocean. Either you've got it or you don't. If you don't learn to control fear, fear will control you.
Exploration is the physical expression of intellectual passion.
How can people follow the progress of your journey, or support your non-profit?
You can follow the expedition at Oceanresearchproject.org. There will be a tracking device on the boat so you can see our position, and a weekly blog so you can hear the story as it's happening. You can also donate on the website.
Photo Credit; Matt Rutherford
Popular in the Community