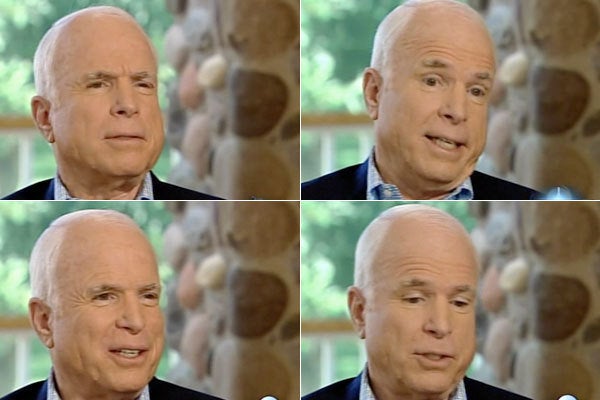 Coming off of a week in which he made several notable gaffes and was overshadowed by his rival's trip overseas, Sen. John McCain was undoubtedly hoping for a page-turner during his appearance on This Week with George Stephanopoulos.
But early reviews aren't very promising. Appearing from his ranch in Arizona, the Senator made cloudy, debatable statements on a wide-range of topics, in the process providing fodder for his Democratic critics.
First out of the gate were ABC's Teddy Davis and Kevin Kilbane, who noted that McCain had reversed his position on a state ballot measure to end racial and gender-based affirmative action in Arizona.
"I support it," McCain said of the proposed referendum. "I do not believe in quotas... I have not seen the details of some of these proposals. But I've always opposed quotas."
Back in 1998, it turns out, McCain called a similar state measure to end affirmative action "divisive," and (while he has long opposed quotas) spoke out against the initiative.
At another point in the interview, McCain was asked to specify his position on gay adoption, an issue where the Senator's political leanings remain somewhat opaque. He did little to clear the air. McCain stumbled in his response and wouldn't answer the question definitively one way or the other. Also, after saying initially that the gay adoption issue was "not the reason I am running for President of the United States," he made an about-face, claiming,
"I'm running for president of the United States because I want to help with family values. I think family values are important when we have two parent families that are parents of the traditional family."
McCain used much of his time on ABC to advance what have become sharp lines of attack at Barack Obama. Painting his opponent as insufficiently appreciative of U.S. armed forces, the Arizona Republican said he would have caused a "seismic event" had he, like Obama, been "told by the Pentagon that I couldn't visit those troops." The argument - echoing a harsh new McCain campaign attack ad - glossed over the fact that the Arizona Republican himself canceled a trip to military bases earlier this year because of Department of Defense prohibitions.
As McCain was making his point, moreover, Sen. Chuck Hagel, the most prominent Republican war-critic in the Senate, appeared on CBS and said he did not think the Obama-ignored-the-troops criticism was appropriate.
The exchange reflected how quickly the topic of the use of U.S. armed forces has turned from McCain's trump card into something of a dicey proposition. On ABC, the Senator was pressed to qualify his position on timetables for troop withdrawal. He sought to dismiss the significance of a remark he made on Friday to CNN - in which he nominally endorsed a 16-month timeline based on conditions - but may have simply made the hole deeper.
"I didn't use the word timetable," said McCain. But, actually, he had, and Stephanopoulos reminded him of it. McCain responded, "That I did -- if I did... Oh, well, look. Anything is a good timetable that is dictated by conditions on the ground. Anything is good."
The progressive blog, Think Progress, was quick to point out, McCain had once
"pilloried former Massachusetts Gov. Mitt Romney for having once used the word "timetable" while talking about Iraq. "Timetables was the buzzword for those that wanted to get out," scoffed McCain, back on January 30.
There were other aspects of McCain's This Week interview that may end up being used against him during the remainder of the campaign. While discussing remedies for the nation's Social Security system - which he once described as a "disgrace" - the Senator insisted that every proposal "is on the table," including payroll tax increases.
"There is nothing I would take off the table. There was nothing I would demand," he said. "I think that's the way that Ronald Reagan and Tip O'Neill did it -- and that's what we have to do again."
Yet as ABC also pointed out, in a February interview with Stephanopoulos, McCain had pledged flatly, "No new taxes."
And when asked about the high costs of energy this morning, McCain declared that the issue was a long-time in the making: "We didn't address the energy crisis which has been building for 30 years."
How could a repudiation of congressional inaction come back to bite McCain? Just this past week he put out a harsh attack ad tying the price of gas to Barack Obama.
The campaign, at this point, still seems in need of message control... and a page-turner.
Popular in the Community