What would you do if ten strangers showed up at your home? Saturday night, I did what I always do to put people (including myself) at ease -- I fed them. This is why everyone came in the first place. This how EatWith works. We're a global network of hosts who do pop-up dinners in our homes -- think globally, act locally at its most delicious.

What I love about food is that it's a connector. However different we are, we all need to eat. Saturday night brought together a great mix of people -- artists, accountants, academics, nonprofit ninjas, omnivores, vegans and people who just wanted a different kind of night out.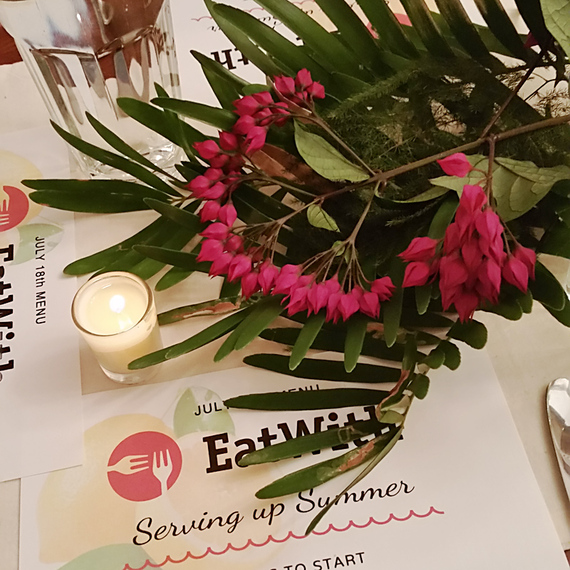 We started out hesitant and polite, but over apps and drinks, turned easy with each other. As I plated the first course, the laughter and talk became its own music. We talked about everything -- a guest's plans for a theme wedding, dresses that show side boobage, baseball, pet care, Brad Pitt and Costco. A guest talked about going vegan because she's an animal advocate. Another did it as a means of protecting the environment. I did it for both reasons. Loving the food makes being ethical easy. My menus for EatWith and otherwise are plant-based, and I cook to seduce.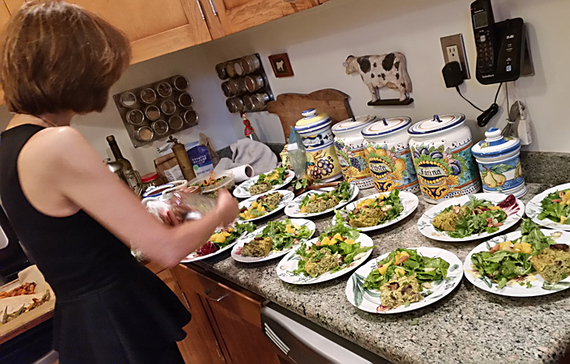 Committed carnivores at the table didn't change their ways on the spot but happily ate their way through a plant-based menu including carrot lox, wild mushroom cake, Romesco-roasted vegetables and French lentils with lemon and mint. And came away with food for thought.

As I say in my interview with PETA Prime, "one of the best ways to bring people together is over a meal that we can all enjoy."
I change my menu seasonally to take advantage of fresh produce from local farms, but one thing doesn't change -- we all meet as strangers and part as friends. If EatWith guests enjoyed the meal as much as they seemed to, I'm glad. But food -- and wine -- can't take all the credit for the ease, the buzz, the glow around the table we felt by the time the lemon-lavender cupcakes were no more than crumbs and the coffee pot was empty.

As I write in "Feeding the Hungry Ghost," "Together, we become even better than what we are individually. We create celebration when we gather." At EatWith events, I make the meal. But it's the guests who make the evening delicious.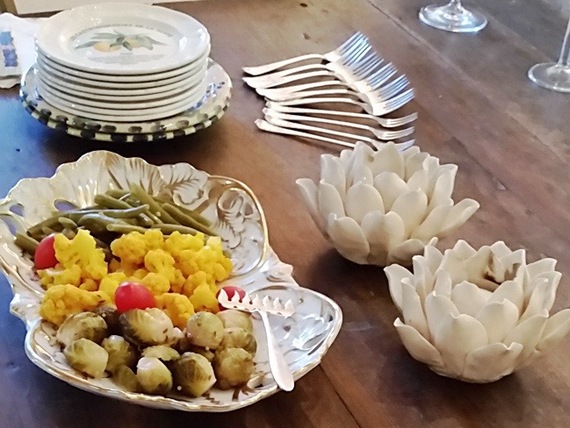 Quick Pickled Vegetables

Bright, crispy, sparky, quick pickles look way harder to make than they are, require no fussy canning and make the most of summer produce. This is a basic formula rather than a hard and fast recipe. Vary the amount of salt, sugar and vinegar to the brine till it suits what you're pickling. Enhance with any fresh herb or whole spice.

Fennel and caraway seeds add balance and a natural sweetness to Brussels sprouts.Turmeric adds antioxidant power and a pretty saffron color to cauliflower. Dill and mustard seeds pair naturally with green beans. Peaches love ginger and chili.

The pickles keep sealed and refrigerated for about a month. But they won't last that long.

1/2 cup vinegar -- white, red, cider or rice wine
1-1/2 cups water
1 tablespoon organic sugar
2 tablespoon sea salt
2 cups of whatever fruit or vegetable you're looking to pickle, cut into bite-sized pieces -- florets for cauliflower and broccoli, strips for peppers and carrots, slices for peaches, plums, you get the idea
whole spices, seeds or sprigs of fresh herbs

In a medium to large saucepan, combine sugar, sea salt, vinegar and water. Bring to a boil and stir for a minute or so, until sugar and salt dissolve.

Drop in vegetables or fruit. Dense ones like Brussels sprouts, cauliflower florets or green mango and green tomatoes should cook for a few minutes until just tender. Softer vegetables and stone fruit may not need cooking at all, just switch off the heat.

Let your new pickles cool, then pack into clean glass jars. Add optional spices, seeds or fresh herbs to flavor.Pour the brine over all, making sure there's enough brine to cover. Seal and refrigerate. Pickles keep for up to a month.
Calling all HuffPost superfans!
Sign up for membership to become a founding member and help shape HuffPost's next chapter