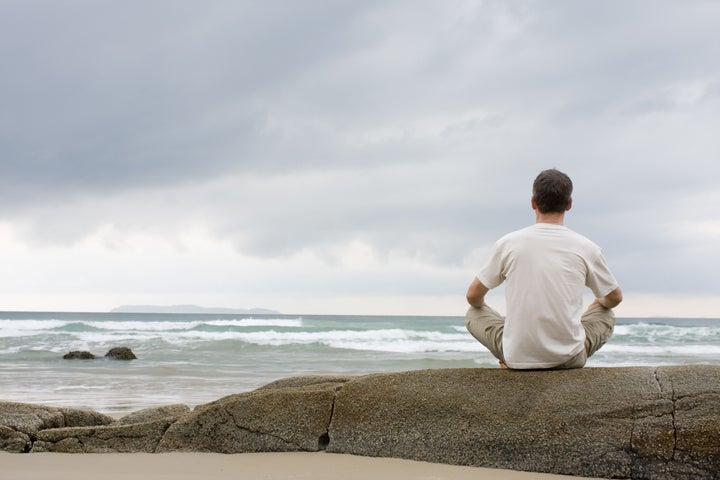 This is the first article in a monthly series of 10 minute meditations to nourish your body, heart and soul. Each entry will address the physical, psychological and spiritual facets of a unique life challenge. While stressful circumstances can't always change immediately, the ways we relate to them can. No matter what your situation, there is always room for meeting your experiences with a more tranquil mind and compassionate awareness.
While these meditations are intentionally brief, they are also intentionally deep, offering the potential for tapping immediately into experiences and perspectives that sustain a meaningful life. And they are simple, so even if you have never tried meditation or contemplation before, they are easy to do anytime, anywhere. If you are a seasoned meditator, whether part of a tradition or uniquely eclectic, my hope is that these will be touchstones that connect you to your practice in day-to-day moments.
Allow 10 minutes for this meditation, a little over three minutes for each section: Body Wise, Heart Wise and Soul Wise. While the Body Wise practices are gentle, always modify any instructions to care for your physical needs. This Body Wise practice can be done sitting or lying down, and the Heart and Soul Wise parts of the meditation that follow are best done sitting. You'll need a pen and paper nearby for the Heart Wise section. Feel free to modify any aspect of the meditation, always honoring what feels appropriate in the moment. All of the meditation themes can be explored in depth, so if you happen to have more than 10 minutes, you are invited to linger.
The holiday season usually asks for even greater demands on our time and energy, so this part of the meditation is for replenishing. Your breath is one of the most potent ways to nourish yourself. The oxygen you breathe travels to every cell in your body and the more oxygen we have in our system, the more energy we produce.
Sit or recline in a comfortable position, fully supported. For about 1 ½ minutes, inhale through your nose to a silent count of 4, and exhale through your mouth making a "shhhhh" sound for about 6-8 counts. Keep the count even, and set a pace that is comfortable for you. Keep your attention tethered to your breath, and focus on emptying out stress and tension. When your mind wanders, simply bring your attention back and refocus again on your breath.
Now devote 1 ½ minutes reversing the rhythm with a sustained in-breath of 6-8 counts and shorter exhalation of four counts, breathing through your nose for both parts. Welcome the oxygen on the inhalation, picturing/sensing it traveling from head to toe, infusing your body with vitality. As you exhale, image the oxygen saturating your cells.
If your breath is compromised by any health concerns, use these three minutes to find the optimal quality of ease for your breathing, keeping the rhythm in your natural, comfortable range.
Are you pressured to respond to the holidays in ways that other people want or expect? Or perhaps you've establish traditions that no longer serve you or fit your current circumstances. Depression and anxiety around the holidays are often triggered by expectations imposed by what others (or your inner critic) think you should be doing, which gets reinforced by the media.
While there are often many people to take into consideration with holidays, be sure to keep yourself in the equation and factor in what is important to you too.
Create new traditions. Invite those close to you to have a holiday "makeover," finding creative ways to celebrate that are expressive of current interests and budgets.
Stay true to your values. Suggest gifts and activities that support the life you really value and enjoy. For example, what might it be like to make gifts together, like baking bread or assembling wreaths, or simply taking a walk together to enjoy the particular beauty of winter?
Pace yourself. The rhythm of the holidays can easily become an intense flurry of activity. If you enjoy multiple gatherings, spread them out. If you skip a party with friends, invite them to rejuvenate with you on a post-holiday spa day. Grab a pen and paper and brainstorm possibilities for this season for three minutes.
November and December are concentrated with the well-known and promoted holidays and celebrations of Thanksgiving, Hanukkah, Christmas, Kwanzaa and the New Year. If we expand our cultural vision we also find Rohatsu within Buddhism, Guru Tegh Bahadur of the Sikh tradition, Litha of Wicca, Hijra in Islam, the Baha'i Day of Covenant and Zoroastrian's Zarathosht Diso. And the poet Longfellow described the holiest of all holidays the "... secret anniversaries of the heart." When we strip away the commercialism we can use these opportunities to gather and share the goodness of life with people we love and recommit to our deepest values.
The word holiday originally came from Holy Day, and the root meaning of holy goes back to the Middle English holi, a variation of Old English hālig, hāleg or hāl, which translates to whole. With this perspective, holy days cannot be relegated to a particular time of year. Is it even possible for one day to be more whole, more holy, than the next? St. Francis of Assisi remarked, "No one lives outside the walls of this sacred place, existence." Whether you belong to a faith tradition, or are inspired by the beauty of nature in its fullest expressions, take three minutes in silence releasing all other demands on your attention. Be in awe at the underlying mystery of life itself that is within and around you, and is in essence, you.
Leslie Davenport is the author of the classic book on self-healing "Healing and Transformation Through Self-Guided Imagery." A pioneer in the health care revolution that recognizes psychospiritual dimensions as an integral part of health, she is a founding member of the Institute for Health & Healing at California Pacific Medical Center in San Francisco, serves on the faculty of John F. Kennedy University and is a clinical supervisor with the California Institute of Integral Studies. Visit Leslie on Red Room, where you can buy her books.