The Duke and Duchess of Sussex plan to travel to the U.K. and Germany next month. A spokesperson for the couple said the two "are delighted to visit with several charities close to their hearts in early September."
The Sussexes have a packed schedule. They plan to attend the One Young World 2022 Manchester Summit on Sept. 5 in the U.K., where the duchess will deliver the keynote address to kick off the opening ceremonies.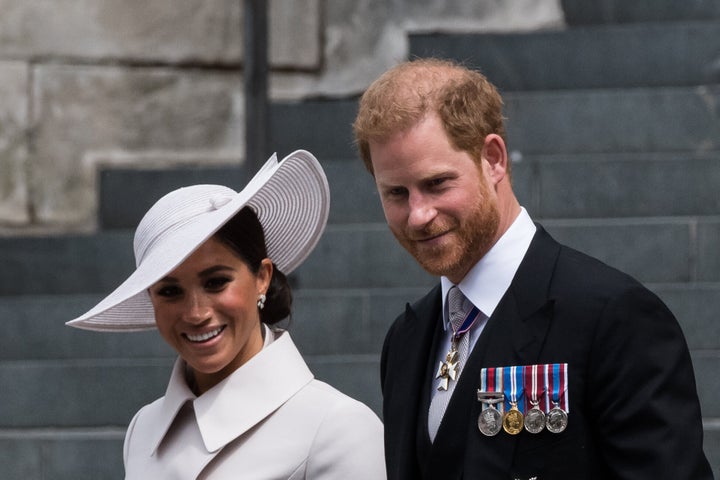 The couple then plans to jet to the Invictus Games Düsseldorf 2023 One Year to Go celebration on Sept. 6 in Germany. Two days after that, the couple plans to travel back to the U.K. to attend the 2022 WellChild Awards.
Meghan has participated in events with One Young World over the years since 2014, while Prince Harry founded the Invictus Games the same year. The Sussexes have also remained patrons of WellChild since stepping back as working members of the royal family, and Harry himself has been a patron since 2007.
The various charities posted on Monday about the couple's upcoming appearances, with the promise of more information to come.
Just after the announcement of the Sussexes' trip to Europe, the duke was spotted on a solo trip of his own in Mozambique, Africa, on Wednesday.
A spokesperson for the couple told HuffPost Thursday that the prince was in Africa as part of his role with African Parks, a conservation group for which the duke is both president and patron.
The representative relayed that Harry is working with and hosting officials from the United States ― as well as various conservationists and philanthropists ― as they view protected wildlife and nature areas.
The Duke of Sussex recently spoke of his love of Africa during his keynote address at the United Nations on Nelson Mandela International Day in July.
"Since I first visited Africa, at 13 years old, I've always found hope on the continent," Harry said at the time. "In fact, for most of my life, it has been my lifeline. A place where I found peace and healing time and time again. It's where I felt closest to my mother and sought solace after she died, and where I knew I'd found a soulmate in my wife."
Popular in the Community