"That we detect methane in the atmosphere on Mars is not an argument that we have found evidence of life on Mars, but it is one of the few hypotheses that we can propose that we must consider as we go forward in the future," Dr. John Grotzinger, Curiosity project scientist at the California Institute of Technology in Pasadena, said on Dec. 16 in a news briefing at the American Geophysical Union's convention in San Francisco.
(Story continues below image.)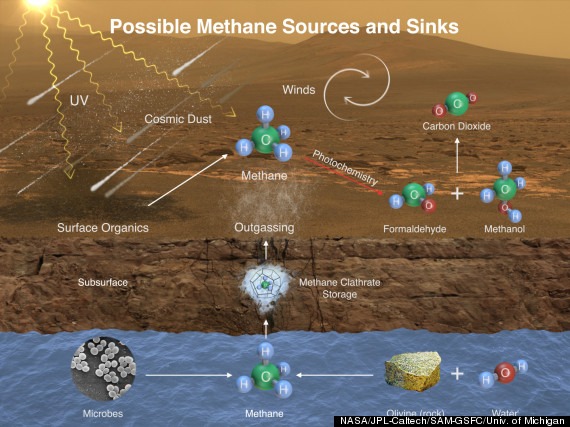 This image illustrates possible ways methane might be added to Mars' atmosphere (sources) and removed from the atmosphere (sinks). NASA's Curiosity Mars rover has detected fluctuations in methane concentration in the atmosphere, implying both types of activity occur on modern Mars.
The researchers say this is the first definitive evidence of organics found on the surface of Mars. While the presence of organics doesn't prove that life existed on ancient Mars, it suggests the planet may have had the ingredients required for life, the New York Times reported.
"Organics, large organic molecules, present in ancient rocks on Mars is also not an argument that there was once life on ancient Mars, Grotzinger added during the briefing, "but it is the kind of material that you would look for if life ever originated on Mars."
REAL LIFE. REAL NEWS. REAL VOICES.
Help us tell more of the stories that matter from voices that too often remain unheard.
BEFORE YOU GO
PHOTO GALLERY
Curiosity: Mars Science Laboratory's Rover