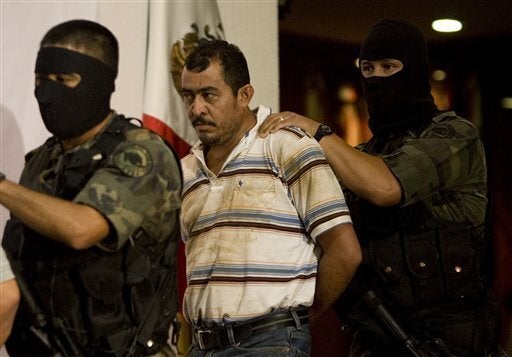 In anticipation of President Obama's trip south this week -- first to Mexico on Thursday and then to the Summit of the Americas in Trinidad and Tobago from Friday to Sunday -- here are 10 shocking facts about the Mexican drug war from the international news site GlobalPost.
1. A recent U.S. government report suggests that "Two large and important states bear consideration for a rapid and sudden collapse: Pakistan and Mexico."
2. Mexico has one of the highest kidnapping rates in the world: An average of 70 people are abducted each month.
3. More than 1,100 guns found discarded at Mexico shooting scenes or confiscated from cartel gangsters were traced to Texas gun merchants in 2007.
4. One of Mexico's most notorious drug kingpins, Joaquin "Shorty" Guzman, escaped a maximum security prison in 2001 by driving out in a laundry truck.
5. This year Forbes magazine included Joaquin Guzman, a Mexican drug lord, on its annual billionaires' list.
6. A drug cartel hood named "The Cook" reportedly dissolved the bodies of 300 victims in acid as part of the grisly work he committed for crime bosses.
7. The FBI has reported 75 open cases of Americans kidnapped in Mexico.
8. In a poll by the daily newspaper La Reforma, Mexico City residents ranked public insecurity as a worse crisis than the economy by a 5-to-1 margin. In the past year, 20 percent were crime victims.
10. Grammy-nominated singer Sergio Gomez was kidnapped and his genitals were burned with a blowtorch in December 2007, presumably for singing narco corridos, or "drug ballads."
A directory of GlobalPost's in-depth reports of Mexico's drug war can be found here.