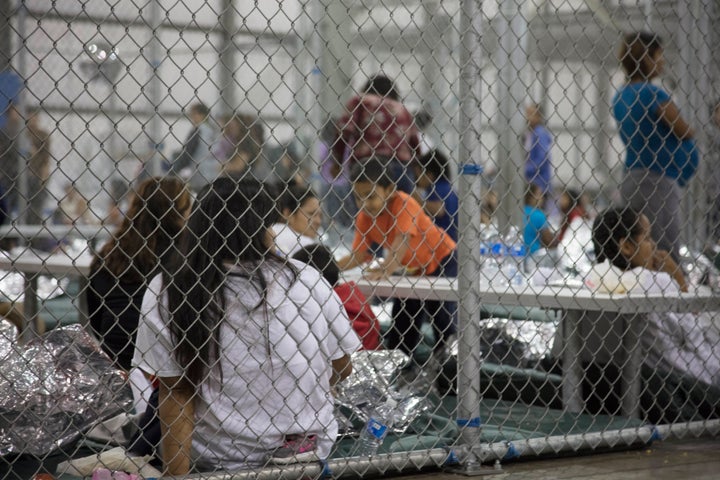 Mexico's Foreign Affairs Secretary Luis Videgaray said at a press conference live-streamed on Tuesday that one of the children separated from their parents at the U.S.-Mexico border is a 10-year-old Mexican girl with Down syndrome. 
He said the girl's father is a U.S. resident and she was accompanied by her mother and 10-year-old brother when detained. 
U.S. Customs and Border Protection confirmed Wednesday that a girl with Down syndrome was being held separately from her mother, but noted that the decision did not stem from the Trump administration's new "zero tolerance" immigration policy.
CBP said the girl's mother is being held as a witness as the agency plans to prosecute the U.S. citizen who drove her and five children across the border. Three of those children were U.S. citizens who have been released to an aunt, according to the agency. 
Videgaray said the two 10-year-olds are being held at an immigration center in McAllen, Texas, and that their mother was sent to a shelter in Brownsville, Texas, where a former Walmart now houses thousands of would-be immigrants on the border with Mexico. 
The father is attempting to gain immediate custody of the two children who have been detained, Videgaray said.
He did not name any member of the family at the press conference, which took place in Spanish, but said his team notified U.S. officials of the situation.
A spokesman for the U.S. Department of Health and Human Services would not comment on the girl's case, citing a privacy policy against commenting on specific detainees.
"Our focus at HHS is always on the safety and best interest of each child," he said in an email. "These are vulnerable children in difficult circumstances, and HHS treats its responsibility for each child with the utmost care."
When contacted on Tuesday for comment on policy regarding special needs children, CBP referred HuffPost to a 31-page standards manual dated October 2015.
According to the document, officers assess groups of detainees to determine whether any may be considered "at risk," including people with physical or mental disabilities. The document states that "reasonable accommodations" must be made for at-risk detainees, including "regular and frequent" supervision and extra efforts to ensure they comprehend instructions.
Mexico has condemned the Trump administration policy. In his comments to reporters, Videgaray noted that few of the children who are being detained separately from their parents at the border are Mexican. Most are fleeing poverty and corruption in Central American nations such as Guatemala and Honduras. 
Donald Trump's administration has faced sharp bipartisan criticism for its new policy of separating children from parents who bring them into the country without authorization. As he deals with a hefty political fallout, he has falsely put the onus on Democrats.
Carolina Moreno contributed to this report. 
This story has been updated with additional comment from U.S. Customs and Border Protection.
Calling all HuffPost superfans!
Sign up for membership to become a founding member and help shape HuffPost's next chapter