The unidentified man can be heard yelling "Kill the Muslims" and "Bury them all" in the video.

The woman who filmed the video said he attempted to hit some people.

America has seen a sharp uptick in anti-Muslim hate crimes since last year's Paris terrorist attacks.
The video, posted to Facebook on Sunday by Candy Velenzuela, shows an unidentified man in downtown Grand Rapids yelling "Kill Muslims," "Kill them all" and "Bury the Muslims" several times as he walks away from a group of men preaching on the sidewalk. He then turns back, pumps his fist several times and yells "Trump! Trump! Trump!"
In the video description, Valenzuela said the group was "preaching knowledge." Photos of the group taken by bystander Ariel Carrillo show five men holding signs with religious messages on them and carrying books.
"After the video he actually walked by them, tried to swing, missed and fell," she wrote.
A photo taken by Carillo appears to show the man from the video with blood on his face, though it is not clear whose blood it is.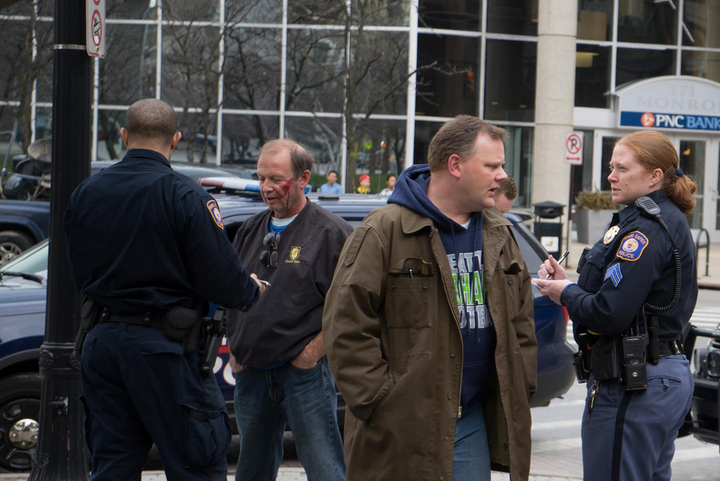 Although the man initially told police the "protesters" assaulted him, security camera footage revealed otherwise, a spokesman for the Grand Rapids Police Department said.
"The gentleman [in the video] was accusing that he was assaulted by the protesters," Sgt. Terry Dixon said. "The truth is we have video showing that he was the instigator."
The incident is still under investigation and no arrests have been made, Dixon said.
Valenzuela could not be reached for comment.
This isn't the first incident of anti-Muslim violence in Michigan in recent months. In December, a clerk at a party store in Grand Rapids was shot in the face by a robber who called the Punjabi man a "terrorist" and a member of the Islamic State.
Islamophobia has also become a mainstay on the Donald Trump campaign trail alongside the GOP front-runner's own calls to ban all Muslims from entering the U.S. In January, a silently protesting Muslim woman was escorted from a rally for the real estate magnate.
Popular in the Community