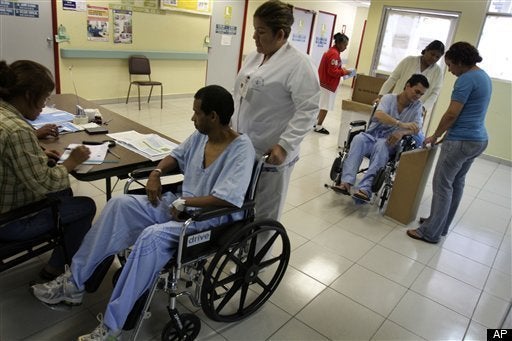 It's the biggest "doughnut hole" of them all: Members of the middle class are losing their health insurance faster than any other income group, according to a new report from the Robert Wood Johnson Foundation.
The number of middle-income earners covered by employer health insurance fell by three million from 2000 to 2008, and government programs and the individual market aren't picking up the slack. The total number of uninsured middle-income earners rose from 10.5 million to 12.9 million, representing 16.2 percent of the income bracket -- a bigger increase than for any other income group.
"It really underscores how the problem of uninsurance is not something simply affecting lower-income Americans but is increasingly affecting the middle class," said Brian Quinn, the foundation's research and evaluation office. The most recent Census Bureau estimate puts the total uninsured population at 46.3 million.
Just 66 percent of people in families earning between $45,000 and $85,000 are insured through an employer plan -- 52.7 million people, down from 55.5 million eight years prior -- a drop of nearly seven percentage points.
People who earn less money were more likely to lose employer coverage, but also more likely to be covered by a government program like Medicaid. According to the report, only about half of the decline in employer-sponsored coverage for middle-income earners was offset by government insurance programs.
Those who missed the safety net have been flung into the cold-hearted individual market, where insurance companies deny coverage based on preexisting conditions and charge exorbitant, ever-increasing premiums. (Insurance companies, whose executives earn million-dollar salaries, routinely plead that other industries within the health sector have much fatter profit margins.)
"For a lot of middle class Americans, the individual market is not a real option," said Quinn.
According to the report, the cost for an employer to offer individual and family plans to workers increased 43 percent and 55.6 percent, respectively, during the eight-year period. The amount employees paid for the single and family programs increased 64.5 percent and 80.5 percent. Median household income has fallen 3.5 percent to $51,233.
Click HERE to download a PDF of the report, prepared for the Robert Wood Johnson Foundation by researchers at the State Health Access Data Assistance Center, University of Minnesota--Using data from the U.S. Census Bureau (1999, 2000, 2007 and 2008) and the Medical Expenditure Panel Survey, conducted by the Agency for Healthcare Research and Quality (1999-2001 and 2008).
Popular in the Community