Immigration officials are offering migrants in detention the option of reuniting with their children if they elect to voluntarily leave the country.
Yet as has happened in the past when migrants enter into this process, some may opt not to be reunited in the hopes that their children will have a better chance of being able to stay.
A fact sheet released by the Department of Homeland Security on Saturday specified that "a parent who is ordered removed from the U.S. may request that his or her minor child accompany them." They added that "in the past many parents have elected to be removed without their children."
Immigration and Customs Enforcement, which carries out the deportations and voluntary departures, didn't immediately respond to a request for comment.
A Honduran asylum seeker, who chose to remain anonymous out of fear of retaliation, told The Texas Tribune on Sunday that he agreed to sign the departure order so that he could see his 6-year-old daughter again. Officials told him he and his daughter would reunite at the airport.
"I was told I would not be deported without my daughter," he said. "I signed it out of desperation… but the truth is I can't go back to Honduras; I need help."
He decided that he now wants to revoke the order and get legal help to stay in the U.S.
His case highlights the confusion surrounding such an option. If migrants aren't walked through the voluntary departure process in full, experts said, they could find themselves making an uninformed decision.
"We have no reason to believe that (voluntary deportation) is the fastest way for parents to be reunited with their children," Efrén Olivares, an attorney with the Texas Civil Rights Project, said Sunday. "Putting them in that position is not a voluntary (deportation); it's being obtained under duress."
More than 500 of the more than 2,300 children taken from their parents as part of the Trump administration's "zero tolerance" policy have been reunited, DHS said in the fact sheet. President Donald Trump rolled back his policy slightly last week, signing an executive order preventing families from being separated without going into specifics about how to handle all of those who were already victims of separation.
DHS then made clear that parents will continue to be kept under ICE detention while their children are in the care of Health and Human Services. The only other alternative for reunification is if the parent gets released from detention, in which case he or she can apply to become their child's sponsor.
Trump urged the country to deport people without judges or due process on Sunday, complaining that "our immigration policy, laughed at all over the world, is very unfair to all of those people who have gone through the system legally and are waiting on line for years!"
Before You Go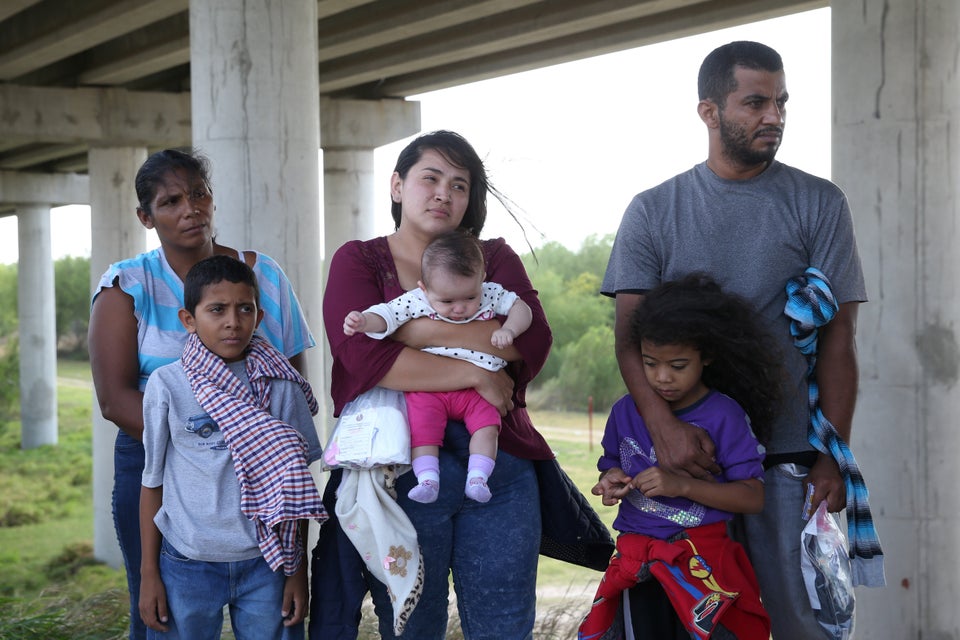 Immigrant Families At The U.S.-Mexico Border
Popular in the Community