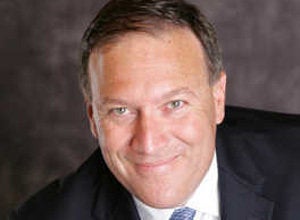 A Republican congressional candidate and RNC committee member has personally apologized for a tweet his campaign sent out promoting an article that called his opponent a "turban topper" who "could be a muslim, a hindu, a buddhist etc who knows."
Republican Mike Pompeo, who is running for a congressional seat in Kansas's Fourth District, called State Rep. Raj Goyle on Thursday to offer his regrets for the offending post, Goyle told the Huffington Post. The apology was accepted. But Goyle, who seeks the seat being vacated by Rep. Todd Tiahrt (R-KS), was not necessarily done re-litigating the matter.
"He did call me and I accept his apology," said Goyle, a former staffer at the D.C. think tank Center for American Progress. "What he told me on the call is that he apologized and was shocked by it and it was a communications error... What I will say is, in my campaign, had one of my staff members, senior adviser or intern, sent anything like this out on behalf of the campaign, that person would be fired."
On Wednesday, Pompeo found himself in hot water after his Twitter account promoted, as a "good read" a local news article that included the inflammatory attack on Goyle. A spokesman for the Kansas Republican told Think Progress that the tweet had been a mistake, owed to a miscellaneously copied URL. It was removed as soon as it was noticed.
In the interim, however, a previously obscure congressional race was thrust into the broader national argument over the place of Muslims in U.S. politics and society. Goyle, ironically, is Indian-American. And, as such, he declined to speculate as to whether he was being swept up in the hysteria that has made its way across the country following the debate over building an Islamic cultural center near the site of the 9/11 attacks in New York. The person who wrote the inflammatory article, he noted, had a history of sending offensive and bigoted behavior his way -- dating back to his service in the state house.
"I think it is fair to say that I was very shocked and surprised to read that my opponent's official campaign twitter feed promoted such hateful and vile language," he said in a phone interview with the Huffington Post. "I think that bigotry was alive and well in those comments and I can say that Mr. Pinkstaff, the person who posted this, is someone who is a constituent of mine who exhibited the same behavior [back] in 2006."
There was, perhaps, one good omen for Goyle's campaign that came from the episode. Pompeo's tweet came four years to the day after then Sen. George Allen (R-Va) was caught on tape using the word "macaca" to refer to an Indian-American video tracker -- a similarly offensive campaign moment that ended up turning the tide in a Republican-leaning congressional race.
Popular in the Community