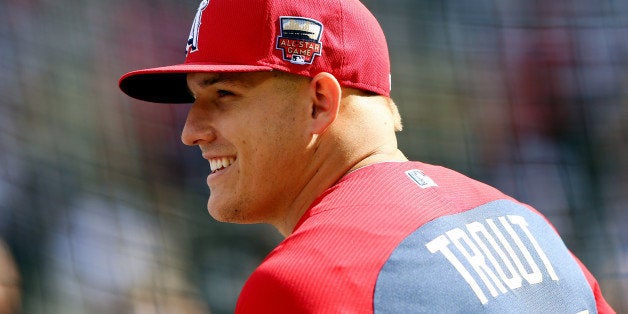 Don't look now, but baseball's hottest team is the Los Angeles Angels of Anaheim, who entered the All-Star break with a 57-37 record, 1 1/2 games behind the first place Oakland Athletics in the American League West.
Can the Angels catch the A's and win the West? Can they go beyond a playoff berth, and make the World Series, their first trip since winning it all in 2002? The 2014 Angels are more than capable.
The Angels Most Valuable Player this season has undoubtedly been center fielder Mike Trout, who is poised to take home his first American League MVP award. Trout has defied all logic again this year, batting .310 with 22 Home Runs and 73 Runs Batted In, along with 65 runs, 10 steals, and a .400 On Base Percentage.
Trout's numbers are supposed to be videogame statistics, not the midseason line of a third year player turning the ripe old age of 23 in August. Trout has captured the hearts of Southern California -- along with the rest of the country -- with his exciting play. Trout's MVP performance in Tuesday's All-Star Game solidifies him as an exciting national star.
Trout leads an Angel offense that is an absolute juggernaut. Through 94 games, the lineup scored 478 runs, leading the majors. Outfielder Kole Calhoun missed time in May, but has been solid batting lead off, with a .295 average and 49 runs in just 59 games. If they are healthy, Calhoun, Trout, first baseman Albert Pujols, right fielder Josh Hamilton, second baseman Howie Kendrick, and shortstop Erick Aybar could form the most dangerous offensive force in all of baseball during the second half. Aybar, who made the All-Star team by batting .283 with 6 HR's and 50 RBI's, is arguably the team's 6th strongest hitter. When your 6th best hitter's an All-Star, watch out.
While Trout and the offense's performance this year was more or less expected, one player whose sheer brilliance was unforeseen has been starting pitcher, Garrett Richards.
Richards stands 6'3 and possesses a devastating 96 MPH fastball that can touch even higher. After a disappointing 2013 in which he had a 7-8 record and a 4.16 ERA, Richards has taken a gigantic step forward. So far, he has posted an 11-2 record with a 2.55 ERA. Richards entered the break riding a 7 game winning streak, proving to be one of the toughest starters in the American League. With a rotation of Jered Weaver, C.J. Wilson, Richards, Tyler Skaggs and Hector Santiago, the Angels will compete with any rotation in the American League.
The bullpen, the weak point of the squad, took a step forward in July when reliever Joe Smith stepped into the closer's role. With Smith in the 9th, the Angels can nail down a 1 or 2 run lead.
And yet, the Angels are still in second place. The Oakland A's had a remarkable first half, posting a franchise record 59 wins before the All-Star break. The A's pitching staff will be electric with the addition of Jeff Samardzija and Jason Hammel from the Chicago Cubs. That trade leaves little doubt the A's are all in on the 2014 season. The A's all-star closer, Sean Doolittle, has been unhittable with a 2.89 ERA and astounding 63 strikeouts to just 2 walks.
The A's lineup is admittedly tough. The Angels may have scored the most runs in the league, but can you guess who's second? Oakland. For all the hype that back-to-back Home Run Derby champion Yoenis Cespedes receives, it is Brandon Moss who has been the A's top batter, with 21 HR's and 66 RBI's at the break. While Moss is unstoppable against right handed pitching, the outfielder loses his power against lefties. Moss has hit only 3 home runs this season against lefties, and 18 against righties. In 2013, Moss hit just .200 versus lefties.
Why does this matter for the Angels? Three of their five starting pitchers -- Wilson, Skaggs, and Santiago -- are left-handed. In upcoming head-to-head battles, the Angels gain an advantage when facing an A's lineup heavily dependent on lefty Moss for power. The A's are beatable.
Trout and the Angels are roaring back in the American League, but they will not be satisfied with the Wild Card. In 2014, the Angels have bigger fish to fry.
Contributions to this article made by Matt Steinberg
REAL LIFE. REAL NEWS. REAL VOICES.
Help us tell more of the stories that matter from voices that too often remain unheard.