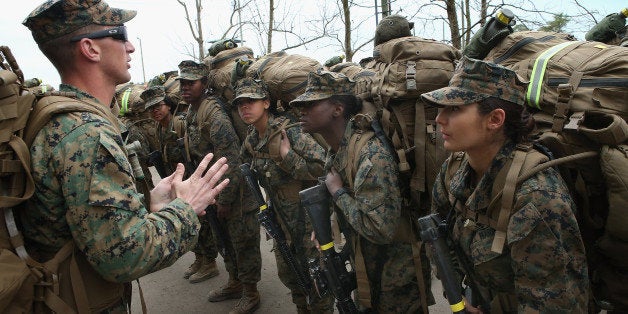 This week, Republican leaders in the House of Representatives quashed a proposed measure that would have required American women between the ages of 18 and 25 to register for the draft, even though both the House and Senate Armed Services committees' endorsed the idea. Though, perhaps, politically understandable -- this is, after all, an election year riven with grandstanding -- these actions are shortsighted in the extreme.
In keeping the draft closed to women, the House Rules Committee risks leaving the U.S. with only half of its military potential available for wartime emergencies and sends a negative signal regarding women's participation in the military more generally. These actions are discriminatory, retrograde, and showcase an astounding lack of regard for the impact that women have had on U.S. military successes to date. They ignore both the reality of combat in the 21st century and the manifold contributions that women are making to the armed forces of our allies and our adversaries.
It is indisputable that the U.S. military remains technologically unparalleled in the world, but as the CEO of any successful start-up will tell you, that's only half the story. People matter. President Obama gets this. His administration has made the U.S.' current All-Volunteer Force (AVF) an institution in which women and LGBTQ persons are welcomed as meaningful contributors to the strength of our country.
Last week, Air Force General Lori J. Robinson became the very first woman to lead a U.S. military combatant command. Yet, my research demonstrates that in many ways the United States is a laggard in promoting women's military participation. More than a dozen countries allow women to serve in front-line combat positions in their national militaries. While women currently account for more than 15 percent of active-duty personnel in the U.S. military (the lowest level in the Marine Corps (7.6 percent) and the highest in the Air Force (18.7 percent)), women have made up 20 percent of France's Air Force for the past decade. Even tiny Latvia manages a 16 percent female participation rate in its military of fewer than 5000 members. This is clearly not an area in which the United States has taken the lead.
What makes the House GOP's decision even more befuddling is that the evidence is in: women make a military better. History teaches us that when large scale mobilization is necessary, women are a vital component of that. More than half a million Soviet women served in the Red Army's regular troops during World War II, with another 300,000 in combat and home front antiaircraft formations. Soviet female pilots were renowned, particularly those who formed part of the 588th Night Bomber Regiment (aka the "Night Witches") which dropped 23,000 tons of bombs in 30,000 missions over the course of the war. Take also the current case of Ukraine: in early 2015, the Ukrainian military announced the mobilization of women aged 20 to 50 as part of a broad recruitment drive. This was repeated in February 2016, when women were explicitly targeted for participation in the Ukrainian military's Anti-Terrorist Operation (ATO) in the country's eastern regions. As of October 2015, 938 women were fighting in the ATO as part of the armed forces of Ukraine, which has a total of about 14,500 female personnel. In many ways, Ukraine's efforts to recruit women mirror those of the rebel groups it is fighting in Donetsk and Luhansk. Igor Strelkov -- a prominent separatist leader in Donetsk -- posted a YouTube video in May 2014 claiming that "Donetsk needs defenders, separatists who are volunteer soldiers, who are disciplined. If men are not capable of this, we will have to call on women."
Nor are women only useful in conventional or semi-conventional operations. Without women playing active leadership roles in the U.S. military, our ability to understand and interdict female insurgents and terrorists will be seriously compromised. Research by Mia Bloom and others has documented that women perpetrate terrorist acts in almost all corners of the globe. Voluntary female participation in the Islamic State is well documented and Boko Haram has been vilified for using women and girls in at least 105 suicide bombing attacks since June 2014. The December 2015 terrorist attack in San Bernardino, California, also featured a female shooter.
In short, women are as important to modern combat as men. Left standing, the House bill would ensure that the U.S. military enters any future war with only half its potential -- its male half -- available for service at a time when the complexities of modern warfare may demand that all of a nation's citizens stand up. Facing an opponent that does not discriminate in wartime service, the U.S. might well be at a critical disadvantage. Even if a national emergency akin to World War II is not in the offing, this decision also affects the AVF. By continuing to deny women the right to register for the draft, the House GOP is signaling that women are still second-class citizens when it comes to military service. Women want to be treated as equals in every workplace. Allowing American women to register for the draft is an important step toward that equality.
A May 26, 2016, conference at American University seeks to better understand and address these issues by examining the role of female combatants globally. Scholars who study issues related to female fighters in rebel groups in Iraq, Syria, Turkey, and Ukraine will be joined by those examining NATO's attempts to expand women's participation. Such attempts to bridge the gap between academia and policy are essential as policy decisions on women's future in the U.S. military continue to confront Congress and, in 2017, an incoming Administration. These efforts are also timely -- the upcoming elections may bring another first in the participation of women in the U.S. military. We may very well usher in our first ever female commander-in-chief in 2017. Such a situation would be a boon for the future of women in our fighting forces.
Popular in the Community