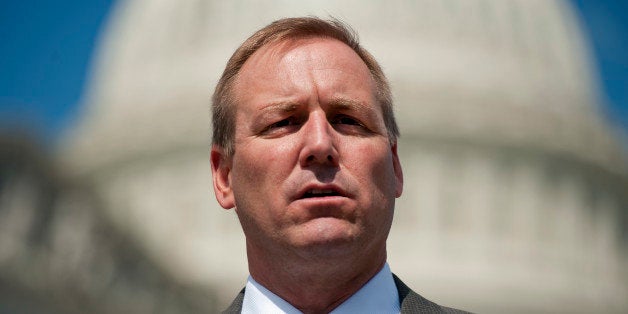 WASHINGTON -- The House will get its chance this week to address -- or again skirt -- one small piece of immigration reform: whether or not to allow undocumented immigrants to join the military.
Rep. Jeff Denham (R-Va.) bucked the GOP leadership on Monday by filing his legislation, the Enlist Act, as an amendment to the National Defense Authorization Act. The Enlist Act would allow some undocumented immigrants to join the military and then, under certain circumstances, obtain a green card. A spokesman for House Majority Leader Eric Cantor (R-Va.) said on Friday that Denham's bill would not be debated as part of the defense spending legislation, but Denham, joined by co-sponsor Rep. Tammy Duckworth (D-Ill.), chose to file it anyway.
Rep. Joaquín Castro (D-Texas) filed a separate amendment that would allow undocumented young people granted the ability to stay and work legally in the U.S. -- often called Dreamers -- to apply to and attend military academies. Under the Deferred Action for Childhood Arrivals policy started in 2012, more than 550,000 undocumented young people have received two years of work authorization and the ability to stay in the country, but they are currently banned from joining military academies.
With immigration reform at a standstill in the House, reform supporters are grasping for smaller-scale measures like those for would-be military service members to address at least part of the problem. Sen. Dick Durbin (D-Ill.) held a field hearing in Chicago on Monday urging Congress to allow Dreamers to enlist. On Tuesday, flanked by undocumented young people who hope to join the military, Denham and Reps. Luis Gutiérrez (D-Ill.) and Mike Coffman (R-Colo.) will make a similar call at a press conference outside the Capitol.
The House Rules Committee will meet Tuesday to consider which amendments to the NDAA will receive floor votes.
Both Denham and Castro are supporters of immigration reform -- the Republican was the first in his party to support a Democrat-led comprehensive bill last year -- but they also argue that their measures are appropriate for the defense spending bill.
"The Enlist Act provides an avenue for those who want to perform the ultimate act of patriotism -- serving their country -- to earn legal status," Denham said in a statement. "As a veteran, I can think of no better way to demonstrate your commitment to our nation."
Castro's amendment could be less contentious because it would not grant green cards, as the Enlist Act would. Castro said in a statement he was inspired to draft the amendment by a Dreamer in his district named Omar Leal, who wants to apply to West Point. Leal attended the State of the Union this year as Castro's guest.
"The administration's Deferred Action policy allowed many of these Dreamers to live, study, and work in this country without the fear of deportation," Castro said in a statement about his amendment. "However, we must ensure that the doors of opportunity are not closed to them as they strive to get ahead."
Conservative groups such as Heritage Action have fought to kill the Enlist Act. When news came out last week that the bill wouldn't get a vote on the House floor, the group did a metaphorical dance on its grave, but warned that similar measures could be added to the defense spending bill in the Senate.
"Once again we saw the conservative policy position carry the day in the House," Heritage Action spokesman Dan Holler said in a statement on Friday. "The Enlist Act would have had a negative impact on our military and our immigration system. But Americans understand there are no permanent victories in Washington, so they'll be watching the Senate closely."
Rep. Steve King (R-Iowa) went on a rant on the House floor in April over the idea of undocumented immigrants joining the military and receiving legal status, saying the bill "would put out the advertisement that says, sneak into America, sneak into the military and that's going to be the most expeditious path to American citizenship and the whole smorgasbord of benefits that come from American citizenship."
Calling all HuffPost superfans!
Sign up for membership to become a founding member and help shape HuffPost's next chapter
BEFORE YOU GO
PHOTO GALLERY
11 Ways Immigration Reform Helps The Economy