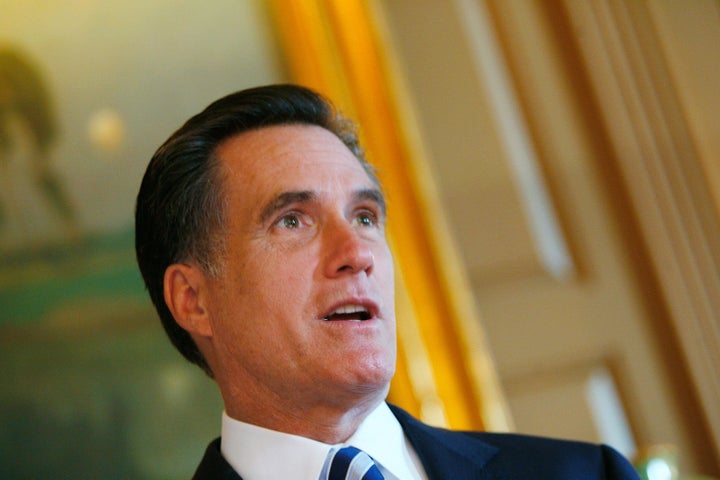 WASHINGTON -- Former Massachusetts Gov. Mitt Romney on Monday announced he is forming a committee to explore running for the Republican presidential nomination, breaking the news in a web video first released via his Twitter account.

"It is time that we put America back on a course of greatness, with a growing economy, good jobs and fiscal discipline in Washington," Romney said in the video, filmed in front of the University of New Hampshire's football field.

The video focused on the lack of business expertise in the Obama administration, contrasting it with Romney's background as a private-sector and state government executive.
The location was also carefully chosen. New Hampshire will be the prize for Romney in the first three states' worth of nomination contests, since the Iowa caucuses and South Carolina's primary come before and after the Granite State, respectively. Both of those states have voting populations heavy with socially conservative evangelical Christians -- Romney struggled with those types of voters and those states in 2008, in part because he is a Mormon.
The former governor chose the day before the five-year anniversary of his signing into law a health care overhaul in Massachusetts that is similar in some ways to President Barack Obama's health care law. The Massachusetts health law promises to be Romney's most significant challenge in the GOP primary. Democrats in Massachusetts and Iowa have made much of the fact that tomorrow is the anniversary of RomneyCare. Those efforts to weaken him within his own party suggest that Democrats take Romney more seriously than most of the other GOP candidates.
The Democratic National Committee also went after Romney and his announcement with far greater tenacity than it did when former Minnesota Gov. Tim Pawlenty and former House Speaker Newt Gingrich (R-Ga.), two other 2012 hopefuls, announced their exploratory committees.
A Republican operative unaffiliated with any campaign but sympathetic to Romney said that "the health care issue does increase the pressure on Romney."
"He doesn't have as much margin for error with the GOP base as others do. But, if he can convince early primary voters of his electability versus the rest of the field, they could overlook it. Caucus day is a very long way away," the Republican said.
The initial response to Romney's timing from political communicators, and from a few of his rivals, was skeptical.
Dee Dee Myers, a former White House press secretary in the Clinton administration, said Romney's timing was bound to backfire.
"That's a non-starter. Everyone will just write that he's announcing the day before the anniversary to try and get ahead of it," Myers said in an e-mail. "But he's lashed to that plan like Ahab to Moby Dick."
A GOP operative affiliated with another presidential hopeful told HuffPost that Romney's announcement "is quite the tribute to the government-run health care program he and Ted Kennedy agreed on five years ago to the day."
A former senior communications adviser in the Bush White House said the tactic would not work. And a Democrat who works with the Obama administration took a shot at Romney as well.
"It doesn't matter if he announced on Dr. Kevorkian's birthday. Nothing neutralizes that issue for him," the Democrat said.
Taylor Griffin, a former Bush administration Treasury official, defended Romney.
"The next election won't be waged on the same battleground as the last. Competence will be a key attribute and the economy the cucial issue," Griffin said. "The health care issue will continue to be a motivating force for a lot of early primary voters, but it's not necessarily going to be a litmus test."
Romney has argued that the health care bill he signed is working and that to whatever extent there are problems they are the fault of the Democratic-controlled legislature.
But there is another reason for Romney to set up an exploratory committee in early April and announce it: he needs to have the committee in place and registered with the Federal Election Commission before he can start raising money for the campaign.
Romney has tried to wait as long as possible before entering the race, milking his front-runner status without having to engage the other declared and potential candidates, while avoiding the intensified media focus that comes with taking official steps toward running.
But waiting much longer in April would have put him behind Pawlenty and Gingrich in the race to show the strongest fundraising totals in early July, when the FEC reports for the second quarters will be released.
Nonetheless, a number of other potential candidates have yet to form exploratory committees, including Mississippi Gov. Haley Barbour, former Utah Gov. and current U.S. Ambassador to China Jon Huntsman and former Alaska Gov. Sarah Palin.
A transcript of Romney's video announcement appears below:
Hello, I'm Mitt Romney. This morning I spoke with a number of students here at the University of New Hampshire. Like young people all over the country, they wonder whether they'll find good jobs when they graduate.

Last week, in Nevada, I walked through a neighborhood with homes vacant or in foreclosure. Unemployment there is over 13%. Across the nation, over 20 million Americans still can't find a job, or have given up looking.

How has this happened in the nation that leads the world in innovation and productivity? The answer is that President Obama's policies have failed. He and virtually all the people around him have never worked in the real economy. They just don't know how jobs are created in the private sector.

That's where I spent my entire career. In 1985, I helped found a company. At first, we had ten employees; today there are hundreds.

My work led me to become deeply involved in helping other businesses, from innovative startups to large companies going through tough times. Sometimes I was successful and helped create jobs, other times I was not. I learned how America competes with companies in other countries, why jobs leave, and how jobs are created here at home.

Later, when I served as governor of Massachusetts, I used the skills I had learned in 25 years in business to streamline state government, balance the budget every year, and restore a 2 billion dollar rainy day fund.

From my vantage point in business and in government, I have become convinced that America has been put on a dangerous course by Washington politicians, and it has become even worse during the last two years. But I am also convinced that with able leadership, America's best days are still ahead.

That is why today I am announcing my Exploratory Committee for the Presidency of the United States.

It is time that we put America back on a course of greatness, with a growing economy, good jobs and fiscal discipline in Washington.

I believe in America. I believe in the freedom and opportunity, and the principles of our constitution, that have led us to become the greatest nation in the history of the earth - and I believe that these principles will confirm American's future as well.

This effort is not about a person, it is about the cause of American freedom and greatness. I'd like to ask you to join with us - volunteer, donate, or just pass this along to a friend. Thanks so much.