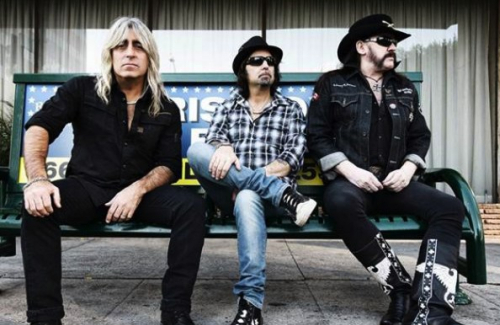 Throughout the past year, there has been questions regarding the health of Motörhead front man Lemmy Kilmeister, and even more recently, they have had to cut a few concerts short and even cancel a couple of dates because Lemmy contracted a lung infection. Lemmy is getting up there in age; he'll be 70 later this year. It might not seem the same to not see the always charismatic Lemmy up there on stage not moving about as he once did, but isn't it just a bit inspiring that, even at his age, he's still doing what he loves and might do it until the very end?
While most musicians might hang up the guitar and enjoy their golden years in solitude, Lemmy and Motörhead is still around and still very relevant to their fans. While we live in a culture and are involved in an entertainment business obsessed with marketing youth, there's always this counterculture of things that once were regarded as fads that are now heavily within its maturation stage. Musical movements like punk, heavy metal, and trailing close behind, hip-hop, are all in this era where there is whole generation now that are all grown up and now in their 30s, 40s, 50s, at least, all while younger generations continue to bud.
No matter what the music industry tries to say, the maturation of these movements rooted on rebellion still have a place generations later, and the youth will find it instead of trying to tailoring it towards them. With Motörhead's 22nd studio album Bad Magic, it charted high worldwide debuting #1 in Germany, Finland, and Austria, along with the #1 spot for metal radio in the USA. Although record sales are not what they used to be numbers-wise, the fact that Motörhead can still chart while having their highest debut week charting in the USA ever says there is more relevance not for just the band, but for metal or any genre of music not really thrown in the mainstream discussions these days.
With Bad Magic, Motörhead has an album that is pretty much that continuing to do what they do best. Even through the hard times, what bands like this do is just put their heads now and just barrel though making the music that made them so compelling to so many fans. Bad Magic satisfies that. Motörhead makes outlaw music, with heavy riffs from Phil "Wizzo" Campbell, with hard drums from Mikkey Dee, and with this sensual rhythm that evokes this devilish side in all of us. That's a timeless quality.

When the opening riffs of their classic "Ace of Spades" hit this past Saturday at The Fillmore in Detroit, the crowd erupts, age is meaningless at this point; it's all about mayhem at this point. A band like Motörhead isn't around for 40 years by playing it safe, and with Bad Magic, they show they continue to be the outlaws of metal. Through the sea of black and denim at their show at that Fillmore crowd, you see the energy and the ruckus that Motörhead evokes from fans of all generations. Motörhead does music for the audience they have always had, not trying to directly grab the youth, but letting them get there on their own.
Not to harp on the topic of age, which in many forms in entertainment is always looked as a taboo topic but it should be looked at as a symbol of wisdom and regality. The music industry wants it to look like that having some noble career outside of the box doesn't exist so they can pump the newest flash in the pan onto the consumer, but the reality of it is that there will be those music artists that will always exist no matter what and Motörhead is one of those bands.
Motörhead's new album "Bad Magic" is available now. For more information, visit imotorhead.com.
Popular in the Community