There are iconic films, and then there's "Mrs. Doubtfire," the classic comedy that gave us one of Robin Williams' most hilarious performances and had the audacity to leave you in tears as well. 
It's nearly been 25 years since the film first hit theaters, and to celebrate the anniversary the cast ― minus a few key players ― has reunited. 
The film's child stars, Lisa Jakub, 39; Matthew Lawrence, 38; and Mara Wilson, 31, now grown-ups, caught up with Pierce Brosnan, who played the interloper Stu in the film, for a segment on "The Today Show" to air sometime next month. 
The cast gave a peek at the much-anticipated reunion taping on social media.
The former James Bond actor posted a snap of the cast back in action, paying a heartwarming tribute to other "Mrs. Doubtfire" stars not in attendance. 
"Today, after 25 years, I gathered around a table in the company of three beautiful young people, to talk story about a film that has touched the hearts of so many," Brosnan wrote.
"Sally is on tour with her new book. Robin is in heaven making the angels laugh and was spoken of with the fondest of love and sweet memories," Brosnan continued. "Can ya guess the movie?"
Sally Field starred as the children's mother who hires her estranged husband, played by Robin Williams in drag, as her new nanny unbeknownst to her. The "Brothers and Sisters" alum has been promoting her memoir In Pieces, which apparently precluded her from making the reunion. 
Williams died by suicide in August 2014 at age 63.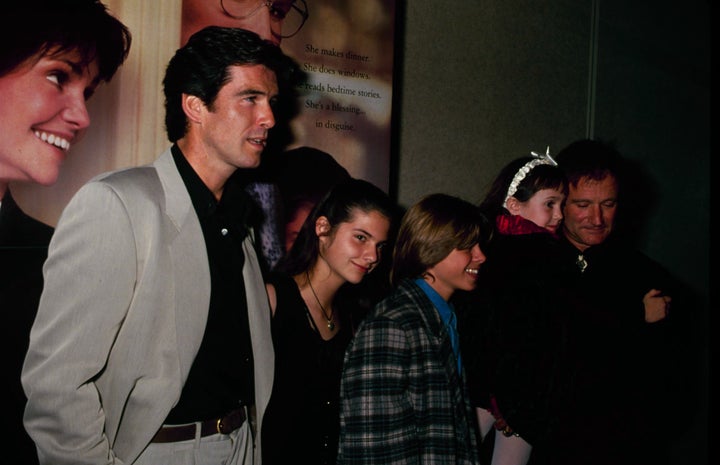 Jakub shared a similar photo, adding, "So this just happened #mrsdoubtfire #reunion #25yearslater."
Jakub, now a writer and yoga teacher, also posted a video of the reunion, showing Brosnan filming his co-stars as he told them, "Love you, love you all so much, so good to be a part of your lives."
Wilson jokingly referred to Brosnan as "Stepdad," to which Brosnan added, "Stepdad Stu."
Brosnan, who developed a close friendship with Williams during the "Mrs. Doubtfire" filming, shared a photo of the movie's famous pool scene last year.
"I thought we would be there all morning trying to get the shot, Robin nailed it on the second take," he wrote. "I am so proud to have been part of that movie and to have known the great Robin Williams."
Calling all HuffPost superfans!
Sign up for membership to become a founding member and help shape HuffPost's next chapter