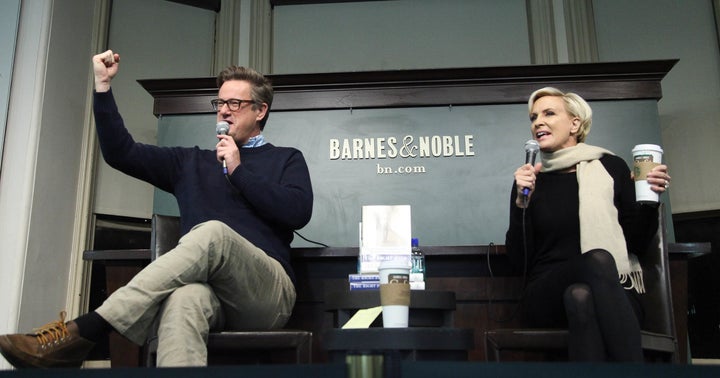 NEW YORK -- "Morning Joe" co-hosts Joe Scarborough and Mika Brzezinski will moderate a town hall at 8 p.m. Wednesday with Republican presidential candidate Donald Trump, MSNBC announced Tuesday, thus setting the stage for a ratings battle against CNN's already scheduled Republican town hall.
The 2016 election cycle, featuring competitive races on both sides and a former reality star boosting debate ratings to historic heights, has been a boon for cable news networks. With no debates scheduled before Saturday's Republican primary in South Carolina and Democratic primary in Nevada, CNN and MSNBC capitalized on the brief lull by organizing dueling town halls on Wednesday and Thursday night.
Both networks are publicizing the competing events with countdown clocks, an on-screen graphic that's been ubiquitous on CNN this election cycle and appearing more frequently of late on MSNBC.
On Saturday, CNN announced that Anderson Cooper would moderate two primetime Republican town halls in South Carolina featuring all six remaining candidates. Sen. Ted Cruz (Texas), Sen. Marco Rubio (Fla.) and retired neurosurgeon Ben Carson are scheduled for Wednesday, with Trump, former Florida Gov. Jeb Bush and Ohio Gov. John Kasich set to appear Thursday.
MSNBC stepped up the competition Monday by announcing that José Díaz-Balart and Chuck Todd will moderate an MSNBC/Telemundo town hall on Thursday from Nevada with Democratic candidates Hillary Clinton and Sen. Bernie Sanders (I-Vt.).
On Tuesday, MSNBC announced plans for Wednesday's town hall with Trump, which is unusual given that other recently televised town halls have featured multiple candidates. The town hall also marks the second time Trump has counter-programmed an event featuring rival Republican candidates on another network; both CNN and MSNBC carried parts of a veterans' event he hastily arranged to compete with a Fox News debate days before the Iowa caucuses.
An NBC spokesman told The Huffington Post that Cruz, Rubio, Kasich and Bush have also been invited to make lengthy appearances on MSNBC before the South Carolina primary.
Kasich, for one, will participate in an extended interview with MSNBC's Chris Matthews airing before the Trump town hall.
Candidates do not directly engage with one another in a town hall, so the events, unlike debates, do not need to be sanctioned by the Democratic and Republican parties. Networks only need to invite candidates, who are unlikely to pass up national airtime just days before a primary.
MSNBC drew scrutiny Tuesday not only for planning to broadcast a town hall with just Trump, but also over the network's decision to have Scarborough and Brzezinski moderate.
There's a growing perception that the "Morning Joe" co-hosts are too cozy with Trump, who thanked them for being "supporters" after he won the New Hampshire primary.
Both Scarborough and Brzezinski pushed back against that characterization, but some within the network have privately expressed concerns. CNN's Dylan Byers reported Friday that there's "widespread discomfort" inside the network over Scarborough's chummy relationship to the Republican front-runner. On Sunday, Baltimore Sun critic David Zurawik said on CNN's "Reliable Sources" that Scarborough's public boasts about giving Trump debate advice indicates he's "completely unashamed" of being "in the tank" for the candidate.
Criticism of the Scarborough-Trump relationship hasn't only come from within CNN, which is obviously a competitor to MSNBC.
On Tuesday, National Review's Jim Geraghty also took issue with Scarborough, a former Republican congressman, posing questions to Trump at Wednesday night's event.
"Joe Scarborough is a friend of National Review, so there's no joy in calling him out," wrote Geraghty, "but it's hard to dispute that he's Trump's dream interviewer for a prime time special."
Related
Popular in the Community