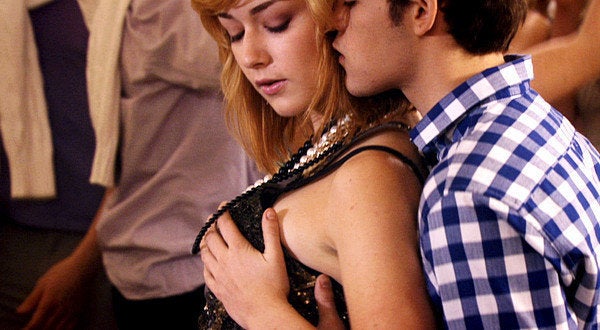 MTV's new show 'Skins' is an instant hit -- but is it also breaking laws?
A remake of the British show of the same name, 'Skins' takes youth sexuality to a level never before seen on television, with sex, drugs, drinking and masturbation galore. And though it's tamer than the British original, the NY Times reports that MTV executives are scared it could be deemed child pornography.
The executives ordered the producers to make changes to tone down some of the most explicit content.

They are particularly concerned about the third episode of the series, which is to be broadcast Jan. 31. In an early version, a naked 17-year-old actor is shown from behind as he runs down a street. The actor, Jesse Carere, plays Chris, a high school student whose erection -- assisted by erectile dysfunction pills -- is a punch line throughout the episode.
Child pornography, which the Times reports is defined as "any visual depiction of a minor engaged in sexually explicit conduct" or "a picture of a naked child may constitute illegal child pornography if it is sufficiently sexually suggestive," is a danger for the show, given that some of its cast is as young as fifteen.
The show is littered with sexually suggestive poses and half-exposed breasts, though how exposed they have to be to constitute illegality is up in the air.
Predictably, conservative organizations such as The Parents' Television Council have thrown a fit about the show, calling it "dangerous" and making ominous predictions. MTV has worked to placate and reassure them.
"'Skins' is a show that addresses real-world issues confronting teens in a frank way," MTV said in a statement. "We review all of our shows and work with all of our producers on an ongoing basis to ensure our shows comply with laws and community standards. We are confident that the episodes of 'Skins' will not only comply with all applicable legal requirements, but also with our responsibilities to our viewers."
As for the cast themselves, they defend the show -- because it's about the story.
"Things like this certainly happen [in real life]," James Newman, who plays Tony on the show, told MTV.com. "I don't think they necessarily happen with the frequency that it happens on 'Skins,' but it's TV and we want it to be entertaining and it helps from a standpoint on sex and drugs. It doesn't happen as much, but I think as far as relationships the friends have with each other and the emotions, that stuff is dead-on, spot for spot what we went through in high school. ... Anytime you see sex and drugs on 'Skins,' it's about the story. It's never that for the sake of that."
Whether those teens' opinions match up with the FCC and federal prosecutors, however, remains to be seen.
WATCH
:
Popular in the Community