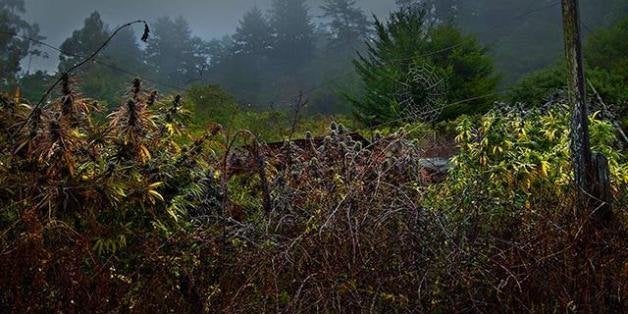 When most heads think of Humboldt County, bucolic fields of bud, a rugged coastline and fun-loving pot growers come to mind, but few realize that there's a dark side to this hippie paradise that only the locals know about.
Longtime homesteaders complain that the influx of out-of-state growers has changed the character of the county, attracting hustlers looking for a quick buck, who bring transients and hard drugs along with them. But beyond the pot growing, petty crime and panhandling, there are deeper secrets about more sinister deeds, buried in a place known as Murder Mountain.
Local lore about the area is the stuff of horror movies, involving missing persons and serial killers, as well as warnings for out-of-towners looking for work as trimmers and farmhands to never go with strangers to this remote location. One grisly tale from the 1970s shared by a commenter on a local blog involved a dog dragging a severed body part up to a campfire where revelers were drinking.
As reported by Kym Kemp, the area dubbed "Murder Mountain" is the Rancho Sequoia subdivision near the town of Alderpoint, about 45 minutes east of the 101 and Garberville. In 1968, the mountainous land was subdivided in response to a proposed dam project that was never built. Marijuana farmers snapped up lots as small as ten acres, and soon the area became notorious for law enforcement raids and rampant criminality.
In 1982, a Manson-esque pair of serial killers, James and Suzan Carson, murdered Clark Stephens, a fellow worker on a marijuana farm, dismembering him and burying him beneath a pile of chicken manure. When Suzan Carson ordered her husband to kill Stephens, she said it was because he was "a demon." The psychopathic pair cultivated a bizarre philosophy around Moslem teachings, yoga, vegetarianism and the belief that they were responsible for exterminating "witches."
The Carsons confessed to several other murders, including their roommate in the Haight-Ashbury, Karen Barnes, and hitchhiker John Hillyar, shot by the side of the road in Napa County, but they were suspects in as many as nine more killings. The couple was convicted in 1984 and sentenced to 50 years to life.
The area's murderous reputation has meanwhile continued, with a recent slaying in June 2013 by Anthony Lane, an Alderpoint resident. After breaking up with his girlfriend, Lane had nowhere to live, so his friend Rebecca Sallee brought him to the Rancho Sequoia home of Walter Herold Craig Jr. For reasons unknown, Lane beat the older man to death with a baseball bat, robbed his house and took off in his black Jeep. Lane was caught and sentenced to 15 years to life.
Several recent disappearances have brought more attention to Murder Mountain. Construction worker Bobby Tennison went missing in 2009, reportedly after completing a remodeling job in Alderpoint. Garrett Rodriguez has been missing since April 2013, and his family and friends say they haven't heard from him since last January. Garrett had returned to the Alderpoint area for New Year's, traveling back to Humboldt from San Diego's Ocean Beach neighborhood. Garrett's father reported that the young man had been growing medical marijuana on a farm in the area known as "Murder Mountain." In May, his white Dodge Ram truck was found on private property about 20 miles away from where he was known to work.
Humboldt County police and private investigators are working to find Garrett, but investigator Chris Cook doesn't have much hope he'll be found alive, remarking to the Lost Coast Outpost that, "Is he alive? Probably not... I really want people to know that if you are coming up here, you could be taking your life in your hands."
Popular in the Community