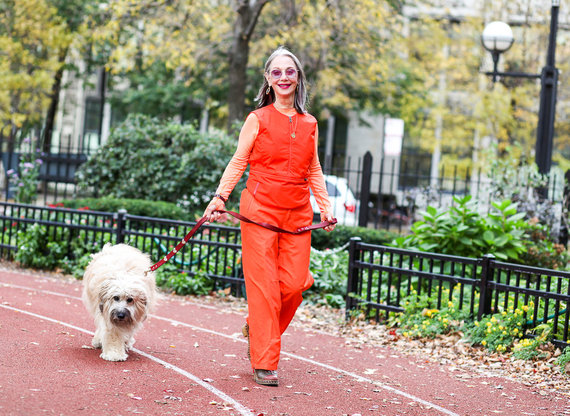 "The word dog is G-d spelled backwards. Orchid is G-d like!" ~Honey Good
It is an early morning in the Good home and I am both happy and sad.
Happy because my husband Shelly and I are off to Europe in a few hours, specifically France and England. Yet sad, because I am leaving Orchid and I know she is going to miss me so much.
She will be safe with our housekeeper, Rosa, who has known Orchid since we brought her home when she was seven weeks old, but she knows I am her mistress and I know she is my girl. We are attached at the hip.
I am very happy that Orchid is as much Shelly's dog as mine because he adores Orchid as much as I do. And yet, Orchid comes to me for all her needs, including jumping into the car with me to go to the beauty shop and shopping. She goes to Shelly for protection and for a trip to the cleaners and hardware store. It is interesting how she has picked out each of our strong points.
Anyway, this will be our routine this morning. Orchid will see the luggage and race to the door thinking she is going to travel with us. She will figure out soon enough that she is not going and stick to my side like glue, hoping we will change our mind and take her along. After we leave she will not eat until the end of the second day. Shelly and I are both very sad to be leaving her.
For you, dear readers, who do not know too much about Orchid, here is a glimpse into her personality, how we named her and how she leads a very visible lifestyle because she is in no way an invisible pooch.
My writing partner is Orchid, a soft-coated Wheaton Terrier weighing in at forty- one pounds. She sits by my side as I write my daily blog and she truly makes my heart sing. Actually, she makes everyone's heart sing! She is like Eloise at the Plaza. She is the most darling and visible pooch in the building we reside in, in beautiful Chicago. She is 'sugar and spice and everything, nice!' She showers all who know her and meet her with love. Just ask anyone who has met our darling Orchid!
I want to share two short 'Orchid Stories' and one dog story because I know many of you are pet lovers.
THE DISCUSSION THAT LED TO BUYING ORCHID
My husband, Shelly never had a dog! I grew up with pets from the time I was a child.
One day, ten years ago, I said, "Shelly, I would really love to add a dog to our family. I miss the companionship of a pet. Pleeeeze say yes!"
"If you want one, I want one," Shelly replied. "I don't know anything about dogs. The only favor I ask, please don't buy a dog bigger than me! Tell me what you have in mind. I know you have already figured out the perfect pet prescription."
"You're right," I replied excitedly. "I have 'our prescription' for the perfect pet. I would like a loving female, soft-coated Wheaton terrier. A female dog because they are loving and protect their young, therefore, making good watchdogs. A Wheaton because they are friendly, smart and don't shed. I want our dog to have a kindly disposition to match ours and I want a large dog because many small dogs bark as a protective measure. That's it!"
"Sounds like the perfect prescription to me," said Shelly. "Why have I waited so long to own a dog?"
"Because you were not married to me," I answered with a smile.
"You're right! Let's get our dog. I am as excited as you are," Shelly replied.
Seven weeks later, Orchid Good arrived!
Orchid's naming came to be as we were driving from Palm Springs, California to Scottsdale, Arizona to visit my daughter Jenny and her family. Naming her was serendipitous. I never imagined her name would tie back to my last home, Hawaii.
I am a Taurus. My sign is Earth, which means my eyes take in all aspects of nature. That early Spring day, the desert was filled with flowering cactuses for as far as I could see out of my window. I turned to Shelly and said, "The cacti are beautiful, but having lived in Hawaii, I just wish the desert was filled with Orchids."
"That's it," I said, startling Shelly. "That will be the name of our new pooch... Orchid! I am so excited. It is perfect! She will be our little flower."
Shelly smiled in approval and Orchid was named that day on the ride to see our family :)
THE BONDING OF TWO WOMEN OVER THE PERSONALITY - PLUS ORCHID GOOD
The telephone rang in our Chicago apartment. It was our friend, Alysia, calling from Los Angeles. "Can we have dinner with you while we are in Chicago? It's my birthday and my best friend Candy Spelling has a book signing at Borders Book Store. We are flying in," she said.
"Can't wait to see you and meet Candy," I replied. "Shelly will make reservations at Gene and Georgetti."
I remember the evening well. Dinner was great fun. During our dinner conversation Candy and I discovered we were both the owners of Wheaton Terriers! And so, Madison Spelling and Orchid Good sealed the deal on a new friendship
"I would love to meet Orchid after dinner," Candy said.
They were staying in a hotel next door to our condominium so after dinner we cabbed back together.
I will never forget Candy and Orchid's meeting. Candy was sitting on the couch in the Ritz Carlton hotel lobby in a white summer suit. Orchid saw her, leaped into her lap and gave her a hundred kisses! I was in shock that Orchid jumped into her lap, but Candy wasn't. Her response: One hundred kisses back! Never in all the years of living with us had Orchid ever jumped into anyone's lap! She knew that Candy loved dogs.
About ten days after our meeting, Orchid and I received a gift in the mail from Candy: 100 poop bags for me and organic toys for Orchid. A dog "mom" knows what another dog mom needs.
Needless to say, Candy and I bonded that evening over our love for our Wheaton Terriers.
AN ACCIDENTAL MEETING WITH A MESSAGE.
This funny, but true, story took place several years ago.
There was a chance meeting of grade school friends. As Shelly and I were walking through the mall, we heard a man call out Shelly's name. We looked up and saw a man and woman walking towards us -- an old grade school friend. The guys were excited to meet and catch up after several years, asking about each other's lives. I remember Shelly asking this man, "How are the girls?"
"Oh, they are fine," the man replied. He did not elaborate.
Then, the man paused. He rubbed his chin and seemed to go into deep thought. I imagine he might have been thinking to himself, "I am going to tell Shelly how I feel about having children because I probably won't run into him again."
This man looked up and after a few seconds in a very dry manner and strong voice said, "You know, Shelly, a few years ago we bought our first dog. She is the most wonderful dog. Our dog brightens every day of our lives, never gives us a problem, happily greets us at the door wagging her tail and only wants to please us."
Then he startled us with, "If I had known the joy, love and affection I would get from my dog, I might never have had children!"
Dear readers of mine, I think he said this tongue in cheek, but to tell you the truth I am not sure.
His comment was so unexpected that Shelly and I reacted with laughter because the truth of the matter is... our pooches offer unconditional love and our children are works in progress.
For those of you who do not have a pet, perhaps after reading my musings you might think about going to PAWS this day, Giving Tuesday, and giving yourself and a loving pooch a new 'leash' on life. I'm sure that's how the saying goes... or at least how it should.
The addition to your life will be greater than your highest expectation.
Calling all HuffPost superfans!
Sign up for membership to become a founding member and help shape HuffPost's next chapter