A great journalistic candle that lit the way for us has been extinguished.
My friend, colleague, and teacher Helen Thomas departed this week, 15 days before her 93rd birthday.
I'll miss her acerbic comments and sense of humor.
They didn't call her the "Grand Inquisitor" for nothing -- the headline of a story about her in Smithsonian Magazine.
She lived history, wrote history (as most journalists do), and made history.
"In memory of #helenthomas. Her famous red dress is on display in the Newseum's News History Gallery," tweeted the Newseum, the news museum in Washington.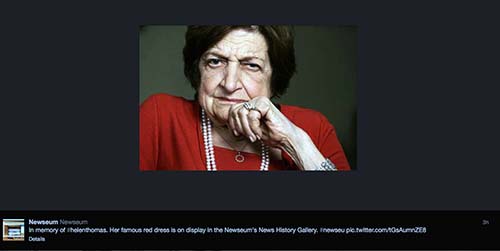 Screen shot of Newseum tweet honoring Helen Thomas
She and I often joked about wearing red on television to attract the cameras. I've been doing it ever since.
Trailblazer is an understatement. Her firsts were too many to count.
Thanks to Helen, I was one of the early women members of Washington's National Press Club who could sit in the main dining room to attend and cover major events or speakers at that august institution, rather than be relegated to the balcony overlooking it with other women reporters, as in the "bad old days" when men ruled that coop and set the rules.
She had fought hard for our right to be treated equally as professional journalists and we owe her a debt of gratitude.
The diminutive indefatigable and modest legend was at it from the wee hours to well after closing time at the White House. She didn't want to miss anything.
The daily grind at UPI didn't stop, but it slowed down when she moved on to work for the Hearst News Service as a columnist.
When in 2010 she was charged with anti-Semitism for off-handed comments she made that caused her to resign from Hearst, the pan-Arab daily Al Hayat ran a cartoon of Thomas walking away with her shadow drawn as Lady Liberty reflected against the White House bidding her farewell.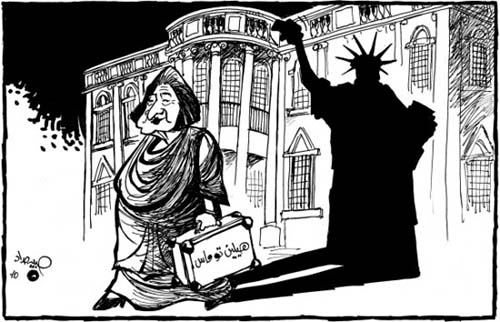 Screen shot of Al Hayat cartoon - Lady Liberty bids Thomas farewell
She left an indelible mark on 20th Century U.S. journalism and into the 21st Century by insisting on the best dissemination of news about the country's chief executives and equal rights for women.
Once I asked her what prompted her to chase then president Jimmy Carter on his vacation whitewater rafting with his family in the Rockies in 1978.
Her reply: She wanted to be the first to report on anything happening to him in case disaster struck.
Washington reporters called it the "presidential death watch" since those of us who covered the city knew we had a responsibility to put out the most accurate, balanced, and fair information about what we saw before the competition.
I remember during a visit to my old stomping grounds in Washington, D.C. in 2003, long after I'd moved away, we discussed the state of the American presidency and the media.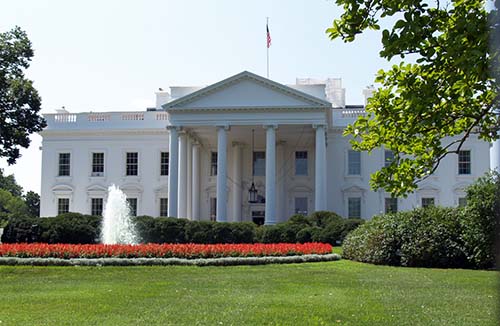 We discussed the American presidency (Abu-Fadil)
She had strong opinions, but when she worked for UPI, it was always hard news, no editorializing.
Her editorials were in conversations with family, friends and colleagues.
She thought highly of John F. Kennedy, said Lyndon B. Johnson had done a lot for the country, liked Jimmy Carter, and approved of Bill Clinton's handling of the economy.
But she felt George W. Bush was a complete disaster and considered his vice president Dick Cheney a black mark on America.
Employees and guests at the hotel where I stayed came up to Helen to ask if she was the lady they saw on TV who gave the president a hard time and asked to be photographed with her.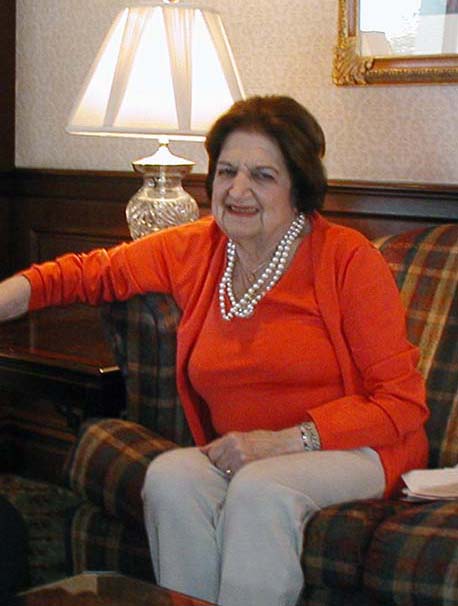 Gracious and modest Helen Thomas (Abu-Fadil)
She was most gracious and extremely modest. No prima donna media star like many Washington reporters and correspondents she and I encountered at the White House and other seats of government.
As a twenty-something reporter, I was most honored when she gave me a copy of her book "Dateline: White House," that I still have and cherish, and she signed it:
"To Magda - With my respect and admiration for a colleague and friend. Sincerely, Helen Thomas. April 10, 1979."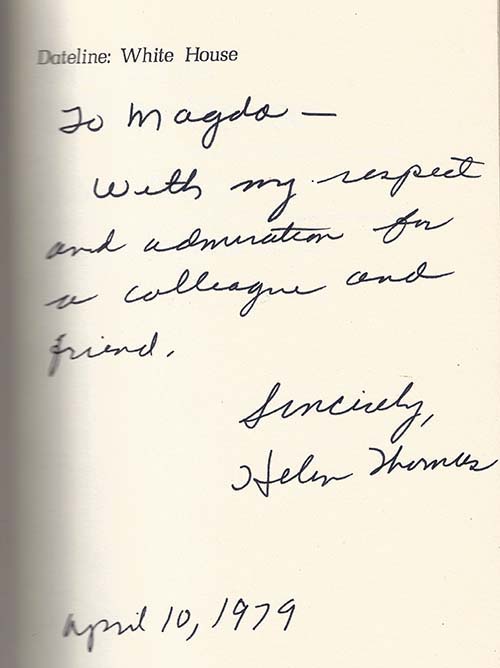 Signed copy of Helen Thomas' book (Abu-Fadil)
I was more than 30 years her junior but she treated me with the same respect she would a seasoned editor and I was very touched.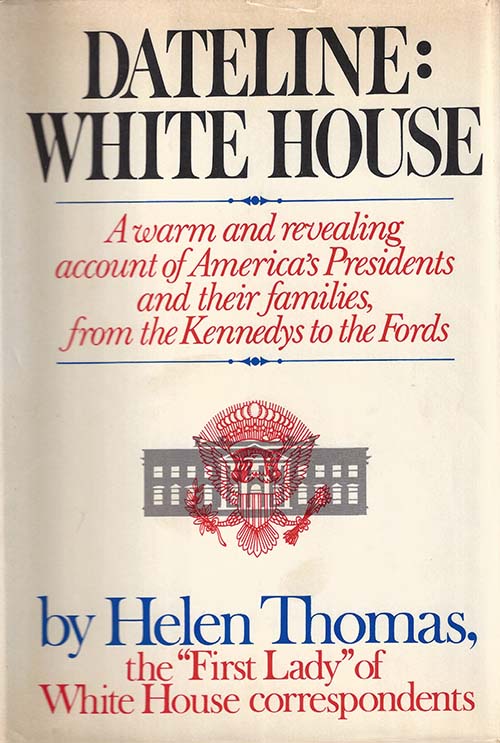 Yellowed but cherished copy of "Dateline: White House" (Abu-Fadil)
At the time I was still working for assorted and sundry news organizations before putting in a stint at UPI's foreign desk in a previous job incarnation and being sent overseas to cover the Middle East.

Years later in the world of academia and as a trainer of journalists across the Arab World, I would use footage of Helen grilling presidents and sparring with White House press secretaries to demonstrate how public officials should be held accountable.
I've used her heated exchange during a White House briefing with then press secretary Scott McClellan over President George W. Bush's warrantless domestic spying program as a case study on whether Bush should obey the law, as Helen kept insisting.
The brief video clip was yet another example of her respect for the U.S. Constitution and in no uncertain terms shot back at McClellan: "You know what happened to (Richard) Nixon when he broke the law."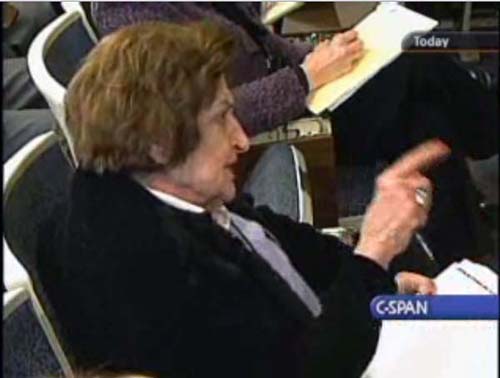 Screen shot of Helen grilling Scott McClellan
Lebanese TV stations devoted segments of their main newscasts to announce news of Helen's death.
They - we all - are proud to say her family came from Lebanon and that an Arab-American had made it to that coveted position of dean of White House correspondents.
She was a school of journalism in and of herself.
From half a world away, thank you, Helen, for everything you taught us.
REAL LIFE. REAL NEWS. REAL VOICES.
Help us tell more of the stories that matter from voices that too often remain unheard.