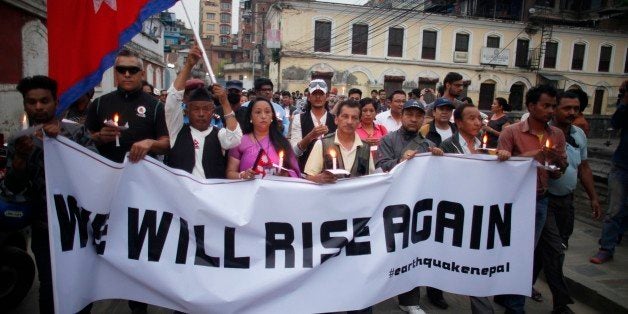 I left Nepal in 1991 with a lifetime of memories from my childhood in Kathmandu. Though I've returned many times in the years since, work and life have drawn me further and further away from the orbit of what once was home.

I was 18 when I left home on a scholarship to study in the U.S. Filled with excitement, adventure and youthful confidence, I remember telling my mother when I left that I wouldn't be back soon. In fact, I returned that very summer for an internship high in the plateaus of Upper Mustang. I remember how tears stung my eyes, blurring my first view of the familiar but majestic hills and mountains as the plane made its descent into Kathmandu.

I lived a privileged life in Nepal. But my greatest privilege was that, unlike most Nepali city kids of my generation (especially the girls), I had the good fortune of really seeing my country. Thanks, in large part, to the trips organized by the international school I attended, and a family that extended well beyond Kathmandu valley, I had the opportunity to travel high into the mountains, low in the Terai, the far west, the mid-hills. I saw a lot of my hauntingly beautiful country at an exceptionally young age.

On school trips lasting as long as three weeks, my friends and I got to know families, sometimes spending the night at campsites, but many other times benefiting from the abundant hospitality and generosity of rural Nepalis. We drank chia, a steaming, sweet milky tea and even some chhang -- a popular home-made beer. We ate rice and lentils known as dal-bhat, and enjoyed dhido, a traditional starchy staple. We wrote school reports about health and education, architecture and traditional farming. Our reports were probably amateurish and naïve. But the experience was formative and life-shaping.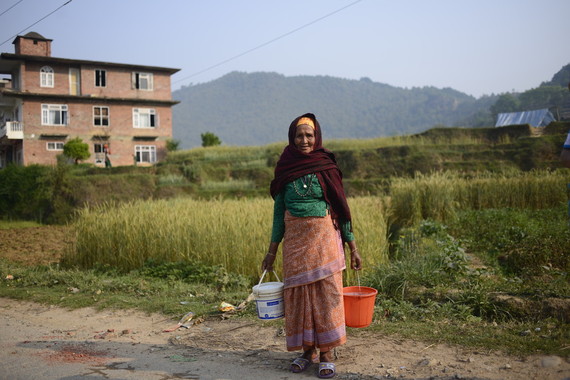 Ratna Kumasi Thapa, 77, carries water to help her son and his family after the home they share was heavily damaged in the Nepal earthquake. Photo: WaterAid / Ravi Mishra
My personal and professional worlds have collided.

In the years since, I have lived out the adventure I sought at 18. I've lived and worked on four continents, I've learned from cultures far from my own. I've adopted a second homeland and then a third. I've become global in my outlook, accomplished in my career.
During the course of this time, I lost my family home in Nepal. My parents left the country, and with them, I thought, so did home. In recent years, my trips to Nepal have been shorter and less frequent.

But when the earth powerfully shook and shifted in Nepal last week, I too, was shaken. Jolts much stronger than the term "aftershock" conveys have prolonged the nightmare for so many people I know. As the death toll rises to unthinkable numbers, I watch in horror, knowing that the villages where people fed and taught us with the kindest hospitality I've ever known-are gone. It's the people in the hills of Nepal who are bearing the brunt of this disaster. Far into the terraced mountainsides, and from deep in the valleys, only now are the stories beginning to trickle out from Nepal's hard-to-reach rural villages, allowing us to slowly learn about the true scale of the tragedy.
Today more than ever, I am grateful for the fact that my organization, WaterAid, has worked in Nepal for the last 20 years, expanding access to safe water and sanitation, improving hygiene practices and breaking taboos around menstruation. Known for our local expertise and close relationships with community leaders and marginalized families alike, we work in 28 out of Nepal's 75 districts, across the length of the country.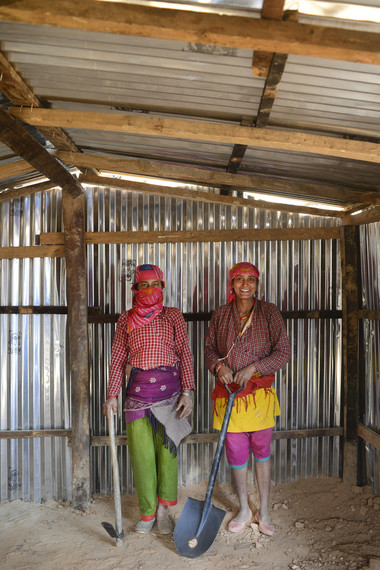 Sisters-in-law Shradha and Surmila stand in the makeshift home they are building after their family's home was destroyed in the Nepal earthquake. Their toilet survived, but they are afraid it will fall on them if they use it. WaterAid / Ravi Mishra
In the days since the earthquake, through salty tears and a jolt that has nothing to do with an earthquake, I have realized the depth of my attachment to Nepal. Embarking on my global adventures, I failed to realize until now, how large a part of my heart I had left at home.
The water and sanitation woes faced by people in rural Nepal have not changed much since my travels so many years ago, particularly for women and girls. Even before the earthquake, they were the ones who carried the heavy burden of collecting water -- the ones who worried about the debilitating water-related diseases that can strike any time, and the ones who struggled with the effects of seasonal monsoon rains that contaminate drinking water supplies by washing human waste into drinking water sources -- a season that is quickly approaching. Now, in the wake of the disruption and displacement, WaterAid is working with them to avert a second disaster: The potential for an outbreak of waterborne diseases like cholera that are endemic in Nepal.
The response of Nepalis near and far has been astounding. Everyone I know is doing something. Within the country, young Nepalis have been among the first responders, mobilizing quickly, demonstrating leadership and courage, creativity and resourcefulness. Outside the country, Nepalis (and friends of Nepal) are furiously fundraising, while also trying to hold on to international attention as the media cycle moves on. Social media has played a critical role in connecting and catalyzing both groups.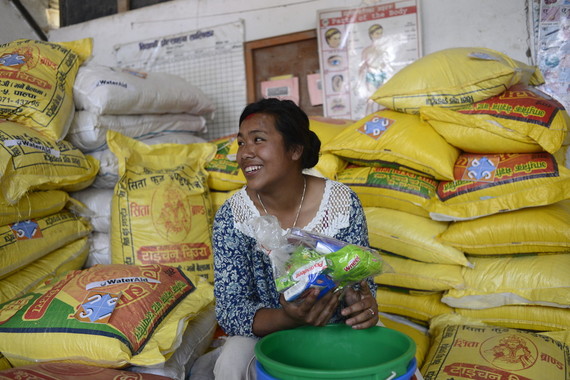 Kanchen Shrestha, 22, shows one of the hygiene kit that WaterAid and its local partners are distributing to earthquake survivors near Nala, Kavre District, Nepal. Photo: WaterAid / Ravi Mishra

As Nepalis look towards rebuilding the land that we love, we have unique opportunity to do things differently. Now is the time to seize the moment created by this awful crisis and let go of the divisions, differences, and the collective paralysis of the political stalemate that was our disaster before the earthquake. The drive to rebuild and create resilient physical infrastructure must be matched by the social and political infrastructure for which we have always strived. The Nepali people, police and armed forces' response in rescue and relief have shown beyond doubt that the talent, courage and leadership to do this already exist.
The scale of human, cultural and historical loss is immeasurable. And yet, this is a disaster that has galvanized Nepalis from of all walks of life -- in Nepal and overseas. In clearing through the physical rubble and starting to rebuild, let us not miss this opportunity to find lessons and possibility in the ruins.