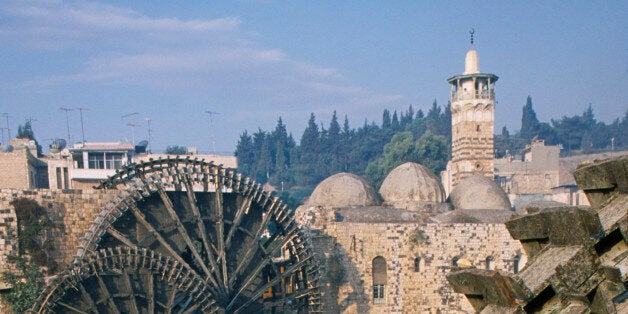 Nineteen years ago as a young Syrian immigrant in Canada, I attended the Toronto film festival. It was the first film festival that I ever attended, and I was mesmerized by the crowds, the show, the stars, the glamor and the entire spectacle. That first film festival is still imprinted in my mind. It was a beautiful evening.
After the festival, I went out with my Canadian friends and the topic of movies in Syria was raised. We talked about Syrian movies that I have seen throughout my life. And that night, when I went to sleep, I could not help thinking about the conversation we had over coffee after the festival. Somehow, I realized that it was important to bring a touch of Syrian culture to my friends in Canada.
At the time, I was a member of the first Syrian Canadian women's group. I anxiously awaited the next meeting to roll around, so I could raise the idea of having a Syrian Film Festival in Toronto. When I shared that dream, my ideas were enthusiastically supported by the group. In short order, we decided to bring five Syrian films to Toronto, and the first Toronto Syrian Film Festival was born.
That was in November 1995. The opening night was unforgettable. Every detail was perfect. There was a black tie gala and a fashion show. The marketing poster we chose to represent the film festival was an image that captured the feel of the old city of Damascus. It was a picture of a little girl watering a plant near one of the oldest gates of the ancient city of Damascus.
The landscape 20 years ago was vastly different than today. We had no internet, no text messages, no Facebook, but despite that, we managed to put it all together to showcase five films from Syria. Two of the films were award-winning -- one was "Dreams of a City" and the other was "The Sun on a Cloudy Day." Interestingly, the movies had to be adapted to a more modern technology so they could be played in Toronto. We did all of this without sponsors or access to any grants. We were completely dependent on private donors, including family and friends. Using their donation money, we paid for airline tickets to bring Mona Wassef, the top actress of her time in Syria, to Toronto. We also brought the Syrian fashion designer Mahiba Kotrash and the well-known Syrian painter Nadia Sultan.
Our hard work paid off. The films were shown at the University of Toronto and there was a Syrian art exhibition and a Syrian book fair as well. The fashion show we organized to complement the film festival featured traditional costumes from many different provinces and cities around Syria and were modeled by Canadian women from different backgrounds.
It was a great event and a different time. Twenty years ago, Syria was not in the news as much as it is today; Canadians would have been hard pressed to locate it on a globe. It seems to me that through our efforts, we at least raised a certain cultural awareness of Syria among Canadians then.
Just a few weeks ago, I was pleased to receive an invitation to a new Syrian film festival that is being organized in Toronto. It made me think of the little girl from the marketing poster that we used in our film festival 20 years ago. She must be in her mid-twenties by now. I think of the beautiful city of Damascus in that depiction; and how today the city is under the tight control and occupation of a dictator, whose brutality has destroyed the country and the families of the hundreds of thousands who have been murdered at his hands. I think of the suburbs around Damascus that used to be teeming with life, suburbs that are now under siege and under constant bombardment with barrel bombs. Today, so many of the cities in Syria are reduced to rubble - a battleground between armed forces. The Syrian refugee crisis has become a worldwide catastrophe.
In spite of today's horrors and the horrors throughout our history, the Syrian people have always been resilient. Our country is home to the two oldest inhabited cities in the world, Aleppo and Damascus. Those cities have weathered great tragedies, wars and occupation, and still call to us. Today, an embattled Syria still stands, although currently at one of its lowest points in its history. The Syrian people have managed to survive centuries of trauma through hope, optimism and creativity.
And they continue to do that through their films.
It is with great pleasure that I accepted the invitation to attend this year's film festival in Toronto. The plight of Syria has become a worldwide anguish and recently peaked when Aylan Kurdi's photograph reached a global audience. That iconic photograph has been burned into the world's collective conscience. The cries of Syria will not be drowned out. In a few days, I look forward to enjoying films at the new Syrian Film Festival, feeling proud of this new generation of Syrians, who are demonstrating their commitment and creativity by showcasing the resilience of the Syrian people through art.
It makes me think of the little girl in the marketing poster. It is my hope that in time, that young girl, who is now a full grown woman, will have the ability and right to walk freely through those ancient gates of Damascus. And to attend a Syrian Film Festival in her ancient home.
Calling all HuffPost superfans!
Sign up for membership to become a founding member and help shape HuffPost's next chapter