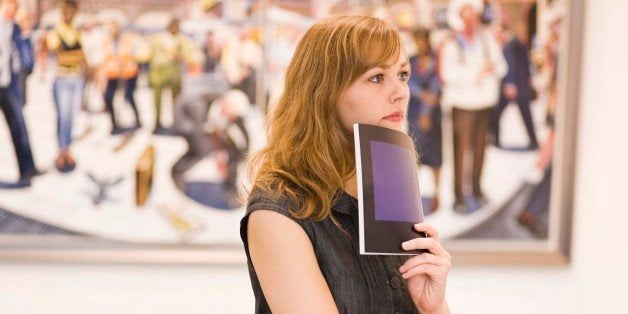 Recently, I had a "moment" at The Metropolitan Museum of Art. My husband and I were visiting New York from Colorado without our young kids: a rare trip designed to be all about spontaneity, like before we had children. We hadn't necessarily planned to visit museums, or anything, really. If we wanted to sit around eating bagels all day, we'd do it. Or if we felt compelled to ride the Scrambler at Coney Island, why not? But one morning a couple days into the trip, while sipping an artfully crafted cappuccino at a Park Slope café and writing in my journal, I decided I wanted to spend the afternoon surrounded by paintings and sculptures. We got on the F line from Brooklyn and headed into Manhattan.
But then, ugh. The minute we entered the front doors, the guilt started. As I stared at all of the offerings -- the secret hallways! A costume exhibit! A rooftop café! -- my mind went straight to my kids. They should be here to see this, I thought. I'm a parent who loves to learn and teach through experiences, and although my kids get a lot of valuable nature and outdoors time near our mountainous home, there's nothing like The Met. At the information kiosk, I fingered the vibrant brochures for kids containing games and activities. My 7-year-old son, who's interested in explorers, would dig the scavenger hunt.
The guilt intensified as we walked through the armory containing life-sized horses and knights, swords and guns. I could picture my son's eyes as big as dinner plates as he perused the displays. And while ambling through the period home, I thought about how my 3-year-old daughter, who enjoys playing house, would marvel at the entire rooms full of furniture and dishes and appliances.
With a heavy heart, I made my way upstairs, holding my husband's hand. He pulled me into an area on the left. I didn't even pay attention to where he was taking me. But when I looked up, I found myself in front of Monet's water lilies, paintings I've seen dozens of times as prints in people's homes or on greeting cards or in books. In real life, I marveled at the detail, rich color and texture, and then, jaw slightly open, I moved on to works by Van Gogh and Manet and Seurat. It was a cornucopia of brilliance, and I felt my eyes lighting up and my heart beating fast.
And then I came upon a painting by Pierre Auguste Cot of two young lovers on a swing in the forest. For whatever reason, on that that day, in that moment, everything about it took me deep inside myself, evoking emotion that cut right to my core; that place where my passion burns bright. I stood there, frozen, taking in the light and the colors of the woman's hair against the foliage, and I wondered about the story the lovers were sharing together. A tear crept into the corner of my eye, and everything around me melted away: the crowds of people, the security officer, even my husband. I was completely caught up. I'd forgotten what it feels like to have a deeply authentic moment of my own, experiencing something through my own eyes instead of the eyes of my kids, and I was surprised at how much I needed it. It felt a little bit like falling in love -- in love with my self, all over again. A sensation of being alive and whole.
This feeling carried me through the rest of my trip and into the next weeks of my life. I re-entered the responsibilities of motherhood glowing from the inside out. And interestingly, when my kids asked about my favorite part of the trip, I pulled up a picture of the painting and recalled that "moment" at The Met in great detail. I explained how it made me feel and what it meant to me. I watched them watch my face as I talked, and unexpectedly, it led to a discussion about how important it is to find ways to honor what makes each of us feel alive as individuals. When I asked my daughter what makes her light up, she said her dolls. My son, his playhouse. And that, I realized, was an experience all its own; as priceless as a painting.