I'm looking forward to it -- unlike Michael Kaiser, who just told us how relieved he is to never see his board again in "My Last Board Meeting." Like all non-profit arts executives, I've also felt the discomfort Michael describes that can arise from inappropriate boundary crossings between board and staff. But like the anxiety about an upcoming performance dying at the box office, or an artist cancellation, some of this just goes with the territory.
The distinction between board and management is not about who knows more about running the business. Governing and managing are two different functions. But they necessarily intersect and appropriately blur boundaries when it comes to strategic and generative work. And this is where a good board adds value beyond its fiduciary role. The board of the League of American Orchestras serves as thought partners to me and the senior staff, and not by substituting their judgments for ours. They don't know more or less than us; they know different. Each is passionate about our mission and each is a leader in their own sphere and most possess significant non-profit governance experience. And collectively, the board has grown its capacity to engage in the critical questions of mission, vision, and navigating strategic challenges. They are additive to management's work. And with the overwhelming upheavals in today's world, what manager would pass up the opportunity to have their perspective expanded?
The San Diego Youth Symphony and Conservatory won a BoardSource Prudential Leadership Award for Exceptional Nonprofit Boards
While indeed a board chair has the authority to terminate a CEO, there is nothing intrinsic to that power relationship that leads to feelings of superiority or inferiority as Mr. Kaiser suggests. The power vested in the board chair isn't derived from his or her superior knowledge about running the business. Rather it comes from the need to ensure alignment of the CEO's goals with institutional mission and strategy and to monitor progress on those goals.
The health of the League board can be attributed to its attention to leadership, discipline, and culture. Our chair, a highly experienced and skilled non-profit board leader, has served in that role for eight years. Changing chairs every one or two years does not allow enough time for leadership to take hold and have impact. Our governance committee works hard to look after the board's well-being and recruit new members through a filter that selects for candidates who can deliver in multiple ways to advance our mission. In selecting members and organizing its work, the board is very intentional about its culture. And that is a culture that insists on doing the work that really matters for the League and in valuing the often divergent views among members as assets.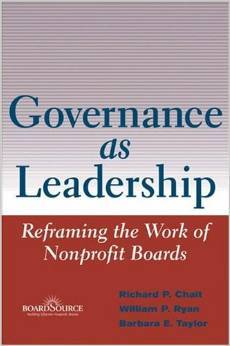 The landmark book by Richard P. Chait, William P. Ryan, and Barbara E. Taylor
I believe in the roles and functions I've described here because I have seen them work, not because I read about them in a book. But, many readers will recognize these principles as those introduced by governance experts Richard Chait, Barbara Taylor and William Ryan in their landmark book Governance as Leadership. The League offers a broad platform of resources for orchestra boards and many are derived from their principles. See great governance work in action and how the San Diego Youth Symphony and Conservatory's board and management (winner of BoardSource's Prudential Leadership Awards for Exceptional Nonprofit Boards) transform their organization and its impact on music education in the city of San Diego.
We have seen too many failures of governance in the arts recently. More than ever this is a time to encourage trustees, with their CEOs as partners, to devote the time and discipline to learn good governance practice, not to give up on them.
REAL LIFE. REAL NEWS. REAL VOICES.
Help us tell more of the stories that matter from voices that too often remain unheard.