Children die. Take a moment and read that sentence and let it sink in.
Children die and some die in horrible ways. Ways that are too horrible and ways that no child should ever have to endure. All too often, their parents have to hold them as they die. A mommy and daddy feel their heartbeat fade, that same heartbeat they listened to with angst during prenatal exams. Clammy hands are held, little fists clenched from pain -- the same hands which counted 10 fingers, the same hands that reached for a nursing mama. The same hands they counted all the fingers. Parents watch their children kick in agony, all the while remembering those precious prenatal kick counts. Parents listen to their child moan in pain. They listen to a breath struggle with difficulty.
As a mom, I held tight to my own children, not believing that children die. Even after I suffered from three miscarriages, I still never believed that a child could pass. We've all heard stories of the ill, or of those in an unfortunate accident. But no, no, not my children -- it was the truth that I wouldn't acknowledge.
Then, August came. My son was diagnosed with cancer. I quickly learned that children do die. They die in horrific horrible ways. Ways adults can't even fathom. Ways that make you question God's existence.
After my son's neurosurgery, we moved to the oncology floor of the hospital. We spent many days huddled in our room, away from the other patients down the hall. I didn't want to make friends. Then Bryce entered my life.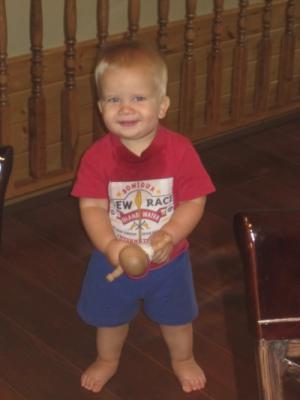 I first saw Bryce's smiling face at his hospital room door. At the time we were entertaining the idea of stem cell treatment and Bryce had started the process and I had questions for his mom, Kristy. We met and talked. I learned Bryce was diagnosed with a malignant rhabdoid tumor of the liver, just days before he turned 15 months old. Bryce's tumor was rare. Rare is never a word you want to hear with cancer. I knew Bryce -- with his eyes that could look through you -- was an amazing child. I was impressed with Kristy as she spoke about miracles and her faith. It left me in awe.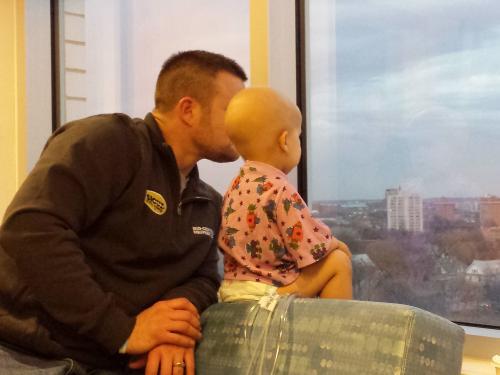 My heart skipped, leapt and even jumped with joy as Kristy shared that they
were all going home for Christmas. Home. Going home when your son has cancer is
an event worth celebrating, only sweetened by the time of year. Hope filled my soul at Kristy's confidence going into one of Bryce's final scans and biopsy. And then my heart shattered as Kristy talked about holding Bryce when the doctors told her family that there was nothing more they could do. "Nothing more can be done" are words you never want to hear. Especially when you finally learn that children die.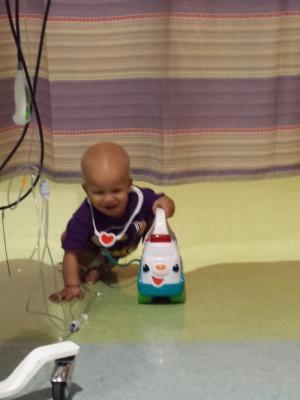 See, I realized something that day. There was no reason my son got Medulloblastoma and her son got malignant rabdoid tumor of the liver. There was no reason at all. It could have been the reverse. My heart ached and mourned with their family. Their news could have easily been our news.
That night, we detached Vito from his IV pump. I bathed my son, put him in his tricycle and ran up and down the halls. Vito's feet flailed in the air as he giggled, a deep soul giggle. He was so happy. We whipped around a corner and there was Bryce. Kristy and Bryce were in bed together. They were about to switch rooms. Kristy's eyes were red and swollen. But, Bryce was her comfort, peacefully wrapped around his mommy. The sweet juxtaposition of both love and pain was conveyed in that moment. A true aura was around, taking my breath away. He was surrounded by love and knew he was loved.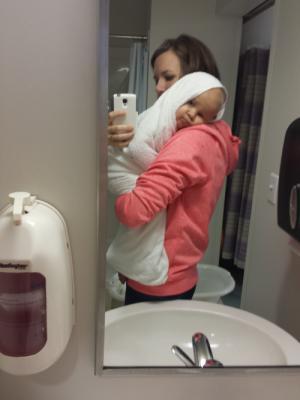 That was the last time I ever saw Bryce. He breathed his last breath at 10:45 a.m. on January 9, 2015, just a few days after the holidays.
We were at the hospital that day preparing for neurosurgery #4, craniotomy #2. There are no words for that day.
Vito went into surgery on January 20, 2015. We went into surgery apprehensive. Vito bled a lot his first surgery. We were told this surgery was to look at his tumor. We were told they would attempt a resection, but no one expected a full resection. Words like brain damage, ventilator and complications were thrown around too much in conversation for a mama who just wanted her son to live. Vito went into surgery nine days post-sepsis and RSV positive. Bryce was on my mind throughout the surgery. In all honesty, I first thought it was because of the fear I had for Vito. I couldn't get past Bryce's soulful, gorgeous eyes. Time flew by this time. Then the nurse came out. She told me they removed the whole tumor with minimal bleeding. I didn't believe her. I needed more proof. It wasn't until we got the MRI that I could believe what the nurse said was true. My son was tumor free. My son was tumor free.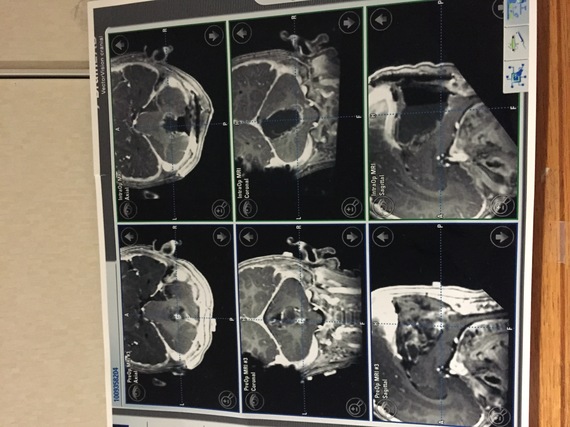 Late that afternoon Bryce suddenly perked up, sat up, and started pointing and gesturing to an area of the room where there was nothing the least bit exciting that our eyes could see. He then turned around and did the same to another area of the room right by his bed. He was adamant that he wanted something, but as I said, there was nothing there that we could see. Then, just as suddenly as he had perked up, he laid back down in my arms, raised his hands palm up and said "huh," then went back to sleeping. I am certain, without the slightest doubt, that there were angels around Bryce's bed and that he woke up and saw them, but they just weren't quite ready for him yet, or he wasn't quite ready to go yet, so he went back to sleep.
When I read that there was no doubt in my mind Bryce was with Vito and our surgeon. He brought a miracle to my family by showing the angels Vito. A miracle I wished he and his family could have received, too. Every hug and wet kiss I get from Vito makes me think of Bryce and thank him for our miracle.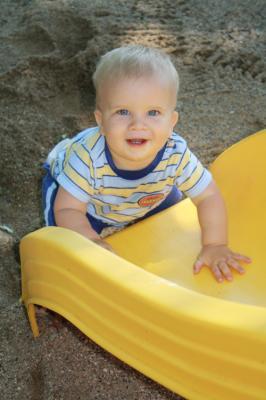 To learn about Bryce's Story, please visit his caringbridge page.
Follow Vito's Journey with Medulloblastoma and Posterior Fossa Syndrome at Valiant Vito.
Thank You to Kristy Thalmann for letting me use your family pictures and to Patricia Deising for proofing and editing for me.