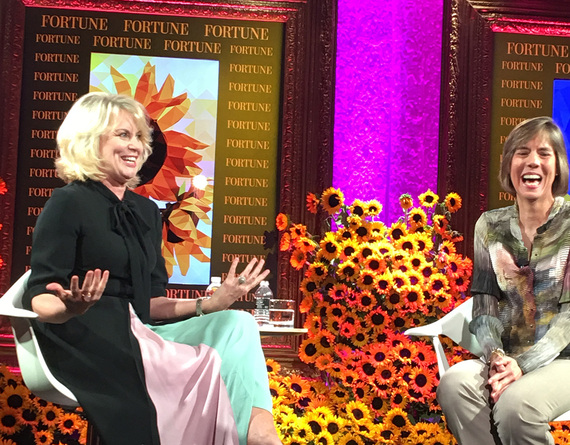 The 2016 Fortune Most Powerful Women Summit is in the books. This year's theme was Building a Better Future. And, once again, I was so inspired by the excellent speakers, insightful conversations and challenging questions that are synonymous with this extraordinary event.
Reflecting on my experience last week, here are my top 10 takeaways:
1. A strong sense of purpose is an essential part of your business strategy. My first takeaway comes from Julie Sweet, CEO of Accenture North America - No. #39 on the MPW list as well as an exceptional leader, role model and dear friend. On a panel focused on How Companies Can Change the World, Julie talked about how a shared sense of purpose is the glue that connects clients, business, people and communities - and what propels organizations forward.
2. Successful companies are the hardest to change. Ellen Kullman, retired Chair and CEO, DuPont, talked about the importance of creating a compelling vision to bring people along - because it's hard to argue with success. As a leader you need to honor the culture in order to change it, and it starts with listening and learning.
3. Artificial Intelligence will impact everything we do. Ginni Rometty, Chairman, President and CEO of IBM, discussed how in the next five years, AI will augment every decision that human beings make - personal and professional.
4. If you have 10 years of e-mails sitting on your computer, you are making a big mistake. Jami Miscik, Co-CEO and Vice Chairman of Kissenger Associates, drew upon her 22 year career in intelligence to emphasize how cyber threats are very real and that we need to take them seriously.
5. The more digital we become, the more human connection matters. Angela Ahrendts, Senior Vice President, Apple, shared the importance of traits like empathy and compassion to building trust in the digital era. She said, "When you have a foundation built on trust, it takes all the barriers away."
6. Double down on people. Deborah Lee James, 23rd Secretary, U.S. Air Force, was asked "What is your advice to the next Secretary of the Air Force?" She replied that the most important thing is to double down on the people ... attract the best talent from a wide pool because diversity is important; inspire people so you can retain them; ensure dignity and respect for all; and ensure equal pay and benefits. In my opinion, this advice is relevant to all leaders, not just the next Secretary of the Air Force.
7. No one wakes up every day to be average. Wendy Clark, CEO, DBB North America, reminded us that no one has the corner on smarts and that collaboration is the key to moving from average to winning solutions.
8. Find your inspiration. Inspiration accelerates one's path to greatness. Like me, Tamara Ingram, CEO, J. Walter Thompson, found inspiration from her dad. He made her believe she could do anything, even at seven years old. Inspiration, coupled with always staying relevant, is a winning combination.
9. Education and health of children need to be viewed through one lens. Priscilla Chan, Co-founder, Chan Zuckerberg Initiative, pediatrician and wife of Mark Zuckerberg, talked about the importance of viewing the education and health of children together to change the trajectory of their lives. Her new school's goal is to keep children both healthy and engaged in school -- which she believes must be solved together to truly make an impact.
10. With data you can do magical things. Diane Bryant, Executive Vice President and General Manager, Data Center Group, Intel, talked about how servers are finally sexy. She shared an example that in 2020 every person with cancer will be able to receive personalized treatment because of the power of the cloud in accessing knowledge of every single human being with cancer -- their genome mapping, treatment and outcomes. As a self-professed geek, if that isn't sexy I don't know what is!
Flying home, I was thinking about the past few weeks. Frankly, they have been challenging for women, regardless of one's political views. The exceptional compassion, leadership and advocacy on display at the MPW Summit were a powerful antidote to that negativity.
And, make no mistake, the topics covered last week were not "women's topics." They were important challenges on the minds of every leader in the world - economy, security, politics, health, education and innovation.
What strikes me about being in a room of women is the willingness to collaborate first to solve these challenges. The conversations happening during breaks, dinner and late into the evening among people with similar passions, inspires hope that we have the right dynamic in motion to solve the most serious problems that exist in the world today. It's about getting the right people at the table with a shared interest to build a better future.
I want to acknowledge and thank Pattie Sellers, Nina Easton, Leigh Gallagher and Jennifer Reingold and everyone involved in the MPW Summit for creating such a world-class experience. And, I encourage both women and men alike to read The Broadsheet to get the latest news on Most Powerful Women and tap into gender topics relevant for all of us.
Calling all HuffPost superfans!
Sign up for membership to become a founding member and help shape HuffPost's next chapter