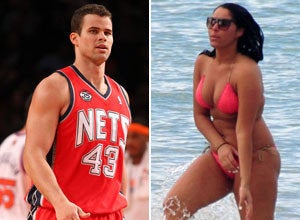 There might be a reason Kris Humphries looked like the bad guy on "Kourtney & Kim Take New York" and it may not be due to selective editing.
Humphries' lawyers have tried to discredit Sinanaj, claiming that she's trying to extort the basketball player and has threatened to release damaging information about their romance if he doesn't pay up. According to TMZ, Humphries' legal team even contacted the FBI about the extortion claims.
Sinanaj, who had remained quiet up until this point, now wants Humphries and his lawyers to retract their statements about her and issue an apology.
"I defy them to show that she has asked for one red cent," Tacopina told the website, adding, "I challenge them to submit Kris Humphries to a polygraph and if he does I will have my client do the same. She never asked him for a penny."
Tacopina also claims he has proof Sinanaj and Humphries were in an actual relationship and not just hooking up casually. He told the website Humphries made 1000 calls to Sinanaj during the last six months, and had her sit court side with the wives and girlfriends of other Nets players.
And Humphries may very well regret going to such great lengths to keep his relationship undercover, as Sinanaj's lawyer also told RadarOnline that she might be game to help Kim Kardashian out during divorce proceedings.
"My client isn't going to rule anything out at this point including whether or not she would be willing to assist Kim Kardashian in her divorce case. I will say this, Kris Humphries has to be the only 7ft. man in the universe to have two women under 6ft tall bully, defraud and attempt to extort him. It's absolutely ridiculous," he told the website.
More of Kim Kardashian's exes:
PHOTO GALLERY
Kim Kardashian's exes
REAL LIFE. REAL NEWS. REAL VOICES.
Help us tell more of the stories that matter from voices that too often remain unheard.
BEFORE YOU GO