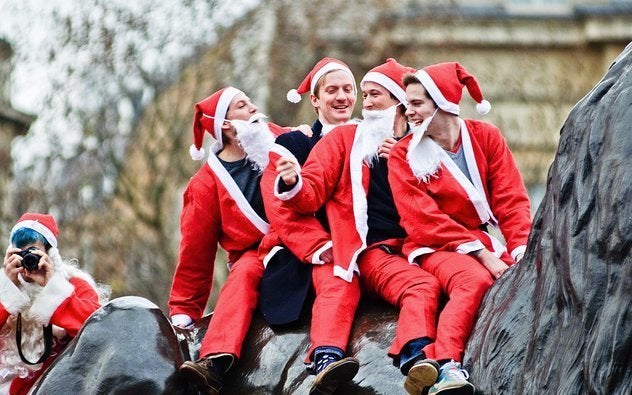 It always feels good to be part of something larger than yourself; it's why people march in protests, attend music festivals or voluntarily watch the World Cup.
This being San Francisco, it's also why a large group of people, all dressed in Santa hats and little else, are planning on coming together in an effort to set the world record for the largest gathering of naked Santas ever recorded.
This world record attempt, which will be fully documented for posterity by the good people at Guinness, comes as part of San Francisco's tenth annual Santacon party on December 10th.
Started in San Francisco in the mid-1990s, Santacon is an annual celebration of Santa Claus wherein hundreds of revelers dress up like Kris Kringle and commit wanton acts of intoxicated debauchery in bars and on street corners across the city.
If you've ever wandered past a rowdy pub on a crisp December evening and wondered why two gentlemen dressed as Santa Claus were engaged in a fistfight, Santacon was almost undoubtedly to blame.
While the attempt to break the naked Santa world record is, given San Franciscan' penchant for public nudity, obviously a Bay Area original, Santacon has gradually become an international phenomenon with parties packed with the jolliest of old St. Nicks stretching from Beijing to Belfast.
According to the event's Facebook page, an official location will be announced on December 9th. All holiday-themed nudity enthusiasts are encouraged to participate as long as they obey a few simple rules:
You have to be naked, but CAN and SHOULD be at least wearing a Santa hat. Boots/boot covers and gloves are also OK. Otherwise, it's Full Monty or nuthin'

No Elves, No Reindeer, etc. San Francisco LOVE's all Santacon revelers, but Guinness will be strict about the "Santa" requirement.

You'll have to sign some paperwork with your name, address and email and an OK to take your photo, that's part of the Guinness rules too.
Don't worry about breaking the law; public nudity is perfectly legal in San Francisco as long as it's not of an explicitly sexual nature.
Check out this video from last year's Santacon party in New York:
Popular in the Community