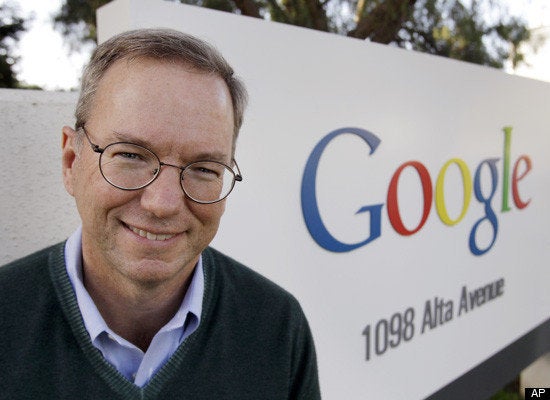 In these days of deep governmental budget cuts, one tech company has received some remarkable sweetheart deals from Uncle Sam.
Consumer Watchdog's six-month investigation has produced a 32-page report detailing how Google has inappropriately benefited from its close ties to the Obama administration, including how NASA's Moffett Airfield, near Google's world headquarters, has been turned into a taxpayer-subsidized private strip for Google executives used for corporate junkets.
A growing fleet of jets and helicopters stand ready to ferry the company's top executives near or far, for business or pleasure, for vacations or schmoozing, including at least three wintertime trips to the Caribbean and a trip by Google chief executive Eric Schmidt to the Cannes Film Festival. Humanitarian groups, by contrast, have been denied access to the airport.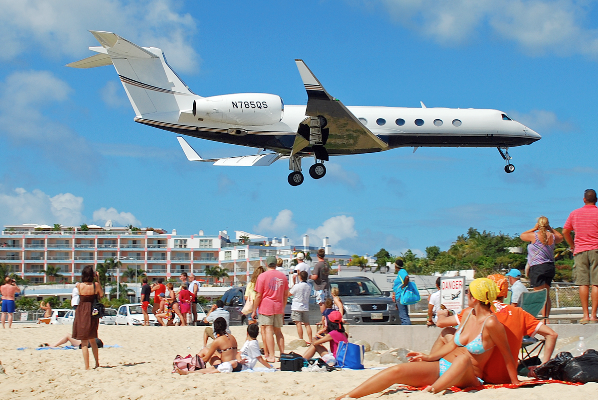 Google executive jet flies over beach at St. Maarten in February 2008 (http://jetphotos.net/viewphoto.php?id=6184441&nseq=75).
When a deal between NASA and top Google executives to use the base was first disclosed in 2007, it called for only four jets to use the base. But newly released government records show that the Google executive fleet has now grown to six jets and two helicopters, while at least 40 Google employees hold security badges at the base and all of the planes are supplied with Department of Defense jet fuel.

The deal was originally struck between Google and NASA in the name of scientific research by the Google fleet. But NASA documents show that precious little research has occurred. According to a set of emails obtained through a Freedom of Information Act request, a fighter jet bought by Google executives in 2008 to perform the research was still being reviewed for air-worthiness in mid-2010.

Meanwhile, flight records show that the other jets parked by Google executives at the NASA field are often used for junkets, vacations and schmoozing. These include at least three wintertime trips to the Caribbean and a trip by Google chief executive Eric Schmidt to the Cannes Film Festival, where he hobnobbed with Mick Jagger and Hollywood stars.
The report, "Lost in the Cloud: Google and the US Government," is drawn from records obtained through the Freedom of Information Act and interviews. It found that Google's ambitious quest for influence with the government is starting to pay off. Among other issues raised by the report are:

• Google's close ties with the Obama White House have raised concerns about possible special treatment or conflicts of interest at the Department of Homeland Security, the US Patent & Trademark Office, the Federal Communications Commission and NASA.

• Officials at both DHS and the FCC have raised pointed concerns about weak privacy protections in Google products and whether Google's well-documented difficulties with privacy protection could create big problems for federal agencies that use its services. Nonetheless no-bid contracts have been given to Google.

• A secretive relationship with the National Security Agency. The search giant has a legitimate need to cooperate with the government's mammoth and secretive code breaking agency in its efforts to defend the integrity of US computer networks. But NSA also has legal power to force Google to hand over the private information of its users. How Google executives handle this potentially conflicted relationship is largely unknown: neither Google nor the NSA are talking.
Consumer Watchdog has forwarded the report to Rep. Darrell Issa and asked the House Oversight and Government Reform Committee to investigate the findings.
When Americans are feeling the pain of a tight economy and government cuts, they deserve to know that one of America's richest corporations isn't getting any special deals from its special relationships with the White House.
"Several executive agencies have responded in a severely guarded and limited fashion to Freedom of Information Act requests on significant issues involving Google that the public deserves to know more about," John Simpson and I wrote in a letter to Issa. "In addition, there has been insufficient federal action on Google's "Wi-Spy" debacle in which its Street View cars gathered private data from Wi-Fi networks in more than 30 countries.

This is the largest wire tapping scandal in world history by one of America's biggest and most powerful corporations, yet there has not been a single hearing on Capitol Hill. We respectfully submit that Google CEO Eric Schmidt should be asked to testify under oath so that the American public learns the truth about Wi-Spy.
For a company so committed to making all our information open for the all world to see, Google has been anything but transparent about its corporate dealings. Eric Schmidt may have stepped down from the CEO's seat last week, but he needs to be shown the witness chair in Congress. Americans deserve answers and nothing other than Congressional hearings will produce them.

Calling all HuffPost superfans!
Sign up for membership to become a founding member and help shape HuffPost's next chapter