 Is NASA playing fast and loose with climate change science? That's the contention of a group of 49 former NASA scientists and astronauts.
"We believe the claims by NASA and GISS [NASA Goddard Institute for Space Studies], that man-made carbon dioxide is having a catastrophic impact on global climate change are not substantiated, especially when considering thousands of years of empirical data," the group wrote. "With hundreds of well-known climate scientists and tens of thousands of other scientists publicly declaring their disbelief in the catastrophic forecasts, coming particularly from the GISS leadership, it is clear that the science is NOT settled."
The group features some marquee names, including Michael F. Collins, Walter Cunningham and five other Apollo astronauts, as well as two former directors of NASA's Johnson Space Center in Houston.
The letter included a request for NASA to refrain from mentioning CO2 as a cause of global warming in future press releases and websites. The agency's "Global Climate Change" webpage says that "Humans have increased atmospheric CO2 concentration by a third since the Industrial Revolution began. This is the most important long-lived "forcing" of climate change."
GRAPHIC FROM NASA WEBSITE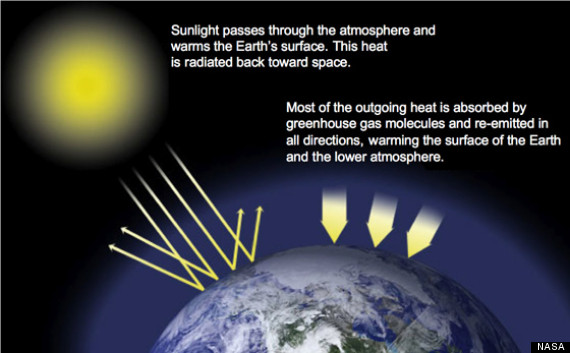 Of course, NASA isn't the only government agency to finger carbon dioxide as a key culprit in global warming.
The EPA website says that "Increasing levels of greenhouse gases like carbon dioxide in the atmosphere since pre-industrial times are well-documented and understood." It goes on to say that "The atmospheric buildup of CO2 and other greenhouse gases is largely the result of human activities such as the burning of fossil fuels."
"NASA sponsors research into many areas of cutting-edge scientific inquiry, including the relationship between carbon dioxide and climate," the agency's chief scientist, Dr. Waleed Abdalati, told The Huffington Post in an email. "As an agency, NASA does not draw conclusions and issue 'claims' about research findings. We support open scientific inquiry and discussion...If the authors of this letter disagree with specific scientific conclusions made public by NASA scientists, we encourage them to join the debate in the scientific literature or public forums rather than restrict any discourse."

Editor's note: We believe it's newsworthy when 49 former NASA scientists and astronauts pen a letter to the agency -- or to anyone -- about climate change. But what really raised temperatures is when we asked our readers to weigh in. We've removed the question because HuffPost is not agnostic on the matter. Along with the overwhelming majority of the scientific community (including 98% of working climate scientists), we recognize that climate change is real and agree with the agencies and experts who are concerned about the role of carbon dioxide.
Related
Popular in the Community