 WASHINGTON -- Jill Kelley, a central figure in the sex scandal involving former CIA Director David Petraeus, tried to parlay her friendship with the general into a huge commission for helping facilitate a coal project in South Korea, the Los Angeles Times reported Wednesday. Negotiations with Kelley ended after she demanded an $80 million fee for leveraging her connections, the paper said.
That deal may have gone bust. But Kelley's identical twin sister, Natalie Khawam, profited from her own lobbying connection. Bankruptcy records show that Gerald "Jerry" Harrington, a Rhode Island lobbyist and Democratic fundraiser, loaned Khawam $300,000 that she was unable to pay back.
Khawam dated Harrington while she lived with her sister in Tampa, Fla., attending the many parties Kelley hosted for military officers stationed at nearby MacDill Air Force Base. At the time Harrington, too, had plenty of connections with the military. But not the social kind.
Since 2010, Harrington's lobbying firm, Capitol City Group, has made $1.14 million from clients with lobbying interests in military spending and defense bills, according to disclosure reports.
The largest of them is Picerne Military Housing, which constructs, sells, and manages housing on U.S. military bases. Since 2010, Harrington and his business partner have received $300,000 from Picerne, and an additional $40,000 from Picerne's subsidiary, Picerne Capital. In exchange, they actively lobbied Congress on 42 bills, ranging from military base construction to World War II memorials.
Lobbying records also show that Harrington made $40,000 in the past two years lobbying the Department of Veterans Affairs and Congress on behalf of Radiation Therapy Services.
On his firm's website, Harrington highlights his work on behalf of clients who had projects with the Department of Defense and the Department of Veterans Affairs, although he doesn't name the clients. Harrington did not return multiple calls from The Huffington Post seeking his comment.
Harrington helped introduce Khawam to Sen. John Kerry (D-Mass.) and Sen. Sheldon Whitehouse (D-R.I.). A Kerry spokesperson told the Boston Herald that Kerry met Khawam "a couple of times" at an annual Democratic Senatorial Campaign Committee event on Martha's Vineyard.
Until last week, few Americans enjoyed public reputations as sterling as those of retired Gen. Petraeus and Gen. John Allen, the top U.S. commander in Afghanistan.
As such, the letters Allen and Petraeus sent to the D.C. Superior Court this fall, vouching for the good character of Khawam in her contentious child custody proceedings with her ex-husband, were surprising.
Their support for Khawam, whom the D.C. Superior Court judge deemed dishonest, is now raising red flags amid the unfolding sex scandal involving Petraeus and his biographer Paula Broadwell. Kelley, whose email exchanges with Allen are now under investigation, sparked the FBI investigation that led to Petraeus' resignation with a complaint about threatening, anonymous emails that authorities said came from Broadwell.
The letters from Petraeus and Allen for Khawam came after she had filed for bankruptcy, overwhelmed by significant debts. In her Chapter 7 filing, she lists $3.6 million in debt, including nearly $2 million in personal loans. Among them was $800,000 she said she owed her sister and her sister's husband, Scott Kelley.
Khawam had income of more than $300,000 in 2010 and 2011, according to the court records. It's unclear where the money went. Khawam listed $36 in her savings and $658 in a checking account.
Khawam's two other outstanding personal loans included $250,000 from Lisa Krowne, a woman who appears to be an investor in a New York fashion label called Joy Cioci.
In August, five months after Khawam listed Krowne as a major creditor, Khawam and Krowne set up a company together called Fullproof LLC. Florida records list Khawam as a managing member, along with Krowne and her father, Clifford Krowne.
"There's not much to say about it," Clifford Krowne told Huff Post when reached by phone this week. He said the company involves science, but refused to give details.
Nor would Krowne elaborate on his connection to Khawam. "They are bright and pleasant people," he said of Khawam and her sister. "That's all I know."
He wouldn't say how he came to know the sisters. "I can't tell you that," he said. "I don't know anything about them. I'm a scientist."
Khawam's other mysterious creditor is a Georgia-based businessman named Michael Boone, who lent her $600,000, according to the bankruptcy filing. Boone appears to own a condo-office in Tampa. He could not be reached for comment Thursday.
Khawam, who has a law degree and is a member of the Florida Bar, filed paperwork with state to establish the Whistleblower Law Firm in September. No lawyers contacted by Huff Post knew of her work either in Washington, where she used to live, or in the Tampa area. "That's just totally news to me," said a Washington lawyer who specializes in whistleblower cases.
"I have never heard of her, except of course I read in the paper that she's the sister of Ms. Kelley," said Marcia Cohen, who has practiced whistleblower law in the St. Petersburg area for nearly three decades.
Steven Wenzel, a Tampa lawyer who has worked for both plaintiffs and defendants in labor and employment law for nearly 40 years in Tampa, said he hadn't heard of Khawam. "I don't recall ever hearing that name," he said. He added that whistleblower law is a big field.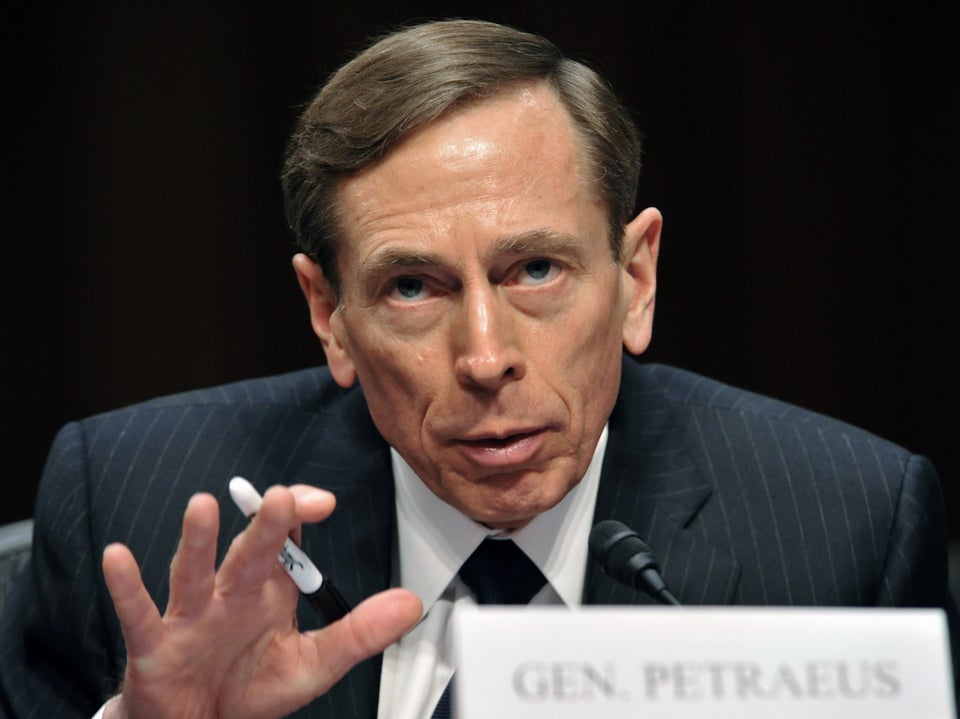 David Petraeus Scandal: The Cast Of Characters