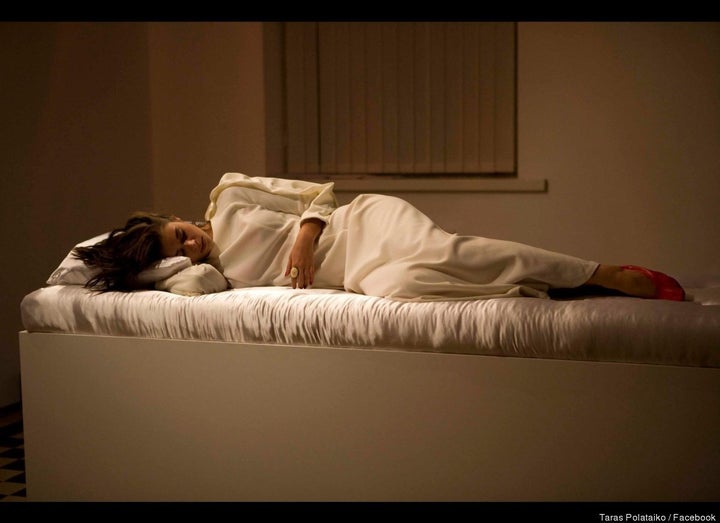 We were pretty miffed when we received a press release for Taras Polataiko's performance art piece, "Sleeping Beauties," at the National Art Museum of Ukraine. The idea of five women feigning sleep on a white satin bed, waiting for a kiss from some guy with an Eastern European mullet, was slightly stomach-lurching. Then we learned that the volunteer princesses and their eager spit-swapping companions were contractually bound, required to marry each other if the beauty in question opened her eyes after the kiss. What kind of guys would participate in the exhibition, and what would happen when the women opened their eyes after an especially compelling smooch?
What we thought was an archaic fairy tale construction has delivered quite the unexpected ending, however. On September 5th, the first Sleeping Beauty to wake from her slumber opened her eyes to a princess charming, not a prince. That's right, the traditional tale of a heterosexual "happily ever after" gave way to a gay version that ends with two damsels instead of one (and neither is in distress this time around).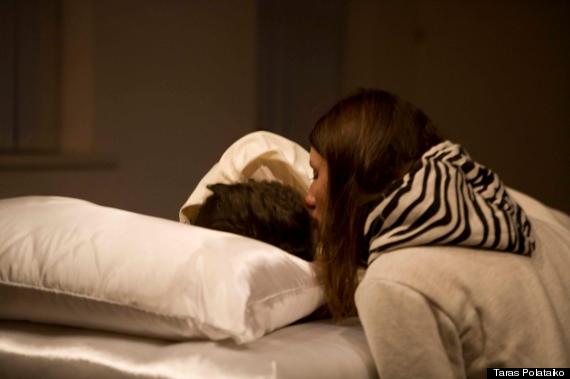 The same-sex kiss was captured in a photo posted to Polataiko's Facebook page, which shows both women laughing at the outcome of their embrace. This lucky participant wasn't the first female to buck norms during the project. According to the blog Hyperallergic, another woman appeared as though she was attempting a fairy tale kiss, but instead ended up chickening out.
"The woman didn't kiss me," the Sleeping Beauty, Liza Rai, is quoted as saying. "She just danced around and then only leaned to me and that's it. That was one of the most unpleasant moments for me even though I didn't know who it was."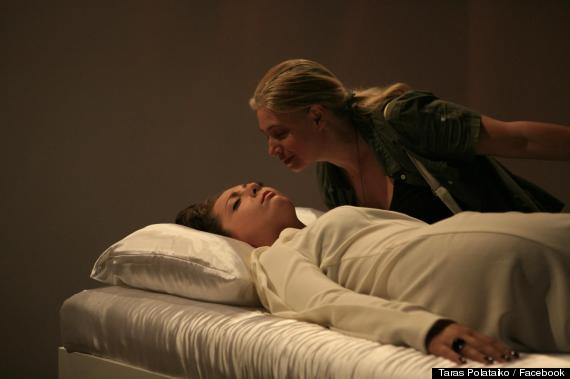 Ukraine does not allow same-sex marriage, so if the two faux fairy tale characters wish to solidify their true love, they will have to do so in another country. Commenting on his Facebook photograph last Thursday, Polataiko stated: "And as it hits the international news...it might propel the discussion about same sex marriage here."
Let us know what you think of Polataiko's "Sleeping Beauty" exhibit in the comments section. Do you think the princesses will live happily ever after?
See a slideshow of the sleeping beauties below: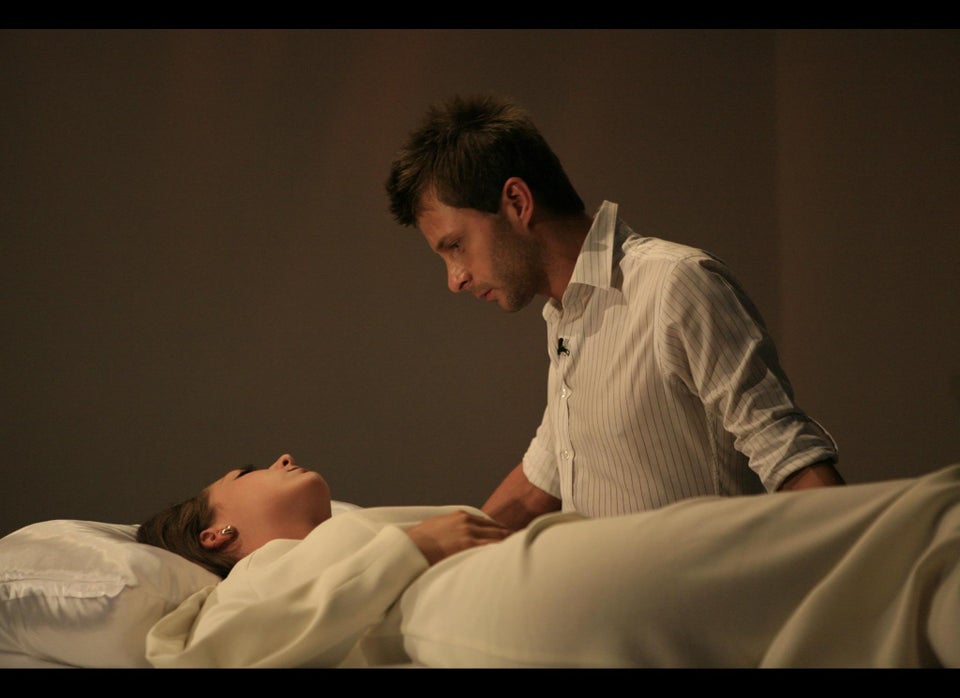 Taras Polataiko's "Sleeping Beauties"